This is not a victory for parliamentary sovereignty
The Brexit case was driven by disdain for the demos, not love for parliament.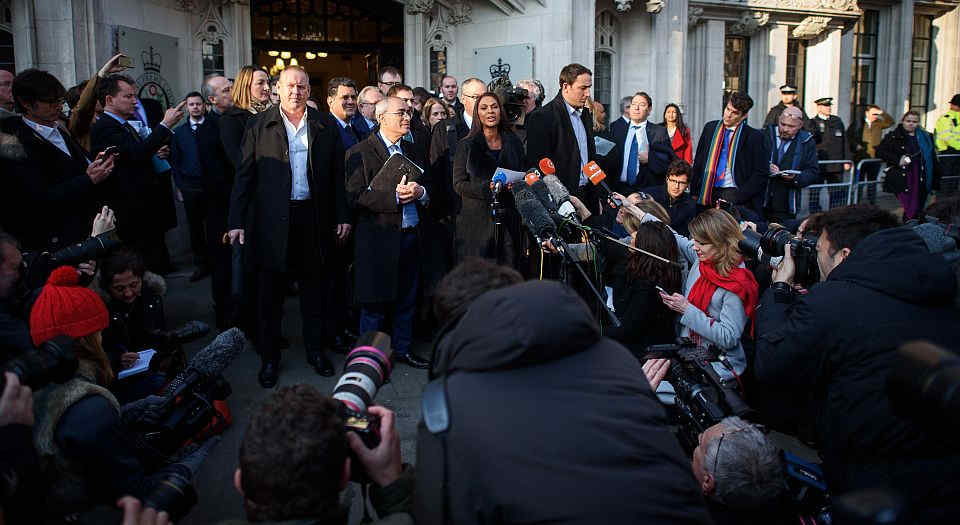 Parliamentary sovereignty is a precious thing. We fought a civil war and chopped off a king's head to establish that it is only a parliament, with the consent of its electors, that can govern, that can determine the politics of a nation. It was the promise of parliamentary sovereignty, of real representation for all, that agitators from the Chartists through to the Suffragettes struggled and fought and went to the wall for.
It has its limitations, of course, which any true democrat must reckon with. Every struggle to expand the franchise was met by the introduction of checks and balances, the creation of 'cooling' upper chambers, and unaccountable, supranational institutions that were about tempering the public clout. But the principle that every man and woman must be led by those duty bound to make real their desires, as expressed at the ballot box, remains as important today as it has ever been.
However, today's Supreme Court ruling, which insists, against the government, that parliament must vote to trigger Article 50, was never about parliamentary sovereignty. Outside the court, the claimant Gina Miller said the ruling upheld the principle that 'parliament alone is sovereign'. That she, a Remainer, a supporter of an institution that diminishes parliament out of a fear of the electorate who votes for it, can say that with a straight face is staggering. Elite Remainers clearly believe their own propaganda — they really do think we're stupid.
Everyone has a right to bring legal challenges against the government. The rule of law, like parliamentary sovereignty, is a hard-won principle. But this was never about clarifying the rules – it was an explicitly political campaign from the very start. Miller and the politicians, journalists and myriad anti-democrats cheering her crusade against Brexit were not motivated by cool devotion to constitutional process; rather, they were made 'physically sick' by the Brexit vote, in Miller's own words, and they threw their money and clout and influence at stopping it.
They barely even try to hide it. Outside the court, one of the lawyers representing the other claimant, Deir Dos Santos, said he hoped MPs would bear in mind the rights handed down from the EU when they vote on Article 50. He might as well have winked at the cameras. This case was brought in an attempt to frustrate the will of the people. And the judiciary has effectively been co-opted into this campaign.
This ruling does not mean the end of Brexit. There is a majority in parliament for invoking Article 50. And any MP who defies it will face the fury of the electorate. But it does feed the dynamic that has tried to stifle the Brexit vote since 23 June: the move, that is, to take this radical, democratic upsurge and defuse it, to wrestle it from the hands of the public and put politics back where it apparently belongs — in cool-minded, gilded chambers.
Today wasn't a victory for parliamentary sovereignty. It was a blow against that which gives parliamentary sovereignty its moral legitimacy, its meaning — the people's right to discuss and decide on major political matters. Any representative democracy worth its name must recognise that the parliament derives its sovereignty, not from thin air, but from the people. Trying to use the law and parliament as weapons against the people shows contempt for that bond. It is an attempt to encourage parliament to use the power we lend it to cast our wishes aside, or at least water them down.
We must not let those made 'physically sick' by democracy pose as the guardians of parliamentary sovereignty. And, in the spirit of those who fought and died for that principle, we must now defend not just parliamentary sovereignty, but also the radical, democratic ideas that underpin it, and work out how we can fortify them and give them new life in the face of those who hold us all in contempt.
Tom Slater is deputy editor at spiked. Follow him on Twitter: @Tom_Slater_
Watch and share spiked's film, Brexit and the Battle for Democracy:
Picture by: Getty
To enquire about republishing spiked's content, a right to reply or to request a correction, please contact the managing editor, Viv Regan.