La La Land: a Golden Age beauty
Finally, a modern movie-musical that doesn't mock itself.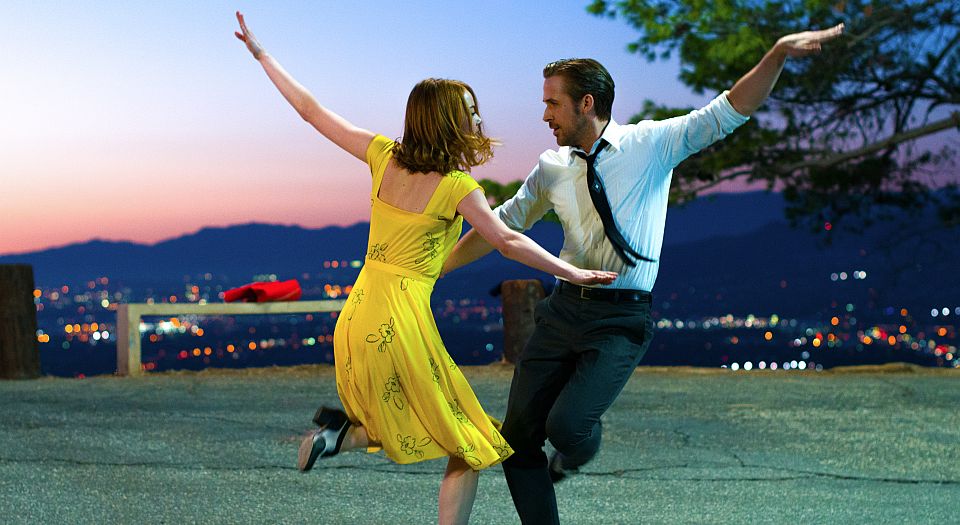 La La Land is the film that movie-musical fans have been waiting for. Not since Moulin Rouge sparked the revival of the genre in the 21st century has a big-budget movie been so unashamedly, gorgeously, crazily musical. It doesn't hide behind a narrative device that makes all the songs in someone's head (Chicago); it doesn't pander to critics with lame attempts at realism (Les Misérables); and it doesn't revel in its own awfulness in the belief that musicals are just harmless fluff (Mamma Mia!). Rather, this is a musical, in all its dream logic, where characters burst into song, tap dance, or just fly off into the air whenever they damn well feel like it.
Without even a back catalogue of hit songs or Broadway success to fall back on, La La Land's original story is written and directed by Damien Chazelle, fresh from the success of Whiplash, one of the best films of 2014. That film drew on Chazelle's hellish experience of training to be a jazz drummer as a teenager. His only other feature before that was the little seen Guy and Madeline on a Park Bench, a musical featuring a male jazz musician in a bittersweet romance – sound familiar? Like La La Land, it featured an original score by Justin Hurwitz.
Whereas that film was shot on an incredibly low budget in a black-and-white, vérité style, La La Land is immediately reminiscent of the great MGM musicals from Hollywood's Golden Age, with its bold use of bright colours, dazzling camera movements, and use of extended takes to show off the film's excellent choreography (by Mandy Moore). It also has an archetypal showbiz story to match, of a romance between an aspiring actress (Emma Stone) and a jazz pianist (Ryan Gosling). However, while Golden Age directors like Stanley Donen or Vincente Minnelli joyously played with the flimsiness of their plots, Chazelle's screenplay features considerably more pathos and bittersweetness.
Strangely enough, this is the third film Stone and Gosling have starred in together. They lack Broadway belting voices, but so did Fred and Ginger; and anyway, that style would be inappropriate for Hurwitz's light, jazzy score. The catchy, marvellously orchestrated songs are matched with dance sequences which take their cues from the grace and sophistication of Astaire, rather than from the rugged athleticism of Gene Kelly. Even John Legend can't ruin this movie: instead he gives a fine performance as a mainstream jazz bandleader who recruits Gosling's character.
Finally, a movie musical created for adults and which takes its own artform seriously. Unquestionably the best movie-musical of the 21st century so far.
Christian Butler is a writer based in London. Follow him on Twitter: @CPAButler
Watch the trailer for La La Land:
To enquire about republishing spiked's content, a right to reply or to request a correction, please contact the managing editor, Viv Regan.