Trump and Obama: foreign-policy bedfellows
Both men are reluctant interventionists, but no less dangerous for that.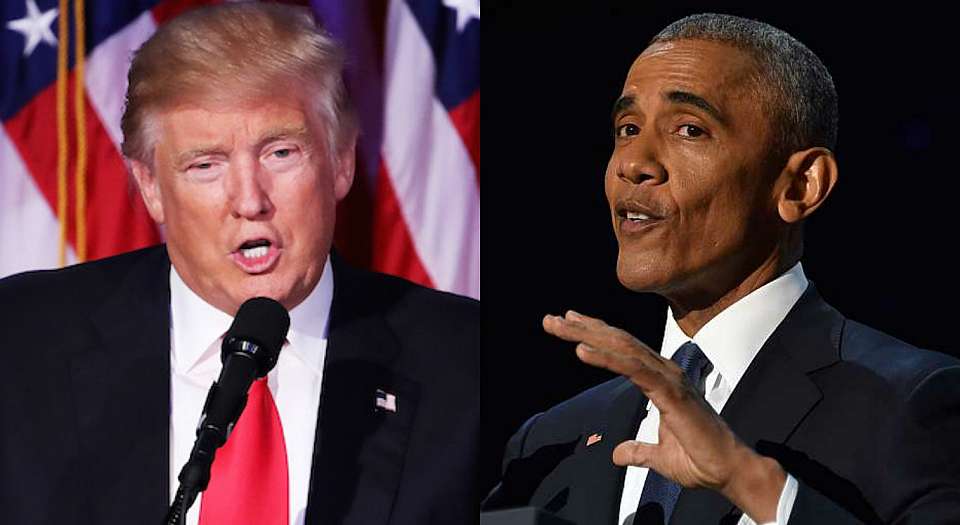 Barack Obama and Donald Trump are seen by many as polar opposites, the former an urbane, kind leader, the latter a vulgar loudmouth. However, on deeper examination it becomes clear that the two have some important things in common, in particular on foreign policy. And not just superficial, operational similarities, but doctrinal ones too.
As he rose to power, Obama promised two simple things. Firstly, that he would extricate the US from costly Middle Eastern interventions, and second that he would reshape, or at least raise questions about, American 'grand strategy' in the post-Cold War era. He also, of course, promised to close down Gitmo. He either completely failed in these projects or, at best, only partially achieved them.
He was deeply sceptical about the Libyan intervention, but was badgered into it by David Cameron and Nicolas Sarkozy, and by the moral crusader Samantha Power. He was also the president under whom Europe was given a pretty severe telling-off. It came from Bob Gates, Obama's first defence secretary, who warned Europe that if it ignored America's advice on political and foreign-policy matters then there would be populist problems on the continent. Some in Obama's administration understood that Middle America felt exasperated at their nation still paying for European security, when so much public money in Europe is spent on the welfare state, migration problems, research funding for strange post-modern pursuits, and so on.
In his questioning of America's 'grand strategy', Obama became increasingly reluctant to get embroiled in foreign conflicts. The implosion of North Africa during the Arab Spring and the unravelling of Syria left him anxious and indecisive. This is not to say there wasn't American intervention — there was, politically and militarily, not least through drone strikes and air attacks in Afghanistan, Pakistan, Iraq and Syria. But it was a strategy, if strategy is the right word, of what we might call buckpassing and bloodletting. In Obama's mind, the best grand strategy was to let, and sometimes encourage, regional actors to duke it out in a cordoned-off Middle East. Under Obama, America came to play the curiously contradictory role of both intervener in and confused spectator of foreign affairs, especially in volatile regions like the Middle East and North Africa.
And Trump? He isn't that different. Like Obama, he channels concerns about grand strategies and overreach, while simultaneously implying interventionism of a sort. Especially through his questioning of the role and relevance of NATO and his criticism of the Middle Eastern quagmire, Trump echoes Obama's feeling of exhaustion with American exceptionalism. A key point of difference, of course, is Russia: Obama has become ever more keen to posture against Russia, with some in his administration seemingly wanting to resuscitate the Cold War, while Trump has called into question this strategy, or kneejerk policy, too.
In this sense, Obama and Trump can be distinguished from John McCain, Mitt Romney and Hillary Clinton — the losers of recent years. Where those candidates offered, in various different ways, a policy prescription of American primacy and active engagement in the world order, Trump and Obama are sceptical, or at least worried, about that. Perhaps this is one of the reasons the public voted for them. It of course remains to be seen if Trump's rowing back of American grand strategies will have the perverse effect of intensifying American involvement, if not meaningful engagement, in foreign zones, as Obama's approach did: a grand strategy replaced with a grand mess.
Sumantra Maitra is a doctoral researcher at the University of Nottingham. His research focuses on great power politics and neorealism. Follow him on Twitter: @MrMaitra
To enquire about republishing spiked's content, a right to reply or to request a correction, please contact the managing editor, Viv Regan.