To some, Israel is the new Illuminati
Anti-Israel conspiracy theories are rife in the mainstream media.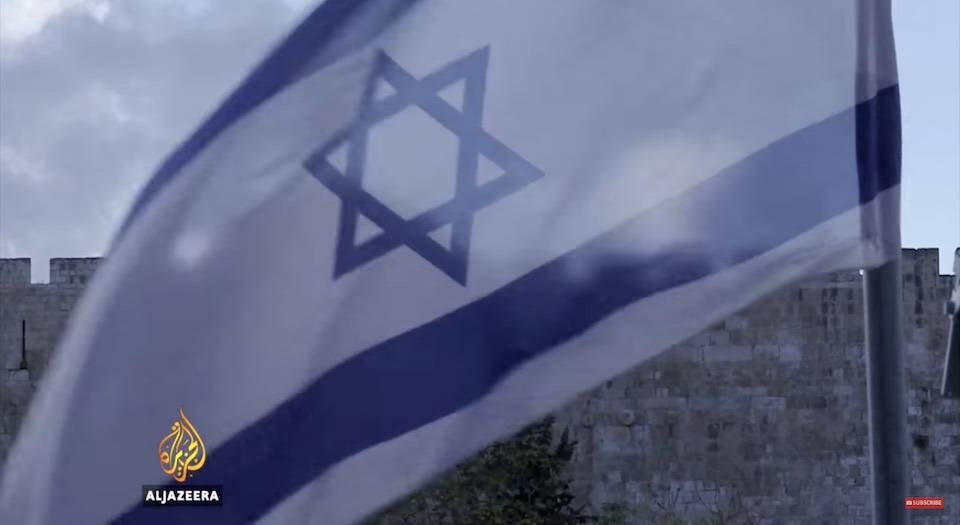 Put on your kippahs and grab yourself a menorah: the Israeli government is controlling British politics! Well, not really. But judging by the reaction to Al-Jazeera's undercover sting that allegedly revealed how the Israel Embassy is influencing our political system, you'd be forgiven for thinking so.
In Al-Jazeera's sinisterly named 'The Lobby', an undercover reporter filmed Shai Masot, an adviser to the Israeli Embassy in London, explaining how he wants to 'take down' certain MPs who are hostile to Israel. He also boasts about organising several pressure groups dedicated to influencing Labour Party policy, particularly against the BDS movement.
Edited and produced in a manner similar to conspiratorial YouTube documentaries, the clip was met with shrieks about an 'Israeli plot'. Shadow foreign secretary Emily Thornberry labelled the footage 'a national security issue' and called on the Foreign Affairs Select Committee to launch an investigation into the influence of Israeli officials in UK politics. A Conservative MP suggested an investigation should be launched into the embassy's links with both Labour Friends of Israel and Conservative Friends of Israel.
A glance at the video clip reveals just how out of proportion these reactions are. Masot isn't sitting in an underground bunker surrounded by evil-looking villains planning the UK's downfall. He doesn't whip out a Filofax and darkly explain how he's going to top every single MP who supports BDS. Rather, the clip shows Masot sitting in a restaurant with a glass of wine, whining about a few politicians he deems to be stupid – something a great many of us do every weekend.
Since when did we take the obtuse ramblings of a political nobody as evidence of a political coup? Even Labour Friends of Israel commented that Masot was 'exaggerating his role' in pro-Israeli politics. The embassy, too, has distanced itself from Masot's claims and has sent him back to Israel. It emphasised that Masot didn't speak for Israel – a statement so obvious it beggars belief it had to be said.
Masot's comments were hardly newsworthy, but the media reaction to Al-Jazeera's sting warrants serious attention. Its insistence on demonising the mere act of lobbying – which has been integral to our political system for centuries – highlights something special about this case: it involved an Israeli.
Israeli exceptionalism is a hardly a new phenomenon, and the internet was quick to point to Masot's ramblings as Israel's latest 'plot'. This was neatly demonstrated in one blog post noting that Masot wasn't on Israel's registered Diplomatic List. But rather than concluding that this is because Masot isn't that important, the blog suggested it was evidence Israel is up to something shady.
Masot's comments were taken by some as evidence that Israel controls our government. 'British foreign policy is in hock to Israeli influence at the heart of our politics', warned an anonymous government minister in the Mail on Sunday. And Israel's vast tentacles don't only extend into the Houses of Commons. Al-Jazeera's report also revealed 'evidence' that Richard Brooks, an NUS vice-president who had recently been to Israel, has been orchestrating a plan to topple NUS president Malia Bouattia. Brooks told Al-Jazeera's reporter to 'drop me a line whenever you want to have a conversation' about it.
But Brooks' admission to the undercover reporter speaks more about his lack of political nous than his menacing prowess. The report's conspiratorial tone seemed slightly misguided given that Brooks has repeatedly appeared in public to disparage Bouattia, who caused uproar by labelling the University of Birmingham a 'Zionist outpost'.
If anything, the most revealing aspect of Al-Jazeera's report was the reaction to it. It demonstrated that the conspiratorial terms once used to describe Israel's alleged control of the world's banks are being recycled to cast meaningless events in a murky hue.
This inclination to point to 'Israeli plots' can only be detrimental to UK politics. It serves as a neat tool to shut down debate and dismiss valid criticisms of UK policy. The equation of Masot's criticism of the BDS movement with an 'Israeli plot' assumes that no normal person could possibly be anti-BDS. It is informed by a political complacency that serves to demonise any opposition.
The response to Al-Jazeera's clip marked a worrying return to the anti-Semitic semantics of the past, which assumed the presence of an Israeli-controlled world system. It is hard to see that such a media furore would have been sparked if an obscure aide at the Macedonian Embassy had been captured by Al-Jazeera in an equally compromising manner. The greatest scandal about Al-Jazeera's report wasn't its content, but the way it has been sensationalised. In the eyes of many, Israel has become the Illuminati, and this conspiracy-theory view is detrimental to journalism and politics in equal measure.
Jacob Furedi is a writer and student.
To enquire about republishing spiked's content, a right to reply or to request a correction, please contact the managing editor, Viv Regan.