Mental health: stigma isn't the problem
We need better resources for mental care, not awareness-raising.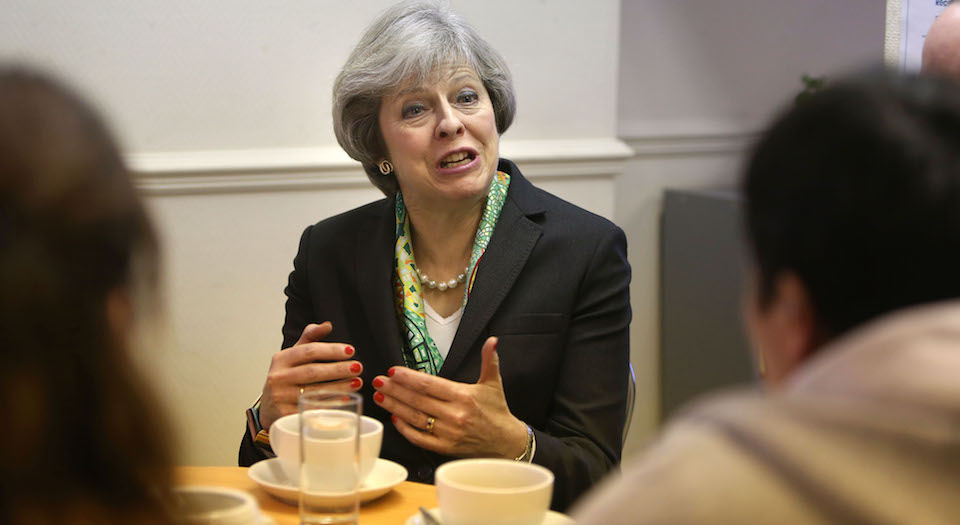 Prime minister Theresa May looks set to make mental-health policy a key feature of her time in office, as she announces major government action to improve support for people struggling with mental illness. Alongside the usual commitments to improve service provision for adults and children, establish more early intervention initiatives and reduce the disparity between mental and physical health services, a key concern for May is the perception of mental illness. 'If we look at the issue of mental health in this country, I think it's more about the stigma that still attaches' she said. In her view, social efforts take precedence over providing extra money for services.
However, as politicians, policymakers and campaign groups look towards early intervention and medicalising social problems, many of the most influential people within psychiatry lament this fixation with quantity over quality provision. Allen Frances, chair of the task force that wrote the fourth edition of the American Psychiatric Association's Diagnostic and Statistical Manual (DSM IV) in 1994, is now extremely concerned about the expanding boundary of psychiatry. A system that was devised to identify a small percentage of the population is now being applied to almost all aspects of the human condition. Frances admits he has to bear some responsibility for this, but says that the tendency to conflate problems in everyday life with severe mental distress means that we are 'neglecting the severely ill'. In addition to this, underfunding means a radical reduction in access to care for those who need it most. 'People who don't need diagnosis and treatment will get it, while people in desperate need will be frozen out', he says.
While speaking primarily about the US, Frances's points are equally valid in the UK – there is severe pressure on psychiatric services here, too. Many units have over 100 per cent bed occupancy rates (if someone is sent home on hospital leave, it's not uncommon for their bed to be given to someone in acute distress, with professionals hoping the patient on leave does not need to return suddenly). There can often be no available psychiatric beds in the patient's locality, forcing them to stay in a hospital many miles from their home, family and support networks. Professionals are often supporting people in the community who need a hospital bed – simply because there isn't one available. It's also not unknown for children to be placed in adult psychiatric wards, due to no child and adolescent in-patient beds being free. Patients detained by the police under the Mental Health Act frequently find that the 'place of safety' they are supposed to be taken to is a police cell, rather than a hospital, due to a lack of specialist psychiatric provision.
May's call to educate teachers to identify symptoms of early mental distress, and introduce therapeutic workforce relations (with no mention of higher wages or better working conditions), will not improve the many problems facing frontline psychiatric service provision. Within children's services, the coupling of early intervention and child protection has been called 'a marriage made in hell', with its 'now or never' attitude to intervening in family life often based on flawed neuroscience. Coupled with the current climate of suspicion and lack of accountability, this approach has led to a situation where one in five children have been referred to children's social services by the time of their fifth birthday.
We are likely to see a similar situation within mental-health services, as teachers and others are trained to see problems through a psychiatric and therapeutic prism. A 'better safe than sorry' approach, and a fear of assuming accountability for not referring on, is likely to place further unnecessary burden on mental-health services.
It's certainly the case that there is stigma attached to some mental disorders. For example, people suffering from psychosis are seen as dangerous (the vast majority are more likely to harm themselves than someone else), yet that is partly down to previous governments that linked mental illness with danger. However, it's worth noting that attitudes to mental illness are improving. The percentage of people who agree that 'it is frightening to think of people with mental problems living in residential neighbourhoods' fell from 26 per cent to 12 per cent between 1997 and 2011.
I've written for spiked about the medicalisation of everyday life and the rise in societal anxiety before. But what strikes me most about May's current focus is her emphasis on stigma, rather than the clear lack of resources. This is a sentiment shared by campaign groups such as Time to Change, which aim to combat mental-health stigma and discrimination. This prioritisation of feelings about mental health, over the reality of the provision of care, reflects many other problematic societal trends.
Think about what May is saying. The problem today is not the parlous state of frontline mental-health services, it's you – yes, you, reading this, and the rest of the ignorant oiks out there. If only you were more aware of mental-health issues, the provision of care for patients would be greatly improved. Combined with hostile attitudes to the public following the Brexit vote and Donald Trump's victory in the US, blaming society's failings on the ignorance of the masses seems to be something of a recurring theme.
Ken McLaughlin is a senior lecturer in social work at Manchester Metropolitan University. His most recent book, Empowerment: A Critique, is published by Routledge. (Buy this book from Amazon (UK).)
Picture by: Getty Images.
To enquire about republishing spiked's content, a right to reply or to request a correction, please contact the managing editor, Viv Regan.