Why comedians must be free to say 'faggot'
The calls to slap trigger warnings on Eddie Murphy's old stand-up special are insulting to gay people.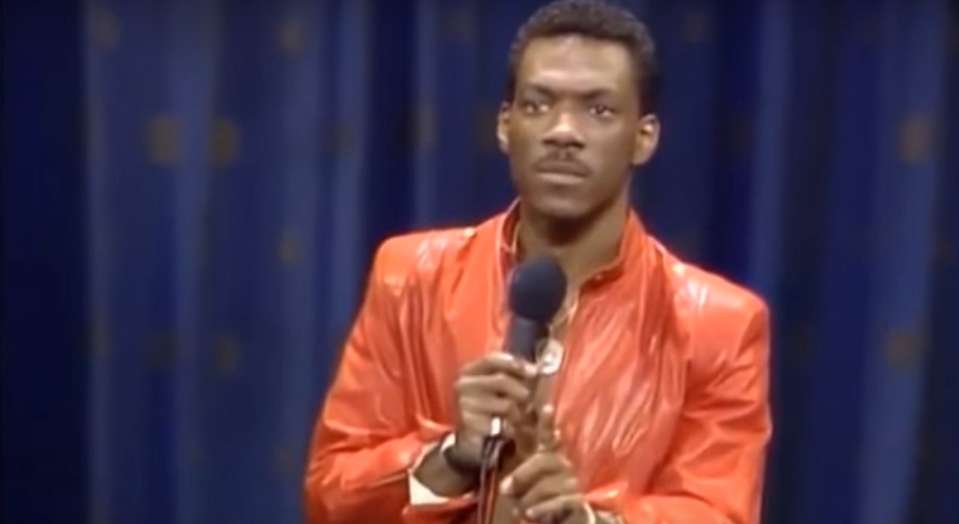 Whenever news breaks of a controversial film or TV show 'resurfacing' online, it usually means a work, known to its target audience for years, has suddenly been discovered by easily offended malcontents looking to start a twitch-hunt.
Eddie Murphy's 1983 stand-up special Delirious is the latest target. It recently became available on Netflix, and Pink News has taken umbrage with the 'anti-gay comedy special' and its repeated use of the word 'faggot'. At the start of his act, Murphy speaks of his wish to 'fuck with everybody', including the 'fag section' of the audience. He then talks about AIDS – 'AIDS is scary 'cause it kills motherfuckers' – and proceeds to make jokes about it. Pink News is shocked that Netflix 'does not include a content warning', and a spate of low-starred reviews have demanded Delirious be removed from the site.
This all raises the question: does the LGBT community really need content warnings? The Motion Picture Association of America's (MPAA) film-rating system assists parents in gauging what films are suitable for their children to watch. What Pink News and these enraged Netflix viewers are suggesting is that gay people are like children who need to be protected from subject matter that may upset them. Just imagine 'may offend gay people' appearing onscreen before a show.
And what would be the point? Even if content warnings were added, do the easily offended expect to avoid such humour for the rest of their lives? And would those who are likely to be offended by it be less offended if they were warned beforehand? Besides, comedy would be a lot less funny if the audience was told in advance about the contents of each joke. This is how censorship kills an art form.
Moreover, comedians have a long history of using offensive language to provoke and push boundaries. When Lenny Bruce used the word 'faggot' in his 'Dykes and Faggots' routine, he didn't intend to get at homosexuals any more than his famed 'Are there any niggers here tonight?' bit was aimed at taking African-Americans down a peg. Bruce believed that suppressing slurs gave them power, and his routines were not just rallying cries for freedom of speech, but also impassioned pleas to destroy social division.
One of the greatest things about comedy is its power to challenge our most sensitive sensibilities. Unfortunately, many today believe that comedians only want to use words like 'faggot' to maintain their privilege. Freedom of expression must be demolished, they argue, because privileged comedians could never have any good, humanistic intentions. According to a recent Huffington Post article entitled 'Why Straight Comics Still Cling to the Word "Faggot" and Why They Shouldn't', 'the only way to earn the right to use the word "faggot" is by having sex with another guy and liking it'.
In 2009, South Park caused a stir with an episode called 'The F-Word'. In it, the boys attempt to change 'fag' into a slur against obnoxious bikers. Though the episode sets out to convey the ever-changing nature of language, and how we can collectively remove the stigma from offensive words, the Gay and Lesbian Alliance Against Defamation (GLAAD) demanded an apology for its repeated use of 'the f-word' (GLAAD couldn't bring itself to say 'fag' in its statement). 'While many South Park viewers will understand the sophisticated satire and critique in last night's episode, others won't', it said.
This response highlights the innate snobbishness of identity politics types. Apparently, the people at GLAAD are 'sophisticated' enough to understand the joke, but the general public is not. But it also misses the crucial point: if you truly believe that slurs should not become the weapons of bigots, then censoring them is the worst thing you can do. Banning words gives them a false glamour they wouldn't otherwise have. If anything, as South Park and Lenny Bruce tell us, you remove the stigma by saying the word more, not less.
Delirious should not be defended merely as an of-its-time special that is no longer acceptable in this PC age. Comedians should have the same right to artistic freedom in 2017 – to find humour in whatever they please – as they did in 1983. What's more, how can you break the taboo of something like AIDS if you don't talk about it? How can you alleviate the pain of something so tragic if you don't laugh at it? The only protection the LGBT community needs is from those trying to remove their right to be laughed at like everyone else.
Christian Butler is a writer based in London. Follow him on Twitter: @CPAButler
To enquire about republishing spiked's content, a right to reply or to request a correction, please contact the managing editor, Viv Regan.