David Bailey's NW1: capturing the 1980s
An exhibition of Bailey's NW1 images is a moving testament to impermanence.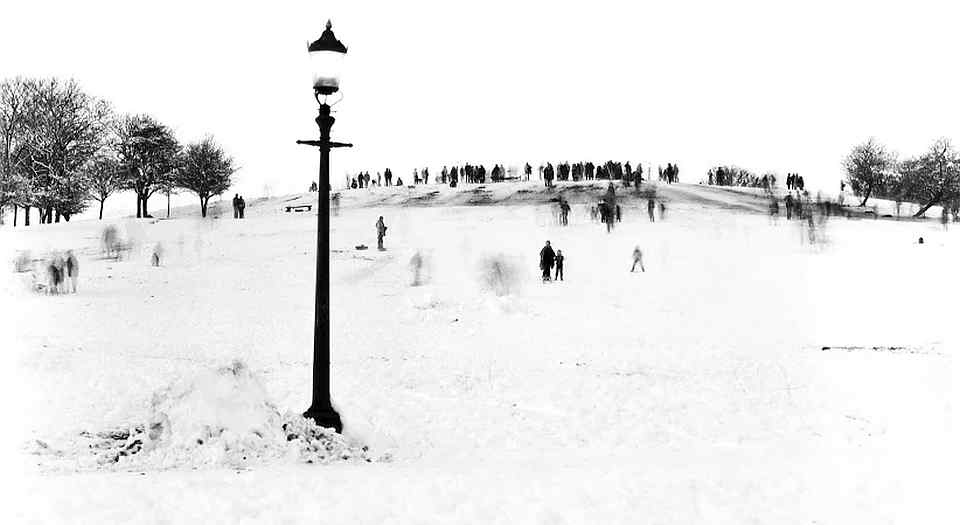 Back in the 1980s, Kingsley Amis used to disparage what he called the 'NW1 novel'. Dull, semi-fictionalised accounts of the adulterous affairs of media types, these novels were set in what Amis thought of as London's smuggest and snuggest postcode. As sharp-eyed an observer of postwar Britain as we had, Amis doubtless had a point (he was himself a resident of NW1). Still, anyone who visits the Heni Gallery's exhibition of David Bailey photographs of NW1 won't recognise the area if all they know of it is Amis. There's no smugness or snugness on show in this version of NW1. What Bailey gives you is squalor and dereliction and implied deprivation.
Implied because when making these pictures in the early 1980s, Bailey – the greatest social portraitist of his generation – wasn't interested in shooting people. There are 12 images in the show (culled from a rather larger selection that haven't been displayed for the best part of 35 years), and people figure in just two of them. Even then, they don't figure that much. Both the pictures – one of sledgers and skiers on a snow-covered Primrose Hill, and one of a cowled figure walking along the towpath of Regent's Canal – were shot for maximum depth-of-field with a very slow exposure. The result is that the people in the images register as ghostly blurs of motion rather than solid lumps of flesh and blood.
'Buck Street' (1982), by David Bailey.
Not that there's anything much here that is stable. Though the subjects of most of the pictures in the show are bricks and mortar, Bailey's walls and houses have about them an air of impermanence. In tune with the radical temper of the times, he had (perhaps unconsciously) guessed that things they were a-changin'. Much of the area he knew and loved (and had lived in since the Fifties) was about to be altered, if not beyond recognition then at least beyond imagination. Not for nothing are shadows a major compositional element in several of these photographs. Bailey the portraitist, and therefore master of the flickering evanescent moment, is out to remind us that places change just as much as faces.
Shot in the cold winters of 1980-81 and 1981-82, the pictures Bailey took for NW1 function as much as historical records of doors and windows, of streets and passages (some of them no longer to be found in the A-Z). In 'Clarence Passage', a study of a half-derelict angle-cornered building, you spot immediately that a company called Cuddley Toys Limited used to function here. It's only after a few minutes' inspection that you notice a much faded sign telling you that the building used to be a pub called The Clarence. In other words, you're not just looking at a picture of times long gone (and longer gone today, thanks to the construction of the Eurostar station). There are times longer gone in the image, too, just waiting for you to excavate them. Hence Bailey's decision to dodge out the skies in many of these pictures. With the buildings almost cut-out against blank white backgrounds, you might be looking at timeless tin-plates rather than simple frozen moments.
Frozen these moments are though, and not just because of the wintry light Bailey was working with. Thanks to TV documentaries (and ads) we are apt to think of him as an off-the-cuff snapper, a shutterbug chatterbox whose pictures come good simply because he's a cockney geezer effortlessly at ease with anyone and everyone. NW1 gives the lie to that Amadeus-style fantasy of inspiration and native wit. Whatever else he is, Bailey is one of the great composers of images, a man who sees the hidden patterns of the visual world and can make them plain to us.
'Aerated Bread Company's Shop' (1981), by David Bailey.
The delicate positioning of the bus stop sign in 'Clarence Passage'; the silhouetted lamppost that bisects the image in 'Castle Road'; the triangular shadow on the rectangular block of wall in 'Buck Street'; the interweaving diagonals in 'Aerated Bread Company's Shop'; the boldness with which cars parked in the street are cropped in half by the frame edge, as if to emphasise that they're part of an overall pattern. These and other simple elements hold Bailey's pictures together and ensure they aren't mere recordings of a moment, but deliberately articulated constructions of a mood.
It's not just composition, of course. Bailey's decision to print his images in high-contrast monochrome only makes them more graphic. Its sombre grey sky aside, 'Camden Lock', the most naturally scenic of the shots on display, is an almost puritanical study in black and white – a bright winter's day turned into an x-ray of itself. As for the exposed cement wall of the bombed-out houses in 'Manley Street' (which both looks back in time and forwards to Rachel Whiteread's famous sculpture House), it might be a stage flat for a theatrical reboot of the original film noir, The Cabinet of Dr Caligari. All angular, converging lines and spooky dark niches, it's both a palimpsest of history and a projection screen for the fantastical – and emphatically of a piece with this fascinating show.
Christopher Bray is the author of 1965: The Year Modern Britain was Born, published by Simon & Schuster. (Buy this book from Amazon(UK).)
David Bailey's NW1 is at the Heni Gallery in London until 31 January 2017.
All pictures courtesy of Heni Publishing.
To enquire about republishing spiked's content, a right to reply or to request a correction, please contact the managing editor, Viv Regan.