The Western media: the propaganda wing of al-Qaeda?
Western coverage of Aleppo has been disturbingly shallow and biased.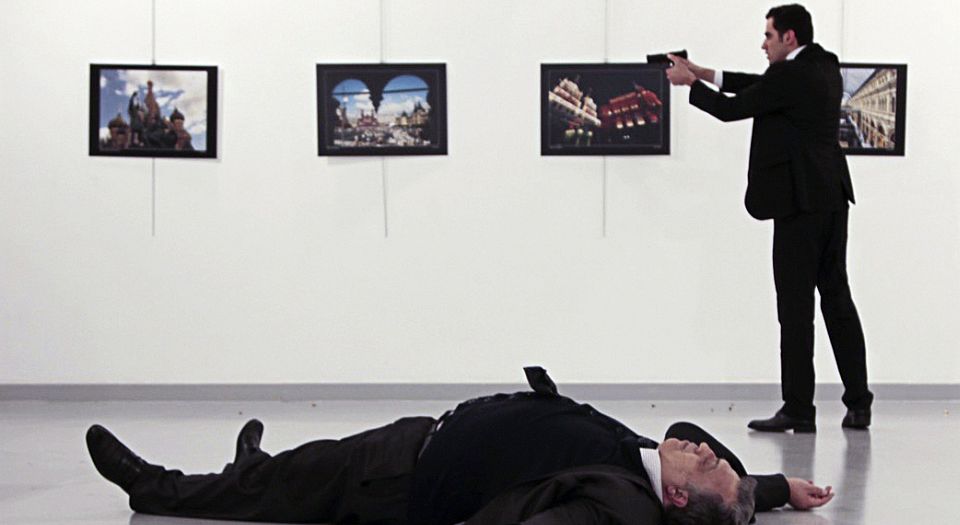 The British press is morphing into a mouthpiece for al-Qaeda. Consider its coverage of yesterday's assassination of Andrei Karlov, the Russian ambassador to Turkey. It is borderline sympathetic. The killer's words — or rather, certain of the killer's words — have been turned into emotional headlines, into condemnations of Russia's actions in Syria. That the killer's first and loudest cry was 'Allahu Akbar' — the holler of the modern terrorist — has been downplayed, and in the case of at least one newspaper, the Express, completely ignored. Instead the papers upfront the killer's other cries, about Aleppo. 'This is for Aleppo', says The Times. 'Remember Aleppo', says the Mirror's headline, but with no quote marks, because these were not the exact words spoken by the gunman — they're more like the Mirror's own sympathetic echo of the killer's sentiment.
To get a sense of how disturbing, or at least unusual, this coverage is, imagine if the 2013 murder of British soldier Lee Rigby by two Islamists had led to headlines like 'This is for Afghanistan' or 'Remember Basra' (those two knifemen, like Karlov's killer, justified their action as a response to militarism overseas). Or if the 7/7 bombings had not given rise to front pages saying 'Terror bombs explode across London' or 'BASTARDS' but rather 'While you kill us in Iraq, we will kill you here'. Reading the early coverage of Karlov's killing, and noting how different it is to British press coverage of other acts of Islamist terror, one gets the impression that the media think this killing is justified, or at least understandable. 'Remember Aleppo': they're saying this as much as the killer is — a perverse union of terrorist and editorial intent.
But the killer said, first, 'Allahu Akbar'. Which perhaps suggests that his sympathy was not with Syria as such but with certain forces in Syria. Forces likely to shout 'Allahu Akbar' as they kill people. Islamist forces. Something peculiar has happened in British media and political circles in recent weeks. Having spent years telling us al-Qaeda-style groups are the greatest threat to our way of life, these people have lately become spectacularly uncritical about, and even weirdly supportive of, the existence and influence of al-Qaeda-style groups in Syria. The press coverage of Karlov's killing is in keeping with the superbly reductive, highly moralised media coverage of events in Aleppo over the past fortnight, in which there are apparently only two sides: defenceless civilians and evil Russia and Assad. The militants in Aleppo, which include some grotesquely illiberal and misanthropic groups, have been airbrushed out of the coverage as surely as some reporters airbrushed away, or at least demoted to paragraph six, the Turkish assassin's cry of 'Allahu Akbar'.
The Western media coverage of Syria counts as some of the most biased, uncritical war reporting of recent times. A vastly complex war, referred to by one journalist in August as 'the world's most complicated cat's cradle', has in recent weeks been reduced to a simplistic, binary morality play, a clash of innocence and evil. The British media coverage of Aleppo in particular has focused heavily, and at times entirely, on the horrendous plight of civilians. Footage shows us civilians cowering in their homes, dashing through the streets to avoid Russian bombs, gathering in hospitals for news of loved ones. What's missing is striking: images of the gunmen, an estimated 10,000 of them, huge numbers of whom are al-Nusra, who had made Eastern Aleppo one of their harsh, unforgiving strongholds. These militants would muddy the simplistic narrative of a Russian-led genocide against Syrian civilians, and so they're simply redacted from what we see on the TV news: an act of omission that borders on censorship.
The end result is coverage that elevates emotionalism over analysis, feeling over fact, making readers weep over helping readers understand. And coverage which, in the process, ends up doing Islamists' bidding. In the words of Patrick Cockburn of the Independent, Western news organisations are 'being spoon-fed by Syrian jihadists and their sympathisers who make it impossible for independent observers to visit areas they control'. Given that it's too dangerous for Western journalists to go to Eastern Aleppo, the media have become reliant on anti-Assad and anti-Russia activists to provide them with information and heartrending footage. But of course, these activists are only permitted to do and say certain things, given they live in areas controlled by 'some of the most violent and merciless movements on Earth', in Cockburn's words. The consequence? 'There's more propaganda than news coming out of Aleppo', as Cockburn says.
This transformation of much of the Western media into a kind of distributor of jihadist propaganda is not down to the wile and power of the jihadists themselves. Rather, what we're witnessing is a marriage of convenience between so-called rebels in Syria keen to push their simplistic anti-Assad narrative and media outlets in the West desperate for another seemingly simple foreign crisis through which they might get to do some of their moralised, emotionalised journalism. In essence, they're in search of Another Sarajevo. In recent years, much Western journalism, particularly war reporting, has openly dispensed with the old ideal of objectivity in favour of making morality tales out of other people's suffering. From Bosnia to Rwanda to Darfur to Syria, vastly complex, historic and bloody conflicts have been reduced by Western journalists to simple cases of good and evil, in which they, of course, are on the side of good. The instinct becomes less to inform than to moralise; less to report than to storify; less to study than to become a brave player in other people's tragedies, a flak-jacketed exposer of Evil.
As a result, actual critical investigation, or simply critical thought, comes not only to be devalued but actively discouraged. Note how anyone, even Cockburn, who says Syria might be more complex than we're being told, and that the rebels are profoundly problematic, can be written off as an Assad apologist or Putin sympathiser. The newly moralised Western media doesn't only fail in its duty to capture and report the complexities of foreign wars; it also uses 'genocide denier', 'Assad supporter', 'Putinite' and other slurs to guard its own moralised narratives and depress through libel and stigma the asking of difficult questions.
And so we arrive at a situation where Western reporters become willing sharers of a narrative that benefits Syria's jihadist groups. This makes perverse sense. For there is something that binds together the modern Western reporter, the Western moral crusader, with al-Qaeda-style outlets. And that is a binary moralism, an almost apocalyptic belief in the forces of Good (us, always us) and Evil (them, usually Russia). Indeed, the weird moral marriage of convenience in Syria between Western moral crusaders and Islamist extremists is perhaps the third time these forces have come together on the international stage. First there was Western support for jihadists in Afghanistan in the 1980s. Then Western intelligence agents and virtually the entire Western media found themselves on the same side as the Mujahideen in Bosnia in the 1990s, both sides utterly devoted to a good-and-evil script in which the Serbs were the new Nazis deserving of being bombed by NATO (in the eyes of Western observers) or beheaded (in the eyes of the Mujahideen). And now, again, Western elements are aligning, at least, with jihadists in Syria, both deriving a sense of moral purpose from being against Evil, against Russia, against Assad. They might look like they have nothing in common, these liberal Westerners and backward jihadists, but there's that one thing, that shared desire to fashion a binary moral universe in order to make them feel important in the world.
Brendan O'Neill is editor of spiked.
To enquire about republishing spiked's content, a right to reply or to request a correction, please contact the managing editor, Viv Regan.