You can't hide from history
The Austrian government should not destroy Hitler's birthplace.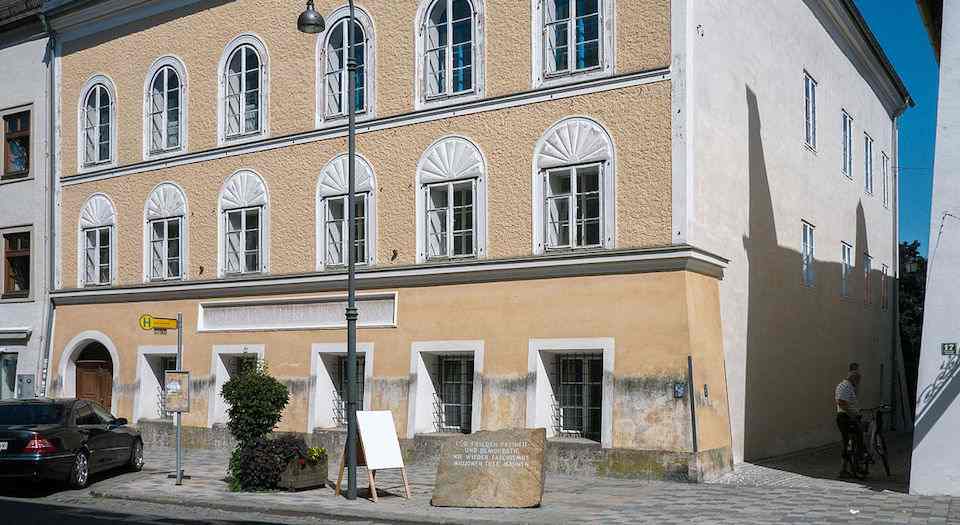 The Austrian government is taking steps to seize and destroy Hitler's birthplace. The house where Hitler was born in 1889 is a terrace building in Braunau am Inn, Upper Austria. Recently, it has been a private residence and a care centre for the elderly. Since the centre closed, the Austrian central government has been negotiating with Frau Gerlinde Pommer, the owner, with the expressed intention of demolishing the building. As justification, the government has cited vague concerns about the building becoming a focus for neo-Nazi supporters. The demolition plans are opposed by historians, local residents and even spokesmen for minority groups.
The owner is unwilling to sell, and see a part of the historical fabric of the town destroyed, so the government is now seeking to pass a law allowing it to seize the property (with compensation). This is a draconian solution to an invented crisis. Local residents have lived with the house (and its history) and have not found it too troublesome. The idea that it will become some kind of fascist shrine is puzzling. Hitherto, it has been the subject of tourists' mild curiosity, rather than torchlight parades. Today, exchange of extreme political ideas and expressions of racist solidarity take place in internet chatrooms, rather than at physical sites.
The management of a private building is a matter for the owner or – should a major change of use be proposed – for the owner and local authorities. That Hitler's birthplace functions as a living building is fitting and apt. It symbolises how states and communities have to live with their history, finding ways of remembering divisive figures and negotiating problematic associations without eradicating buildings and forbidding speech. Indeed, part of a state's responsibilities is to preserve significant historical sites, not to destroy them when they become inconvenient. The Austrian government is not acting on behalf of public safety and security, it's attempting to erase a painful part of Austrian history.
The replacement of the house with a memorial would not remedy anything – in fact, quite the reverse. Monuments can contain an element of moralising self-congratulation. Had we been alive in the 1930s, we tell ourselves, we would surely have resisted and foreseen the terrible consequences of the political climate. The establishing of monuments is not just a way of marking a historical event; it is also a way of paying social debts and neutralising issues. Memorials are an act of contrition which state that a social debt has been paid, thereby absolving the population of the burden of remembering.
Allowing us to see a physical building in which a certain person lived makes the reality of their existence more actual to us. The eradication of buildings associated with Hitler helps to turn him from a person into an incarnation of evil, whose very birthplace emits magnetism which summons disciples of National Socialism. It generates the illusion that evil is done by inhuman creatures, not by persons who lived, worked and loved as we do.
Places associated with Hitler or Nazism are, in the main, located in Germany – namely Berlin, Nuremberg and Bavaria. Austria has comparatively few places closely associated with Hitler's life. Yet all of Hitler's childhood was spent in Austria-Hungary. Many of his social, religious and intellectual attitudes were formed by his early life there. Hitler is partly a product of the pan-Germanic volkisch movement of the late-period Austro-Hungarian Empire. The destruction of Hitler's birthplace would remove the only building in Austria strongly linked to the life of Hitler and would be an expedient step in downplaying Austria's links to Hitler and Nazism. This is the real reason the Austrian government wishes to destroy it.
The Austrian government's actions are part of a general trend to protect people from disagreeable ideas or associations. Removing buildings (and statues) is a way in which the state infantilises the populace by expressing its lack of confidence in the maturity of people. Supposedly, a proportion of the population cannot be expected to respond to a building, statue, book, or idea, in a manner considered acceptable, therefore the state must remove or suppress the object of attention. Acting in loco parentis, the state removes our chance to consider even the most innocuous idea, if it is deemed injurious. The state decides what we are capable of considering. In the case of an historical item or place being destroyed, the state also prevents future generations from considering it.
A civilisation which is so afraid of an empty house that it must be destroyed by government order is comparable to the most atavistic of human societies.
The destruction of Hitler's birthplace would provide a false sense of having corrected some historical injustice. The desire to demolish the building is also representative of a need for closure. But there is no closure to history. People and states should learn to live with uncertainty and fluctuation, and to understand them as essential aspects of life, because, just as there is no such thing as historical inevitability, there is always the possibility of reversal. The best defence against the resurgence of destructive political thought and unjust social orders is to guard against them through watchfulness and education. An educated people can make informed choices. Repressing, forgetting and banning things solves nothing. It makes us less informed. It makes us primitive.
Alexander Adams is an artist and writer. His latest book, Letter About Spain, is published by Aloes.
Picture by: Wikimedia Commons.
To enquire about republishing spiked's content, a right to reply or to request a correction, please contact the managing editor, Viv Regan.