The tyranny of 'ze'
Transgender politics isn't radical, it's deeply conservative.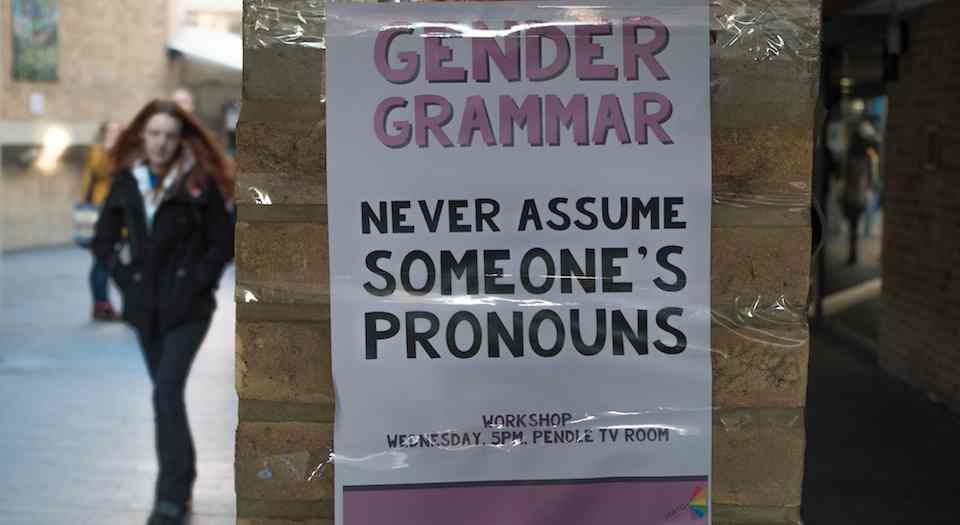 The words 'he' and 'she' are set to become a thing of the past at the University of Oxford, according to a story in The Sunday Times. Apparently, in a bid to promote an inclusive climate and avoid offending transgender students, Oxford University Students' Union is recommending use of the recently invented gender-neutral pronoun 'ze'. What's more, it's reported that students want this linguistic imposition to be extended to lectures and seminars. On Twitter, Oxford's vice president for academic affairs, Eden Bailey, has described this as a 'completely made-up controversy' for which there is 'zero evidence'. Despite this, within the space of 48 hours, news of Oxford's gender-neutral speech edict has been covered in just about every media outlet going.
The story has such traction because it comes at the end of a year when many students' unions have been brazen in dictating what their members can read and listen to on campus – epitomised by the recent ban on tabloid newspapers at Queen Mary's College London and City University. Likewise, the claimed prohibition against 'he' and 'she' taps into an obsession with transgender issues that runs through education. Forget Oxford's students' union, it was the university council that approved a policy to label as harassment, and therefore potentially subject to disciplinary proceedings, deliberately using the wrong name or pronoun in relation to a transgender person, or persistently referring to their gender-identity history. Perhaps the bigger story, eclipsed by news from Oxford, is that teachers at schools in England are being sent a guidance book which advises against referring to pupils as 'boys' and 'girls'.
The preoccupation with gender as something completely removed from biology, and something that every individual must discover and perform, reaches beyond the UK. In the US, young people applying for a college place are offered a range of gender options and 'the chance to move past the traditional gender binary in classifying themselves'. At the University of Toronto, professor Jordan Peterson sparked international controversy last month with his public refusal to use gender-neutral pronouns. While notionally supporting his right to academic freedom and free speech, the university warned Peterson that he could be in breach of the Ontario human-rights code, and asked him to 'stop making statements' because students and faculty had complained that his comments were 'unacceptable, emotionally disturbing and painful'.
There are many reasons why dictats on gender pronouns should be opposed. Telling people what they can and can't say, and what they must say, is a significant incursion into individual liberty. People are free, quite rightly, to refer to themselves however they want and to hope that others respect their wishes. But to compel individuals to speak in a particular way, and then seek to punish them if they disobey, is to force someone to act against their conscience. In Canada, Peterson has criticised legislation to make 'gender identity' and 'gender expression' protected categories under the Canadian Human Rights Act. Making words compulsory runs counter to free speech. Peterson's critics have made numerous attempts to silence him, even glueing his office door shut.
The notion that one person can dictate the language used by others reveals the narcissism inherent in much of the current obsession with the idea of gender as a construct. It encapsulates a demand that others see the world as you do, and declares that any challenge to your view is a threat to your innate sense of self. The truth about gender, we are told, is located not in objective reality, and definitely not in biology, but in an individual's head. People are to be referred to as what they say they are, irrespective of all evidence to the contrary. Education officials are at the forefront of championing this new version of fantasy-as-reality. Ironically, these are often the very same people who have recently taken to expressing outrage at the 'post-truth' denigration of facts and experts, supposedly typified in the vote for Brexit and Donald Trump.
The effect of enforcing a view of gender as a construct performed through language is perhaps the opposite to that which is intended. In a bid to move beyond biology, people become compelled to represent and enact their chosen gender identity. Delegates to this year's National Union of Students annual conference in the UK were greeted on arrival with a range of stickers they could use to indicate to everyone else whether they preferred to be addressed with 'he', 'she' or 'they'. At some universities in the US, seminars begin with students introducing themselves and their preferred gender pronouns. When people are pushed to declare a label, they risk becoming reduced to that category type and trapped in a performance of gender.
The push to take society – starting with schools and universities – beyond binary biological categories of male and female might seem radical. But not only does it fly in the face of how people make sense of the world, it can be a very conservative move. A teacher referring to 'boys and girls' will barely register with most children, let alone make them feel oppressed. Introducing bizarre new words into the language, and telling children gender is something they can choose, is guaranteed to cause confusion. Even worse, it sends out the message that there is a correct way to behave, associated with each gender: if you're a girl who likes football, or a boy who likes wearing dresses, you're not just a normal child, but someone who needs a new set of pronouns and labels.
I hope the demand that Oxford students use 'ze' is nothing more than a 'made-up controversy'. If it is, perhaps they could campaign to get the university policy overturned that states that deliberately misgendering someone is harassment. If nothing else, there are so many more interesting things students could be discussing with their professors than which pronoun they prefer.
Joanna Williams is education editor at spiked and the author of Academic Freedom in an Age of Conformity.
To enquire about republishing spiked's content, a right to reply or to request a correction, please contact the managing editor, Viv Regan.