Standing up to the new school of anti-Semitism
Hatred for Jews is now expressed in underhand ways.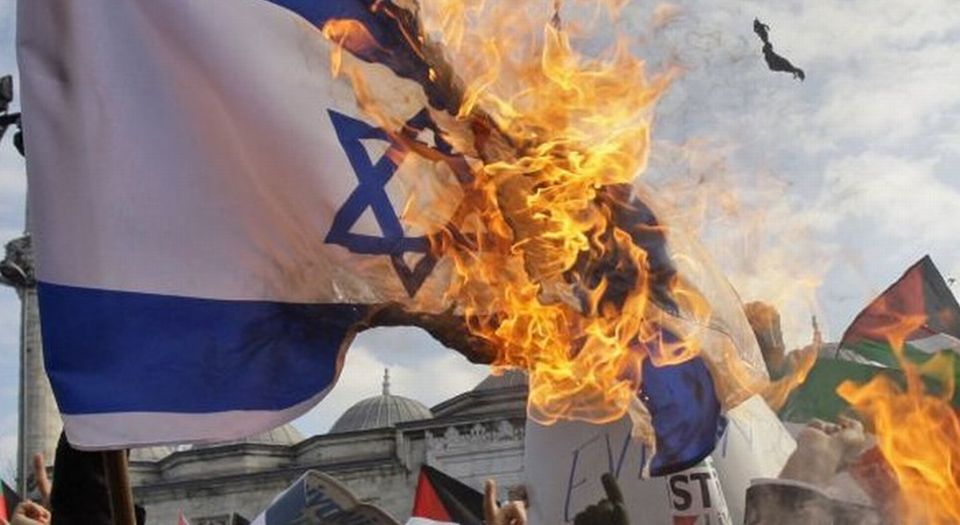 The British government's announcement that it has agreed to adopt an international definition of anti-Semitism looks like another pointless exercise in 'sending out a message'. Borrowed from the International Holocaust Remembrance Alliance, the definition says anti-Semitism is 'a certain perception of Jews, which may be expressed as hatred towards Jews'. If you're still confused as to what anti-Semitism is, the definition helpfully explains that 'rhetorical and physical manifestations of anti-Semitism are directed toward Jewish or non-Jewish individuals and/or their property, toward Jewish community institutions and religious facilities'.
The stated aim of adopting this definition is to help tackle hatred towards Jewish people. But it's far from evident how a mere definition could be used to curb hatred of any sort. Worse, this definition of anti-Semitism bears little relation to the context and situations in which such prejudice is expressed today, and to how anti-Semitism has changed.
The newly adopted definition fails to engage with the fact that, in 2016, anti-Jewish sentiment is rarely expressed explicitly. Consider this example. Recently, following one of my public lectures, a member of the audience came up to me to rail against 'the Goldman Sachs of this world and the people who control all the banks'. In the old days, someone like this would probably have expressed his prejudices about Jewish world domination in unambiguously anti-Semitic language. Today, however, a wink and a nod and a reference to Goldman Sachs come to serve the same purpose. How can a new definition of anti-Semitism deal with the new culture of wink-and-nod prejudice?
The current culture of anti-Semitism bears only a passing resemblance to its old-school predecessor. Yes, this new-school anti-Semitism that has emerged in recent decades draws upon the conspiratorial imagination of old-school anti-Semitism, but otherwise it expresses itself in a very different way. In Western Europe, people, especially those on the left, who have a problem with Jews rarely use the vocabulary of anti-Semitism. Instead they use the language of bad faith. People express bad faith when they feel under pressure to adopt values that go against their own inclinations. So when people say something like 'I don't hate the Jews, but these cliquey people are far too powerful', they are opting to self-censor, to express their prejudices in a somewhat disguised, guarded way.
New-school anti-Semitism often expresses its distrust of 'those people' through the language of anti-Zionism. Anti-Zionism is not anti-Semitism; it is perfectly legitimate to criticise Israel and to call into question every aspect of its history and its current political and military approaches. The problem is not attitudes to Zionism as such, but the way that some express their hostility to Jews through a hostility to Zionism. In recent years, hatred of Israel has come, among certain groups, to embody a venom towards Jews. So when British Labour Party councillors post images on Facebook calling on Israelis, or even Jews, to 'stop drinking Gaza blood', it is pretty clear that their target is not really Zionism. No, through resurrecting the infamous blood libel of the medieval anti-Semites, they have adopted the old outlook of the pogrom in what appears to be a new, politicised way.
The former Labour mayor of London, Ken Livingstone, shows us how anti-Zionist rhetoric can casually mutate into hatred towards a group of people. He tried to explain the difference between a 'real anti-Semite' and a mere critic of Israel in the following way: 'A real anti-Semite doesn't just hate the Jews of Israel; they hate their Jewish neighbour in Golders Green or in Stoke Newington.' This attempt to explain what kind of Jews it is okay to hate, and which ones we might spare from our hostility, actually demonstrated how easily discussions of Israel can tip over into animosity towards Jews.
It is likely that Livingstone and his allies on the British Labour left do not perceive of themselves as anti-Semitic. However, they must be aware of the growing tendency for anti-Israeli views to serve as a vehicle for anti-Jewish views. A few years ago, one of my friends, who is from a Labour family, told me to 'look out for the word "they"'. She had been caught off-guard when, during a family row about Palestine, her father kept repeating the word 'they'. She was shocked and surprised. 'In the recent past, it would have been unthinkable for him to describe Jews as "they"', she said. How can a government definition of anti-Semitism deal with the word 'they'?
The International Holocaust Remembrance Alliance (IHRA) tries to deal with the problem of Israel being used as a proxy for Jews by providing guidelines on what constitutes legitimate, as opposed to anti-Semitic, criticism of this nation. Its guidelines say that 'criticism of Israel similar to that levelled against any other country cannot be regarded as anti-Semitic'. Its examples of anti-Semitic attacks on Israel include the now often stated accusation that Jews around the world are more loyal to Israel than they are to their own nations, or that the existence of Israel is intrinsically racist.
Fortunately, the UK government has not yet adopted the IHRA's views on what should and should not be said about Israel. It is not the business of government to determine what is a legitimate way to criticise Israel. Not every radical criticism of Israel is inherently anti-Semitic. There is no reason why someone who accuses the state of Israel of being inherently racist is necessarily an anti-Semite. It all depends on the context in which such statements are made. And in an open society, critics of Israel ought to have the right to decide for themselves what points they want to make.
Unfortunately, the official codification of anti-Semitism distracts us from actively engaging with this evil. This definition will not defend Jewish people from hatred and prejudice. Doing that requires an active commitment to challenging the climate in which references to 'those people' have become tragically commonplace.
Frank Furedi is a sociologist and commentator and author of the What's Happened To The University?: A Sociological Exploration of its Infantilisation (buy this book from Amazon(UK)).
To enquire about republishing spiked's content, a right to reply or to request a correction, please contact the managing editor, Viv Regan.