Boris Johnson: making a mockery of geopolitics
Johnson, like Trump, takes himself more seriously than his public office.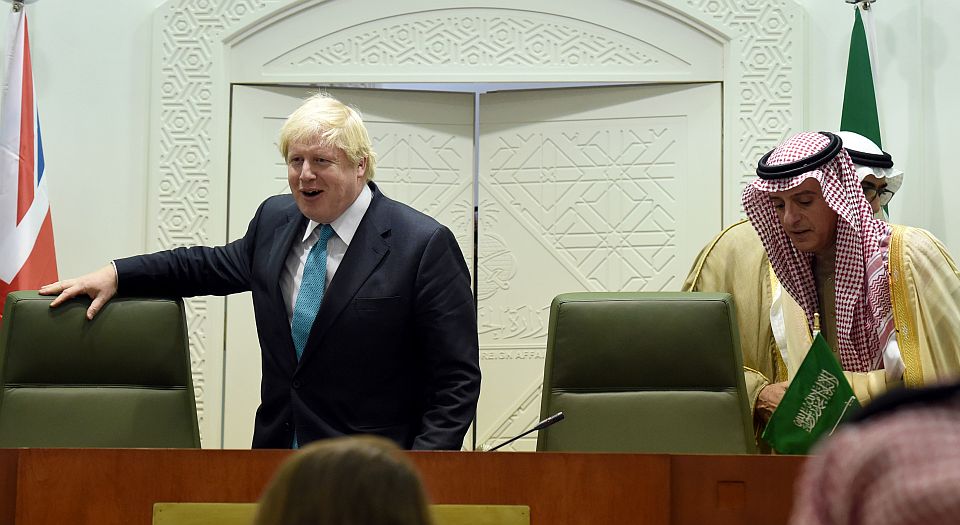 During a speech in Rome a couple of weeks ago, UK foreign secretary Boris Johnson decided it was time, once again, to take the Boris Johnson Roadshow on tour. Several Middle Eastern states, he said, warming up his audience, 'twist and abuse religion and different strains of the same religion in order to further their own political objectives'. Singling out Saudi Arabia and Iran, he declared 'that's why you have these proxy wars being fought the whole time in that area… That's why you've got the Saudis, Iran, everybody, moving in, and puppeteering and playing proxy wars.'
While Iran, a one-time member of the Axis of Evil, is deemed fair game in Western diplomatic circles, it ought to have been a bit of a surprise to hear a UK foreign secretary slam Saudi Arabia. This, after all, is a long-time regional ally of the British state; a recipient of billions of pounds' worth of made-in-Britain military hardware; a monarchical Sunni-led state whose interventions in, say, neighbouring Yemen and Bahrain are usually given a nice big thumbs-up by the Foreign Office. But this, we are constantly being told, is Boris Johnson, a law unto himself, a blustering force of nature, a pseudo buffoon who has made a media living from not watching his tongue. So to hear him mouthing off about one of the British state's long-term, key allies, as if he were hosting a right-on news quiz, was about as surprising as what he had to say about the not-so-venerable House of Saud.
Because, as anyone who has taken a passing interest in the conflagration of the Middle East will know, Saudi Arabia, like Iran, has indeed been fighting proxy wars; it has been funding puppet militias; and, arguably, it has been purveying a twisted form of Islam. Think, for example, of the ongoing destruction of Yemen, where Saudi warplanes are fighting on behalf of, well, a puppet ruler, installed to quell a 2011 uprising by the UN and the Saudi-dominated Gulf Cooperation Council. Or think of al-Qaeda, itself Saudi in origin, with Saudi nationals accounting for 15 out of the 19 9/11 attackers, and Osama bin Laden, an exiled member of the Saudi elite; and think, also, of ISIS, partially funded, at least in its early Noughties, al-Qaeda-in-Iraq phase, by Saudi donors, and informed by Salafi jihadism, a strict, potentially intolerant variant of Sunni Islam which took root in Saudi Arabia in the 18th century, and was increasingly evangelised by the Saudi state in the latter half of the 20th century to shore up its own domestic authority. While ISIS no longer relies on Saudi support, there's little doubting that the House of Saud was quite happy for ISIS potentially to overthrow Bashar al-Assad's Iran-friendly regime in Syria.
Of course, Saudi Arabia's regional machinations are not without reason. This seems to have been missed by all those cheering Johnson to the debating-hall rafters, so warmly self-righteous are they made to feel by his simple-minded lampooning of Saudi Arabia as a theocrazed human rights-abusing malevolence. Because, believe it or not, Saudi Arabia isn't bombing Yemeni rebels into submission because it's evil; it didn't roll tanks into Bahrain in 2011 to crush the Shia-led protests because it is implacably opposed to human rights; and it's not been tacitly enjoying ISIS's reign of terror because it doesn't mind reigns of terror. No, the House of Saud's actions are born of the Saudi state's need to preserve and protect itself. So it uses its own military force, not to mention arming and backing assorted non-state Sunni militias, outside its borders principally as a bulwark against the influence of its main regional opponent, Shia-led Iran. And this external intervention has its own internal source: a restive Shia minority on the eastern border with Bahrain, who have risen up at several points since the 1970s, and an expanding Islamist element among Saudi Arabia's own Sunni support base. The Saudi regime is beleaguered, not bellicose. It is arresting ISIS-supporting Salafists at home, who accuse it of not being sufficiently Islamic, and intervening abroad, in an attempt to stop the region's escalating instability from engulfing it as well.
Still, with his broad brush strokes, Johnson is right. Saudi Arabia is fighting proxy wars. And it does use puppet forces. But if Johnson is really concerned about the role of certain states in the disintegration of the Middle East, why stop at Saudi Arabia and Iran? Why not point out the role of Russia, which is fighting a proxy war in Syria against the opponents, ISIS included, of Assad, its own de facto puppet? Or, given he enjoys the frisson of media controversy, why not mention the real drivers of Middle Eastern collapse, those who first drew borders in the sand after the First World War, and have puppeteered behind the scenes ever since, organising coups d'etat, bolstering dictators, and, more recently, invading and directly intervening, depending on who happens to be Bad Guy of the Month in The Humanitarian Interventionist's Calendar. Why not, then, slam the United States? Or France? Or even good old Blighty?
Why, in other words, did a UK foreign secretary, speaking in public, issue such a half-baked opinion on one of the UK's allies? What might merely be inconsistency, hypocrisy even, on the part of Johnson the one-time columnist is pure idiocy on the part of Johnson the full-time secretary of state. It's as if he doesn't quite take his role seriously, as if it's just another gig, like hosting Have I Got News For You, writing columns for the Telegraph, or, given the depth of his bad faith, fronting the Leave campaign. But Johnson's not presenting a back-slapping panel show; he's representing a nation state.
And why doesn't he get it? Why does he think that he can behave as he did before he was occupying one of the most important offices in the nation? It's because the only thing he takes seriously is himself, his smirking, flippant celebrity version of himself, his speaking-his-mind wit and unwisdom. In other words, he takes his public persona more seriously than he takes his public office. 'Slag off Saudi Arabia? Why not? I'm Boris Johnson.' That, following his Rome speech, he had to visit Saudi Arabia on a diplomatic mission, where he was all smarm and smiles with those he had accused of warmongering a few days before, was hardly surprising. Johnson was never making a serious critique of Middle Eastern affairs. He was playing Boris Johnson to the gallery.
This mockery of geopolitics, this seriously consequential unseriousness, would be relatively insignificant if this was a unique case of a celebrity politician acting as such. But it's not. Across the Atlantic, president-elect Donald Trump has been busy tweeting the end to the US's long-standing One China policy, even giving Taiwan's leader an official phone call. That China, which does not recognise Taiwan as an independent state, might take affront to the US suddenly deciding that Taiwan is a legitimate independent state is neither here nor there to Trump. Because, like Johnson, what matters is the game, the jape, the tweeting to the gallery. What matters to them above all is being themselves. These aren't statesmen, they are celebrities. And they are taking over the state.
Tim Black is a spiked columnist and editor of the spiked review.
Picture by: Getty Images.
To enquire about republishing spiked's content, a right to reply or to request a correction, please contact the managing editor, Viv Regan.