The Lib Dems: neither liberal nor democratic
They've made themselves a party against the people.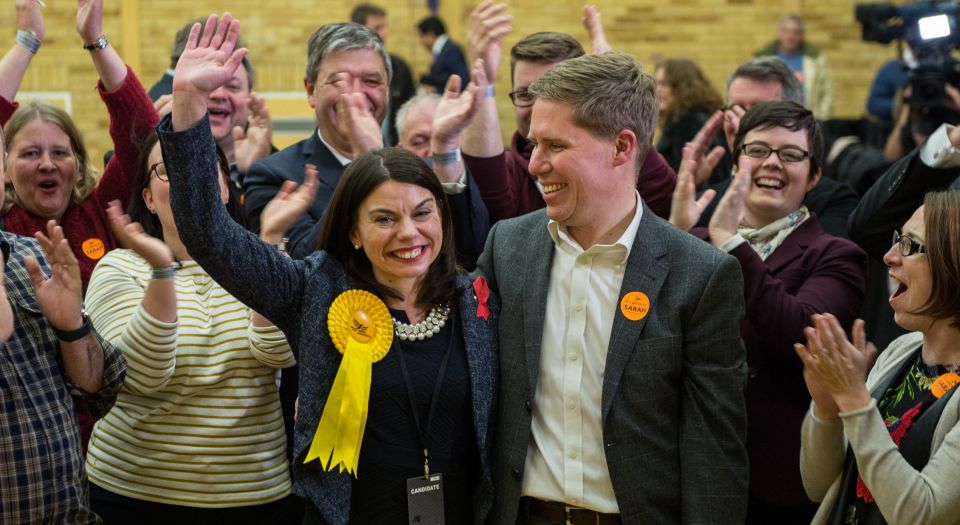 The Lib Dems are back, apparently. Last night, Sarah Olney managed to oust incumbent Zac Goldsmith from Richmond Park and North Kingston, overturning the former Conservative MP's 23,000 vote majority. Olney won by a margin of 1,800 votes. It's certainly an impressive feat for the Lib Dems, who have struggled since losing 49 of their 57 seats at the last General Election.
Following Zac Goldsmith's resignation from the Conservative Party over Heathrow expansion, the by-election campaign was pretty surreal. First, it was revealed that Christian Wolmar, Labour's candidate, strongly believes that loo paper should be banned and toilets fitted with 'automatic bidets' instead. Things became weirder still when Goldsmith arrived at a hustings event mysteriously late, after claiming he'd ripped his trousers in a car accident on his way to the event.
Goldsmith was hardly a strong candidate. Here was a politician who, after being trounced in London's mayoral elections, presented himself as a rebel independent, despite still being endorsed by the Tory Party. Unlike in previous elections, his anti-progressive, environmentalist politics – like his suggestion that we should stop building on the Green Belt despite the current housing crisis – were not enough to secure him the seat.
In an attempt to overcome their dismal polling status of seven per cent, the Lib Dems threw everything at Richmond Park. They printed their own fake newspaper in an attempt to garner votes. They claimed one thousand of their activists descended on the constituency. The UK's activist-in-chief, Bob Geldof, was even spotted prancing around Richmond, tactfully chanting 'Zac is crap'. As with many of Geldof's political stunts, his presence was not particularly welcome. No doubt Lib Dem HQ winced when he was overheard telling Labour voters not to worry about voting tactically because 'the Lib Dems are tiny. They're not a threat.'
While Goldsmith was keen to make the by-election a vote on the expansion of Heathrow – it was, after all, triggered by his resignation from the Tory Party in protest against the construction of a third runway – the Liberal Democrats made it clear from the outset that the battle for Richmond Park was actually a battle to thwart the Brexit vote. After all, 70 per cent of Richmond residents voted to Remain, while Goldsmith campaigned for a Leave vote.
Olney was effectively campaigning against the 17.4million people who voted for Brexit. Lib Dem leader Tim Farron labelled the by-election 'the public's last chance to stop Hard Brexit'. Yes, the Lib Dems hope that their conquering of Richmond Park could make the government think again about the Single Market. Indeed, former Lib Dem leader Nick Clegg said that, 'This time, a Liberal Democrat victory, on an unapologetically pro-European platform, could cause the government to rethink its Hard Brexit agenda'.
Most importantly, the Lib Dem campaign revealed that the party has become a walking contradiction – it has exposed just how illiberal and anti-democratic it really is. In today's Lib Dem lingo, 'liberal' means dismissing a view shared by 17.4million people, while 'democrats' are people who ignore the largest democratic mandate in British political history.
In a recently leaked video, Farron admitted that the party's call for a second referendum on the Brexit deal was actually an 'opportunity to stay, potentially, in [the EU]'. In the name of 'more democracy', the Lib Dems want to undermine democracy. When Farron says his party stands for the 48 per cent, what he really means is it stands against the 52 per cent, against the notion that the people's voice should be heard.
In her victory speech, Olney announced that 'we do not want a Hard Brexit. We do not want to be pulled out of the Single Market.' She later told the BBC that she plans to vote against the triggering of Article 50. Fortunately for us true democrats, while Farron and the rest of his motley crew were bumbling around in south-west London, YouGov's latest poll showed that 68 per cent of UK citizens think Britain should go ahead with Brexit. This by-election has at least shown that the Liberal Democrats are neither liberal nor democratic. Perhaps a name change is in order.
Jacob Furedi is a writer and student.
Picture by: Getty
To enquire about republishing spiked's content, a right to reply or to request a correction, please contact the managing editor, Viv Regan.