The Children: an unsubtle swipe at Baby Boomers
Lucy Kirkwood's new play ladles on the generational resentment.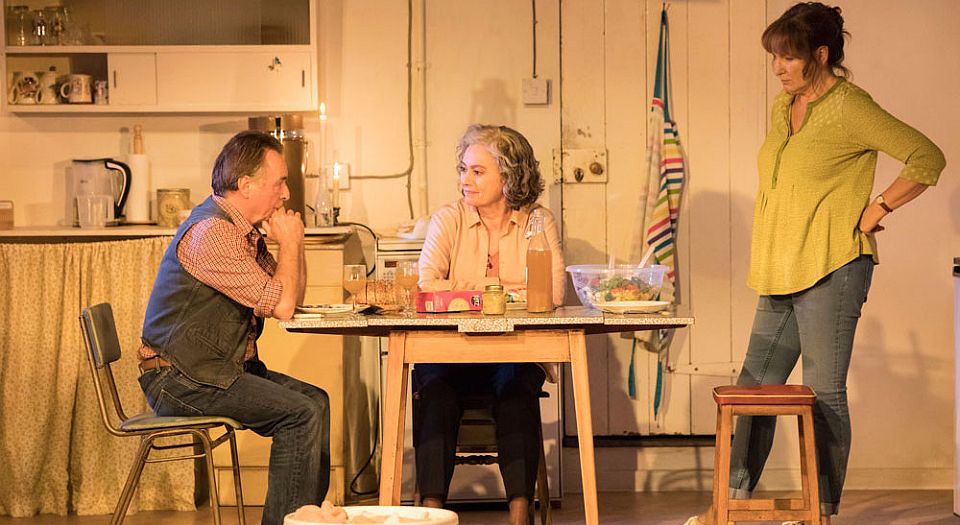 Playwright Lucy Kirkwood has a track record in taking stuff seriously. Her best-known work is Chimerica, a play about political and cultural relations between China and America with a photojournalist investigating a picture from Tiananmen Square. Her new play at the Royal Court Theatre, The Children, is about nuclear scientists facing the consequences of their work following a disaster at a nuclear reactor.
The play is set in the near future and focuses on a sixtysomething couple in a remote cottage not far from the site of the collapsed power station. Into this modestly post-apocalyptic scenario walks an old friend — a former colleague and fellow nuclear scientist who wants the couple to join her in righting the wrong of the disaster and clearing up the mess for future generations.
It's a vigorously didactic piece of work and a typical Royal Court play that's not as subtle as it would like to think. It fits comfortably into the Royal Court tradition of social comment, going back through Caryl Churchill's 1982 play Top Girls, all the way to John Osbourne's 1956 play Look Back In Anger. It's well made, with strong characters and fizzy dialogue driven by old-fashioned moral purpose. The three characters are all good, trustworthy liberals well grounded in Guardian opinion columns. 'You can't have everything you want just because you want it', says one. It's the sort of warm, cleansing enema that might be administered by Polly Toynbee or George Monbiot.
The characters are all creatures of the flesh. Most prominent is Hazel, played by Deborah Findlay. A breezy, 67-year-old mother of four, she is a yoga enthusiast without boundaries and thoroughly open to the world. But she is only just about managing to hold it together with her partner Robin, played with nasal sleaziness by Ron Cook. A slightly weather-beaten louche who brews parsnip wine, he's also charged with maintaining Hazel's self-esteem. In particular not letting her believe that he's still having an affair with their old friend, the new arrival, Rose. Played by a dry, taciturn Francesca Annis, Rose is the one who's come to make them face their responsibility to posterity.
There are some good lines. An acquaintance is described as having a face like a haunted house. 'My arteries look like roof insulation', complains Rose, who is (not very surprising spoiler alert) suffering from cancer. Rose also refers to her body as 'rented meat'. And Kirkwood's willingness to strike an indelicate tone is captured by a nicely scatological touch when a turd resurfaces in the downstairs loo. Pleasingly childish, this episode justifies its place as a humorous echo of the play's message: we need to deal with our shit.
Perhaps, though, Kirkwood's play is a little disingenuous about its own shit. The meaning of the play is never in doubt and the elephant in the room that is their collective historical, political, social and personal responsibility is, by the end, a great big herd of hairy mammoths, tusks projecting menacingly at the considerable number of Baby Boomers in the audience. Like the trio on stage getting sozzled, having a dance and failing to grow up, they, too, are 'The Children' of the title. Kirkwood does tacitly acknowledge that some Baby Boomers did fight the status quo in their time. But what of the younger generation who benefit from the status quo now? What of the younger generation's responsibility to take charge of their own future?
If we start taking the play as a work that has something important to say, then that elephant in the room, which loomed like a herd of mammoths, turns out to be an over-ambitious mouse. Why? Because the play's diligent naturalism downplays its artificiality and disguises its wider significance. This is a process mirrored both by James Macdonald's typically taut and seamless production and by the shabby chic of Miriam Buether's creamy cottage-kitchen set. Meanwhile, the electric-blue light that frames the stage reminds us that the action is unreal and warns us not to take it literally. We are given implicit instructions both to interpret and not to interpret what we see – to treat it symbolically and naturalistically. We are asked to act responsibly and yet released from any need to do so.
This may be true of any naturalistic play with a message, and the alternative could simply be clumsy agitprop. God forbid that the Royal Court's bourgeois audiences should be made to drink such cheap plonk. Even so, if you do have something to say, you shouldn't let your target off the hook. Sometimes a spade should be called a fucking shovel. Simply demanding that the older generation take responsibility is itself a kind of abdication of responsibility. That's why Kirkwood's message reminded me of those who objected to older people being allowed to vote in the EU referendum on the grounds they wouldn't have to live with the consequences. Whatever you think about the outcome of that vote, it was at least a clear case of the older generation trying to clear up their own mess.
Either we're all in this together, or we're irredeemably stuck in a cul-de-sac of universal resentment of all, by all, while the toilet of identity politics continues to back up. Why not put that in a theatrical pipe and smoke it?
Patrick Marmion is a playwright, journalist and associate lecturer at the University of Kent. He is currently adapting Will Self's Great Apes for the stage.
The Children is at the Royal Court in London until 14 January 2017.
To enquire about republishing spiked's content, a right to reply or to request a correction, please contact the managing editor, Viv Regan.