How the left learned to love Prevent
Leftists are cool with government censorship when it's aimed at the right.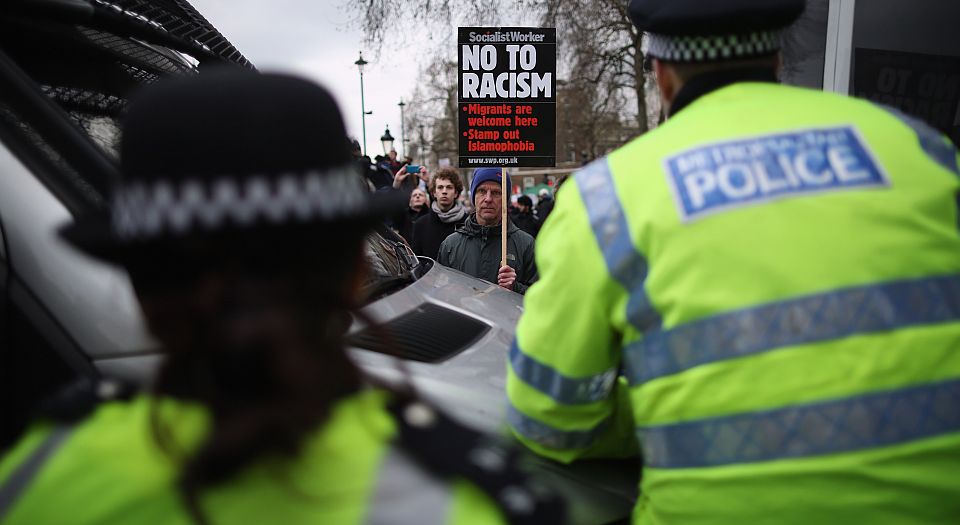 Prevent, the British government's counter-extremism strategy, has been controversial since it was first proposed a decade ago. Under Prevent, teachers, lecturers and a host of other professionals have a duty to safeguard individuals considered susceptible to radicalisation. Anyone who appears to challenge British values, or whose behaviour attracts suspicion, can be reported to local authorities for monitoring and re-education. Nearly 4,000 people were referred under Prevent in 2015, almost three times as many as in the previous year. The youngest was just four years old.
spiked has been vocal in criticising Prevent for fuelling bans on campus speakers, monitoring research and creating a climate of mistrust and suspicion among academics and students. Others, such as the National Union of Students (NUS) and the lecturers' union, UCU, share these concerns and have challenged Prevent for promoting racism and Islamophobia and targeting Muslims. The NUS has been at the forefront of opposition, with its Preventing Prevent handbook and its Students Not Suspects campaign. UCU Left offers advice on 'Challenging the Prevent Agenda' and in March this year members of the National Union of Teachers backed a motion calling for Prevent to be scrapped.
In recent years, opposing Prevent has become a central principle of the political left in the UK. Sadly, this has only ever amounted to, at best, a half-hearted defence of free speech; the NUS, for example, fails to recognise that when it comes to banning speakers, Prevent and its own preferred policy of No Platform are two sides of the same censorious coin. Nonetheless, the NUS posed a clear and definite challenge to Prevent.
Not any more. Last week, shadow home secretary Diane Abbott publicly criticised Prevent. Her outrage wasn't directed at the case of the 14-year-old boy reported for using the French word for 'terrorism' to describe an airport sign. In his French class. No, Abbott's gripe is that Prevent doesn't go far enough. It isn't rounding up enough people with extreme right-wing views. 'The Prevent programme has failed to change the attitudes of those on the far right', she complained.
An article on Left Foot Forward, the 'political blog for progressives', was more explicit: 'Prevent gets a bad press but it's a crucial tool against the far right that killed Jo Cox', said a headline. Forget for a moment that Cox's killer, Thomas Mair, is here absolved of all responsibility for his crime; what's notable is the rehabilitation of Prevent into a policy the left can exploit to serve its own political purposes.
We saw this last week when Milo Yiannopoulos hit the headlines after being disinvited from speaking at his former school. The school was pushed to act after the intervention of the government's counter-extremism unit — which, in turn, had been contacted by various individuals concerned about Milo's appearance at the school. The use of Prevent as a possible means of stopping Milo's appearance was openly discussed on social media. Separately, a Muslim woman, referred to Prevent by her colleagues in the health service, describes a climate where people can, without any substantial evidence, report anyone they dislike and have their accusations taken seriously.
Since 2013 it has been argued that, in order to challenge the perception that Prevent targets Muslims, professionals must take far-right extremism more seriously and report individuals thought vulnerable to this form of radicalisation. Diane Abbott argues that 'we urgently need an anti-extremism strategy that addresses the subversive and veiled far-right activity that is allowed to fester in private'.
The left's public about-turn reflects growing numbers of people being referred under Prevent for holding far-right views. While suspected Islamic extremism still provides the most common justification for referral, the number of individuals referred for right-wing extremism increased by 74 per cent between 2014 and 2015. In some parts of the UK, almost half of Prevent referrals are for far-right extremism. Of the 560 people reported to Prevent for this reason, 290 were schoolchildren.
Despite the lurid fantasies of those who spend their time 'fighting the fash' (while safely behind keyboards and sipping flat whites), the reality is that the far right in the UK today is minuscule and carries little credibility. We are not back in the era of the National Front, nor even of the British National Party. The childishness of labelling every view you disagree with as 'fascist' and then looking to the state to step in and make it go away demonstrates an alarming degree of political and historical illiteracy. It's not a tiny number of pathetic individuals that pose a threat to our freedom — it's this handing over of power to the authorities to approve what we can and can't listen to and talk about.
The newfound love for Prevent makes clear that, for many on the left, it wasn't Prevent's banning of speakers or removal of reading material from libraries that they didn't like; it was simply that those they look upon sympathetically, Muslims, were being targeted. When Prevent is used against opinions those same people don't like, it seems they are first on the phone to report their suspicions.
Joanna Williams is education editor at spiked and the author of Academic Freedom in an Age of Conformity.
To enquire about republishing spiked's content, a right to reply or to request a correction, please contact the managing editor, Viv Regan.