Eric Bristow's tormentors are far more immoral than he is
Piers Morgan vs Eric Bristow was a grotesque spectacle.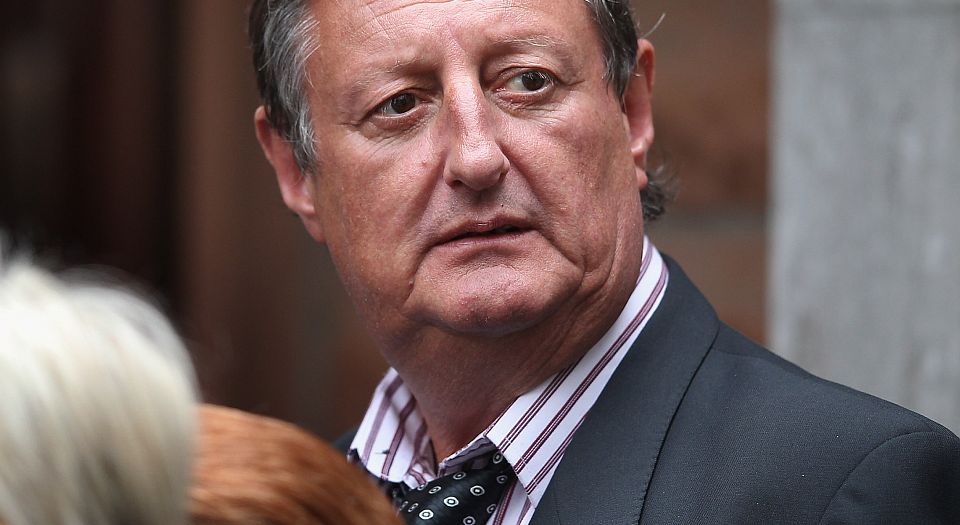 It wasn't enough that former darts champ Eric Bristow lost his commentating gig at Sky Sports, which he'd been doing since the early 1990s. It wasn't enough that he was dumped from an event by Newcastle United and that no other sports club will now touch him with a bargepole. It wasn't enough that hatred for him was trending on Twitter for hours, with fuming Twits denouncing him as mental or evil, certainly pig-ignorant. It wasn't enough that op-ed writers who love riding the coat-tails of self-righteous mobs churned out columns calling Bristow 'toxic' and 'dangerous' and saying his warped ideas have 'no place in 2016'. No, on top of all this Eric also had to be dragged before that most foul 21st-century institution: the televisual inquisition. The final humiliation.
Bristow's crime, of course, was to write unguarded tweets on Monday night suggesting that the former footballers currently revealing that they were abused as children should have dealt with their travails in a different way. Maybe they should have gone and 'sorted out' the man who abused them, he said. Twitter flipped, as it does, a scandal-hungry media lapped it up, Bristow became Moral Enemy No1, and soon he'd lost much of his work. Nice. Then, this morning, came the final act. Bristow appeared on Good Morning Britain. The poor bloke thought it was for an interview. He clearly isn't au fait with the role of TV, and pompous presenters like Piers Morgan, in Twitch-hunts: it isn't to discuss but to denounce; not to tease out what happened but to wail and lecture and point a bony finger at evil on behalf of an outraged nation (well, a pissed-off Twitterati).
Morgan is well-suited to the role. Smugness personified, he's the most irritating man on TV, his arrogance spectacularly out of proportion to his talent. Bristow was a paragon of coolness in contrast to the bellowing, sweating Morgan. 'Stop talking!', Morgan shouted at one point, making clear that this wasn't an opportunity for Bristow to explain himself but for Morgan to make a fat display of his puffed-up moral virtue in the hope that it would go viral, which of course it did. Channelling every pointy-hatted crusader against evil in history, Morgan read out the charge sheet to Bristow and shouted 'THESE BOYS WERE RAPED' in such an unhinged style you could be forgiven for thinking he was talking to the actual rapist rather than to someone who simply said something on Twitter. At one point Bristow referred to the other presenter, Susanna Reid, as 'darling', and there was clearly no ill-intent at all, yet Morgan leapt on that too. 'Don't call Susanna "darling"', he said, saving womankind from offence as well as Britain from Bristow's evil. What a guy! He's the hero we do not deserve. Or want.
Morgan's 'darling' jibe pointed to the ugly class element to the Twitch-hunting of Bristow. A 'crafty cockney' who speaks his mind and uses old-fashioned words like 'darling' and 'poof'? We can't have that, insist the plummy, prissy Twitterati and media. And the fact Bristow was one of Sky's best-loved darts presenters before his destruction by a small, well-educated mob? Who cares! Who watches darts anyway! Not us, darling.
Bristow's televisual grilling echoed that of Stacey Solomon, made to sob and beg for forgiveness on the This Morning couch after she was photographed having a fag while pregnant, and more recently of Louis Smith, the gymnast Twitch-hunted for taking the piss out of Islam, who was interrogated / publicly denounced by the panel on Loose Women. Janet Street Porter, Coleen Nolan and Piers Morgan as the guardians and enforcers of correct moral thinking? We're in a bad way, Britain; a very bad way.
Then came the piece de resistance of Good Morning Britain's squalid six-minute hate against Bristow: they brought on the mother of a child-abuse victim to denounce Bristow. It was deeply unpleasant, almost Salem-like: a victim of evil brought out to confront the evil of Bristow. She called Bristow 'the most deeply offensive man that's breathed oxygen' – over the top? – and said that if she had a set of darts she'd 'stick them where the sun don't shine'. That is, up his arse. Seems you can hint at violence on live TV if your target is Moral Enemy No1. The end result of a Twitch-hunt: the thoughtcriminal is barked at and humiliated and made into the butt of stabby anger before the viewing public.
The rise of the televisual inquisition speaks to how chilling and censorious the 21st century has become, and how hungry the modern media set is for demons it can harry to make itself feel temporarily important and good. It's gross. Really gross. It's the great irony of this whole Bristow affair: his accusers and harassers and Piers Morgan and all the rest of them have behaved far, far worse than Bristow did. His tweets are small fry in comparison with this ugly fashion for turning people we don't like into demons to be put in the TV stocks and pelted with anger.
Brendan O'Neill is editor of spiked.
To enquire about republishing spiked's content, a right to reply or to request a correction, please contact the managing editor, Viv Regan.