Remainers, please, let Jo Cox rest in peace
The media's use of Cox to score political points is grotesque.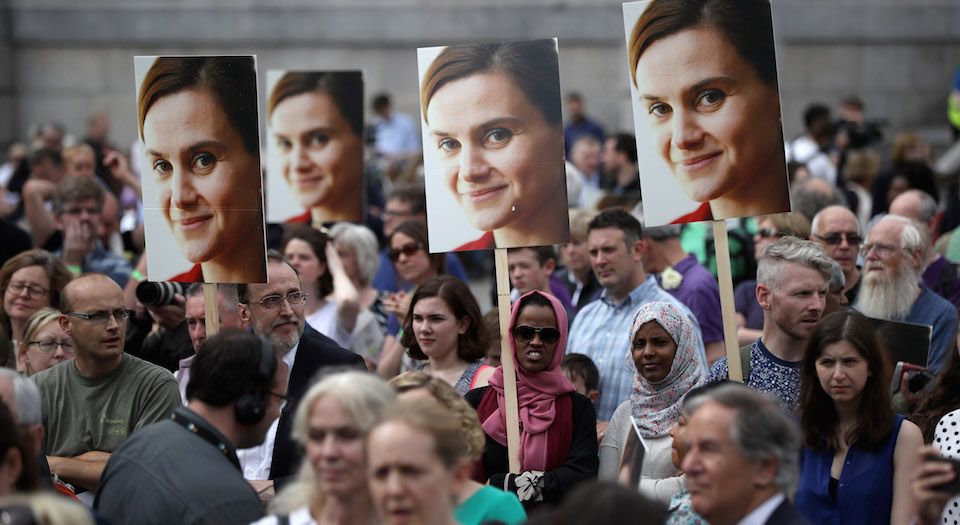 They won't let Jo Cox rest in peace. No, not neo-fascists — Remainers, in the media set and the political class, who continue to marshal her awful fate, her body, to their increasingly desperate cause of defaming Brexit. It's a new political style: vulturism, the use of the dead as a stand-in for conviction.
Yesterday Thomas Mair, the Nazi-obsessed creep, was found guilty of murdering Cox, a Labour MP, in June and was given a whole-life prison sentence. Good. Almost as soon as the verdict was announced, the Cox exploiters were out, offering up Brexit-blaming tweets and columns that they clearly had ready to go but had been keeping out of the public sphere either because they feared being in contempt of court while Mair was on trial or because they still had a tiny, niggling sense of moral decorum (probably the former, let's face it).
Labour MP Jess Phillips was fast out of the starting blocks, citing Cox's murder as evidence of everything she already believed, which is convenient: namely that the internet is a vile place and we must do something about trolls and hotheads. Focusing on her favourite topic — herself — Phillips said politicians like her feel threatened by 'online hatred and abuse' that is 'bubbling over to a dangerous point'. Cox was killed in this environment of ugly speech, she says, as if other people's words, other people's sentiments, are somehow at fault for what Mair did. She both criminalises people who are simply loudmouths and diminishes Mair's criminal responsibility by implying some kind of culture fuelled him. The internet is being used to radicalise 'angry white men', she says — failing to distinguish between a man angry about the EU or Labour, and a man like Mair who is simply murderous — and thus we must better control it.
Times columnist David Aaronovitch wasn't far behind, with a column titled 'Dog-whistle politics can be a deadly game'. Brexiteers may not have been 'permissive of [Mair's] act', he generously says, but perhaps they were 'permissive of the motive' or 'even of the mood'. So anti-EU people may not cheer Cox's murder but they contributed to the conditions in which it could happen. What a libel against people who simply think differently to him. A writer for the Independent says 'language can manipulate our response to ideas', and we mustn't forget that Mair carried out his foul deed in 'the context of a toxic political debate around the EU referendum', with its 'unbridled xenophobia and racism'. Where was this naked hate? Aside from UKIP's ignorant poster saying 'Breaking Point', which everyone denounced and UKIP pulled, where was the rampant malice? We're witnessing a sly rewriting of the referendum: what was in truth a deep, considered and, yes, sometimes heated mass discussion over Britain's relationship with Brussels is being reimagined as an hysterical moment. It simply isn't true.
Across the media, and from politicians too, there have been calls to temper political debate, and ramp up respect for the political class, as a tribute to Cox. Shadow chancellor John McDonnell said yesterday that there is a 'violent nature' to politics at the moment; like many others, he elides speech with violence. We must 'be careful' in how we speak, he says; we need a more 'civilised' public discussion. Of course civilised debate is a good idea. But this is really a call to tone down, if not simply hide away, certain views. As is so often the case, the urge to police language is really about policing ideas — ideas about the EU, about migration, about borders, and so on.
So Guardian columnist Polly Toynbee has pinned the blame for Cox's murder on Leavers who promote an 'anti-politics and anti-MP' outlook. Let's leave aside that one could easily argue that Leave was a demand for more politics, not less, for more ideology and substance over the cold technocracy of Brussels bean-counters that is the true anti-politics of today. More to the point, so what if people promote anti-MP views or anti-elite ideas? That's a way of thinking. It might not always be big or clever, but it's mere thought, belief, an outlook on the world. Cox is being used as a ventriloquist's dummy, not simply to cool language and style, but to demonise ideas.
It is objectionable on so many levels. It speaks to elite Remainers' lingering sense of fury and disgust with what they view as the suggestible electorate, so that they now imply that voters and the demagogues they foolishly follow helped to kill an MP. It reeks of cowardice, where one marches a murder victim to do one's political bidding. It absolves the wicked Mair of full responsibility for his heinous crime through hinting that Nigel Farage or Boris Johnson or maybe the rotten 17.4million who oppose the EU energised him. And then they have the gall to accuse others of lowering the tone of political debate. What they lack in moral decorum they make up for in brass neck. When they stop using a dead woman to score political points, maybe then we'll listen to their thoughts on how to do civilised discussion.
Brendan O'Neill is editor of spiked.
Picture by: Getty Images.
To enquire about republishing spiked's content, a right to reply or to request a correction, please contact the managing editor, Viv Regan.