Prison reform needs big ideas
We need a revolution in justice policy.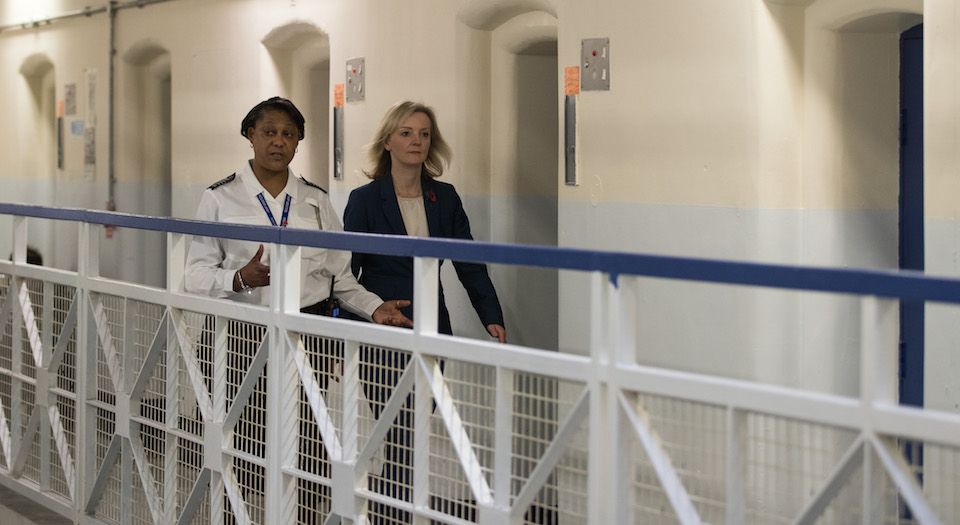 The UK prison system has been in the news recently. Last month, statistics revealed a huge spike in prison violence. There have been riots at two major prisons (HMP Bedford and HMP Moorland) in the last three weeks. And there have been strikes by major prison-workers unions, leading to major disruption at London prisons.
These problems come after Liz Truss, the Conservative MP and justice secretary, refused to commit to an ambitious prison reform bill put forward by her predecessor, Michael Gove. The bill had formed part of the 2015 Queens' Speech. Then prime minister David Cameron described it as a 'major programme for social reform' at the 2015 Conservative Party conference. The proposed reforms were popular, but, when Truss was questioned earlier this year, she refused to commit to moving on Gove's plans. It seems the reform bill is in danger of disappearing completely.
This would be a shame. Gove's programme encouraged prisons to be more focused on rehabilitation, and anticipated the delegation of significant powers to prison governors. It proposed removing the 'categorisation' process, meaning that prisoners would stay in one prison throughout their sentence. Gove claimed – perhaps unrealistically – that he would like every prisoner in the country to have their own room. In all, he wanted prisons to become more focused on equipping prisoners with skills and education. He was apparently inspired by the 'problem-solving court system' that has been trialled in the US, which replaces traditional punishments with therapeutic interventions and intensive community-based sentencing.
You did not have to love Gove, or even agree with every part of his policy, to have found his thinking refreshing. Big ideas are rare in Conservative justice policy, and Gove's plans marked a departure from the mundane mantra 'prison works', made famous in 1993 by the then home secretary, Michael Howard. The theory back then was that the sharp decline in crime during the second half of the 20th century was connected to a significant increase in the prison population. New Labour attempted to claim back ground from the tough-talking Tories in 1997, with the idea that government needed to be 'tough on crime, tough on the causes of crime'. This eventually translated into a significant increase in the number of petty-criminal offences and out-of-court disposals, like the anti-social behaviour order.
However, tough talking quickly gave way to confusion. Ken Clarke, the justice secretary under David Cameron and predecessor to Chris Grayling, famously said that prison was an 'extremely expensive way to house criminals' that 'fails to achieve anything'. Grayling, who became justice secretary in 2012, was so busy fighting with lawyers over his planned cuts to legal aid that his prison policy was widely ignored. While the Tories have often defined themselves by their approach to crime, Tories today don't seem to know what they want.
A good prison system should embody both punishment and a drive to reform. In an essay titled The Humanitarian Theory of Punishment, CS Lewis explained how classical conceptions of punishment recognise the moral autonomy of the offender. By claiming 'an eye for an eye', proponents of punishment recognise that a choice has been made by an offender that demands a payment in kind. It does not treat those who wrong society like automatons, responding to their circumstances in an unthinking way. Rather, there is something essentially liberal in traditional punishment, because it recognises that the response of the state should be directly proportional to the wrong of the offender. For Lewis, the idea of 'just deserts' was the connection between punishment and justice.
But while acknowledging the importance of punishment, it is also humane to say that time behind bars should be well spent. We should not ignore people's inherent capacity for change. The US system has taken the idea of punishment to its most inhumane conclusion, with sentence lengths totted up in a grim mathematical exercise. This is why some criminals in the US end up with sentences of many hundreds of years, as a result of a number of consecutive sentences. We should value the fact that, in the UK, our system limits most prison sentences in order to acknowledge that people have the power to redeem themselves.
It would be a good thing if Gove's prison reform bill made its way back into the Ministry of Justice's plans. He sought to reconcile the traditional recourse to punishment with a more progressive idea of how time in prison should be spent. But, more than anything, his plan was ambitious. And ambition is something that has been sorely lacking from justice policy for some time.
Luke Gittos is law editor at spiked and author of Why Rape Culture is a Dangerous Myth: From Steubenville to Ched Evans. (Buy this book from Amazon(UK).)
To enquire about republishing spiked's content, a right to reply or to request a correction, please contact the managing editor, Viv Regan.