Should Carney stay or go? That's the wrong question
The Bank of England behaves politically because politicians gave it power.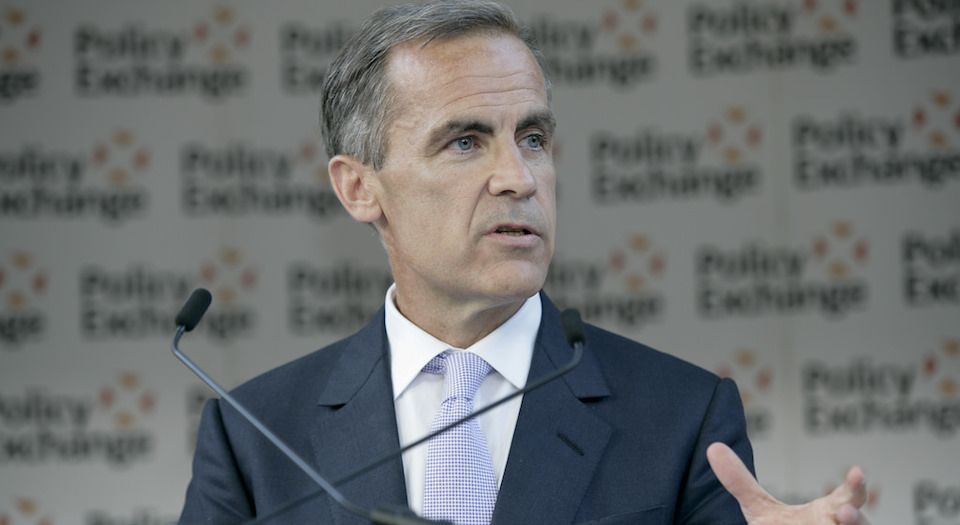 Mark Carney, governor of the Bank of England, has announced that he will extend his term from the originally agreed five years by a further 12 months, taking it to the summer of 2019. While accepted by the government, this hasn't completely quelled the calls from senior Tories for him to step down now. His supposed crime is that the Bank was among the many institutions that had argued during the referendum campaign that Brexit would have dire economic consequences.
There is no dispute that Carney's doom-laden warnings, about which he said in September he still feels 'absolutely serene', contributed to the scaremongering deployed by the Remain campaign. However, the continued baiting of Carney's pro-EU sentiments is distracting from a much more important problem for the economy with which he is associated but less personally responsible for. This is the way successive governments have evaded responsibility for taking decisions that could do something to help fix a dysfunctional economy weighed down by flatlining productivity. Monetary policy under the remit of Carney's 'independent' central bank has become the 'only game in town', because, going back to the late 1980s, politicians have been retreating from the terrain of economic policymaking.
The Carney affair highlights a big economic danger, not from the anticipation or act of Brexit, but from the distorting, ubiquitous economic discussion about Brexit. Over the past four months, we have developed an economic-Brexit obsession, seeing everything economic through a Brexit-tinted lens. Almost every piece of economic news is viewed as a Brexit story. Bad economic news is invariably being blamed on Brexit.
This Brexit monomania is getting in the way of seeing what is really going on in the economy and distracting from more serious issues. This is what Carney has fallen foul of. He's an experienced and highly paid operator who knew what he was taking on as governor. There is no need to feel sorry for him. But there is reason for concern about how this economic Brexit-fixation, and in this instance the calls for his head, is distracting from the real economic problems. Not least from the extreme reliance on the ultra-easy monetary policies presided over by Carney and his fellow central bank leads in the US, Japan and the Eurozone.
As an individual technocrat – a label Carney proudly identifies with – he is probably as competent and as incompetent as any potential replacement. During his term he hasn't, yet, provoked a new financial crash or a recession. He has argued correctly – the same as his fellow central bankers have done – that monetary policy has limits and that governments should be much more active with their own economic policies.
At the same time he has also made his fair share of blunders. Early on he got himself into a big mess with his favoured 'forward guidance' policy that he announced when taking up his role in 2013. This was designed to set reassuring expectations that the base interest rate would not be increased soon. However, he did this by giving what he thought was a challenging unemployment target of a fall to seven per cent before which the Bank would even consider raising rates. When, in the following months, unemployment quickly fell below the target level – a symptom of our work-rich, pay-poor economy – he abandoned his rule. He made things worse by fudging that his policy had not been flawed but was simply entering a 'new phase'. His credibility never fully recovered.
He made another mistake this August with his over-anxious further cut in the base rate, to 0.25 per cent, while announcing additional monetary stimulus supposedly to stave off a post-referendum recession. Even after these actions, the Bank was gloomily forecasting economic growth to slow to 0.1 per cent in the July-to-September quarter. As we now know, with the first estimates published by the Office for National Statistics, GDP grew by about 0.5 per cent during this period, in line with its recent trend.
But he is hardly the first central banker to present faulty economic forecasts. That's an occupational hazard if you are anywhere close to the mainstream economics profession. Models are only as good or as bad as the crude assumptions input. Where he probably errs more than others is in suggesting these forecasts as being near the objective truth, and in failing to admit their frequent mistakes.
However, the recent Carney furore has mostly been over his statements on the EU and Brexit. Criticisms levelled at him by Tory figures like Jacob Rees-Mogg and former chancellors Norman Lamont and Nigel Lawson have focused on his views of Brexit. He's been accused of scaremongering and acting 'beneath the dignity' of his historic institution in making pro-EU statements.
What all this elides is why his post has recently attained such authority. In the past, central bankers were seen as glorified administrators, and usually pretty boring ones. In contrast, Carney's elevated position as Britain's top economic spokesman, on a par with, if not even more highly regarded than, the chancellor of the exchequer, rests primarily on the way the political class has evaded their responsibility for policymaking. The fashion for the operational 'independence' of central banks – established in Britain by the incoming Labour government in 1997 – exemplifies the way governments have increasingly sought to evade their earlier responsibility for economic decision-making. They have outsourced their authority to unelected experts and technocrats, not least to central bankers.
The charge that Carney should resign because 'he politicised his office inexcusably', as claimed by the Tory MEP Daniel Hannan, gets things back-to-front. It is politicians who are responsible for this circumstance, even if they didn't, and don't, intend it. Most of them have gone along with the depoliticisation of economics for nearly three decades. Ever since TINA took hold in economic matters – that is, 'There Is No Alternative' to the market – leading politicians have retreated from advancing alternative policies for economic growth and development. All they appeared content to retain was the bean-counting responsibility for trying, usually unsuccessfully, to make the government's financial books balance by endlessly tweaking spending and taxation arrangements.
It is the politicians' transfer of responsibility for the better running of the economy to unaccountable technocrats like Carney that has put them, and him, into positions that are intrinsically 'political'. Economic decisions, including the manipulation of interest rates and unconventional monetary policies such as quantitative easing (QE), affect people's lives, sometimes enormously. This is political in the sense of 'relating to citizens', from the original Greek meaning of the word. Technocrats have assumed this role – some acting less meekly, or discreetly, than others – because of politicians dodging it. Politicians should therefore think more self-critically about how this situation came about.
It is also a shame that more valid criticisms of modern central banking, such as those from another Tory grandee, William Hague, made in a recent Daily Telegraph article, have been lumped in with the rest. This conflation of different criticisms illustrates how the Brexit lens distracts from a valuable public discussion about the limitations and damage being caused by today's monetary policies, for which Carney and his colleagues are in practice responsible.
Claiming that 'central bankers have collectively lost the plot', Hague pointed out that 'eight years after the global financial crisis they are still pursuing emergency policies that are becoming steadily more unpopular and counterproductive'. Leave aside the question of 'popularity', which is not the best way to assess the strengths or weaknesses of an economic policy, monetary policy has become counterproductive for the goal of reviving decent levels of economic growth. Hague's eighth charge – out of 10 – against the continued use of emergency monetary policies is the most damming: '"Zombie companies", which can only stay in business because they can borrow so cheaply, are kept going even though they would not normally be successful – dragging down long-term productivity.' This is a big contributor to explaining the 'puzzle' of low and flat productivity.
Hague concluded by saying that the independence granted to central bankers was supposed to make them 'brave enough' to make tough decisions. He correctly assessed that 'in reality they are blowing up a bubble of make-believe money to avoid immediate pain'.
Hague was also correct when he responded to the defence by Carney and others against criticism that the consequences of their ultra-easy money policies are not really their fault because 'they are not political leaders. They are just doing a technical job.' Hague answered: 'I have bad news for them. The accumulating effects of loose monetary policy globally are intensely political.' Unfortunately, but not surprisingly, Hague is only scratching the surface of what's happening here. Not surprising because, as he admits, the Conservative Party of which he was then a shadow minister, and soon to be leader, endorsed that 1997 Labour government decision to give the Bank operational independence.
It is positive, though, that Hague is now questioning Bank 'independence'. That's a public discussion that is long overdue. This should be more than a technical assessment of the problems caused by giving technocrats too much power. It should look at: what really drove independence? Is there such a thing as independence of the monetary policy setter, when this policy has overlapped with fiscal policy? Under QE, for instance, central banks are directly buying government debt, or indirectly reducing the government's cost of debt. What aspects of policy should be delegated to technocrats? This needs to include a wider self-criticism by the combined political class of their earlier agreement to outsource most of their responsibility and authority for economic policy. It is not helpful that these serious issues raised by Hague have been diluted by Brexit mania.
Even with respect to Brexit, Carney's antics are much less a problem than how Theresa May and her Cabinet are acting. Their decisions have already delayed the implementation of Brexit and they seem to be taking every opportunity to water down what Brexit means. A moment to build on 23 June's popular vote for change is being squandered. The occasion to launch a national democracy-imbued conversation about economic renewal is being turned into another secretive inner-elite technocratic exercise, mostly about the sideshow of the ins and outs of trade agreements. Pro-Brexit Tory critics of Carney would do better to focus their energies closer to home, at their own government.
Phil Mullan is the author of The Imaginary Time Bomb: Why an Ageing Population Is Not a Social Problem, published by IB Tauris, 2000. (Buy this book from Amazon UK or Amazon USA.) His forthcoming book, Creative Destruction: How to Start an Economic Renaissance, will be published by Policy Press in 2017.
To enquire about republishing spiked's content, a right to reply or to request a correction, please contact the managing editor, Viv Regan.