Trump and Hillary's use and abuse of women
The sordid fascination with abuse allegations has degraded politics.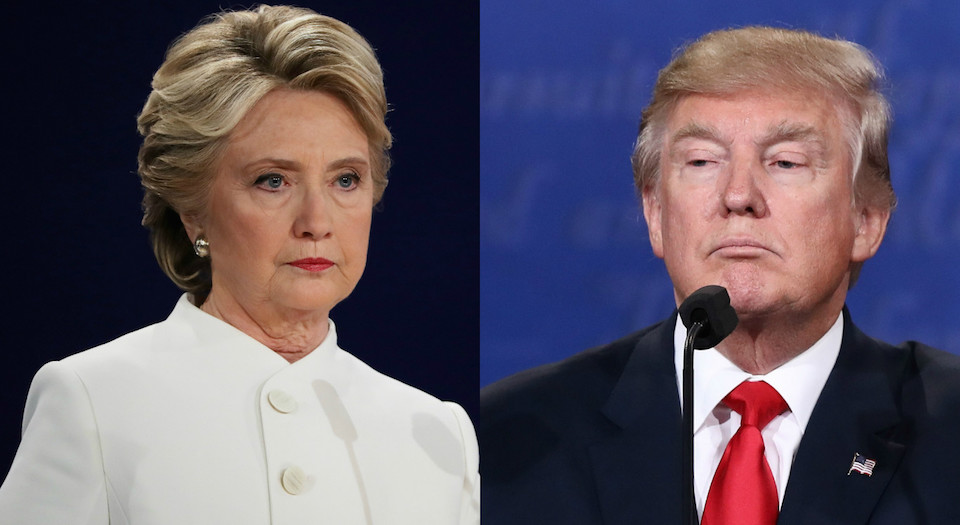 In just under two weeks, the next US president will be announced. And most Americans are glad the race is finally coming to an end. Over the past two weeks, the level of the debate, replete in Twitter spats and personal insults, between Hillary Clinton and Donald Trump has been horrendous.
But perhaps the worst part of the political punch-up between Trump and Clinton has been the use and abuse of sexual-assault allegations. Both candidates have used past allegations and affairs to smear one another. As a result, the TV debates looked more like reality TV than serious political debate. In the final few weeks of the presidential campaign, there's been more talk about sex than there has been about policy.
Since the start of her campaign, Hillary has asked people to vote for her because she is a woman. But when Trump was confirmed as Clinton's rival for the White House, her use of gender politics became more pronounced. At Clinton's rallies, claims about Trump's attitude towards women were front and centre. At one such event, celebrity feminist Lena Dunham joked that Trump would rate her body 'as probably like a two'. In the first presidential debate, Hillary brought up Alicia Machado, a former Miss Universe, who Trump 'fat-shamed' in 1996 by calling her 'Miss Piggy'. In her video for Clinton's campaign, Machado warned voters against voting for Apprentice star Trump, saying 'this is not a reality show'. And yet Clinton continues to rely on scandalous secrets to denounce her opponent.
Clinton's smear campaign against Trump was boosted just before the second presidential debate when the Washington Post released a video from 2005 showing Trump telling Access Hollywood presenter Billy Bush that he could have any woman he wanted, and that all he had to do was 'grab them by the pussy'. That particular comment was pounced upon by Clinton's campaign. Since then, the Clinton camp has promoted various claims made about Trump's past conduct, ranging from claims that he hired women based purely on their appearance to the claim that he raped a 13-year-old. 'We know what he has said and what he's done to women', Clinton said, during the final presidential debate.
Similarly, Trump has tried to use allegations of sexual misconduct against Bill Clinton to bring down Hillary's campaign. In an email exchange at the start of October, Trump declared 'I want to win this election on my policies for the future, not on Bill Clinton's past'. Needless to say, that didn't last long. An hour before the second presidential debate, Trump held a press conference with four women who have accused Bill Clinton of sexual assault and rape, including Paula Jones, who claims Clinton sexually harassed her in 1991; Juanita Broaddrick, who claims Clinton raped her in 1978; and Kathleen Willey, a former White House aide who claims Clinton groped her 1993. Hillary has long been criticised for covering up Bill's misdeeds, and Trump has used this to deflect from allegations about his own conduct. As a result, the presidential race has become a battle of he-said, she-said.
So why is this a problem? Surely a presidential nominee's past conduct is relevant to the campaign. But the use of these allegations, all of which date back many years, is actually damaging US politics. Instead of discussing the economy, jobs, foreign policy or any of the big issues that you expect the next leader of the free world to care about, both Clinton and Trump have devoted most of their energy to slinging mud at one another.
What's more, this new, sordid fascination with sexual-abuse allegations inevitably trivialises violence against women. The more that abuse claims are exploited by politicians to score points against one another, the more people grow sceptical of the claims themselves. Rape and sexual assault shouldn't be fodder in a PR war. Both Clinton and Trump should be ashamed of their manipulation of women to further their own petty campaigns.
Talking about sexual violence is one thing, but this is not what this is about. Under the pretence of having 'respect' for abuse survivors, Trump and Clinton are trying to exploit the issue of sexual violence to score moral points. This depraved election campaign has come down to a competition of who is the bigger abuser – or, in Clinton's case, enabler. Women in the US, and across the world, should reject this seedy debacle of a campaign and its exploitation of women. We can only hope for some serious, meaningful debate in these last few weeks. But I won't hold my breath.
Ella Whelan is assistant editor at spiked. Follow her on Twitter: @Ella_M_Whelan
Picture by: Getty Images.
To enquire about republishing spiked's content, a right to reply or to request a correction, please contact the managing editor, Viv Regan.