A 'fake sheikh' can be a real reporter
The Leveson lobby want to find all dirt-digging journalism guilty.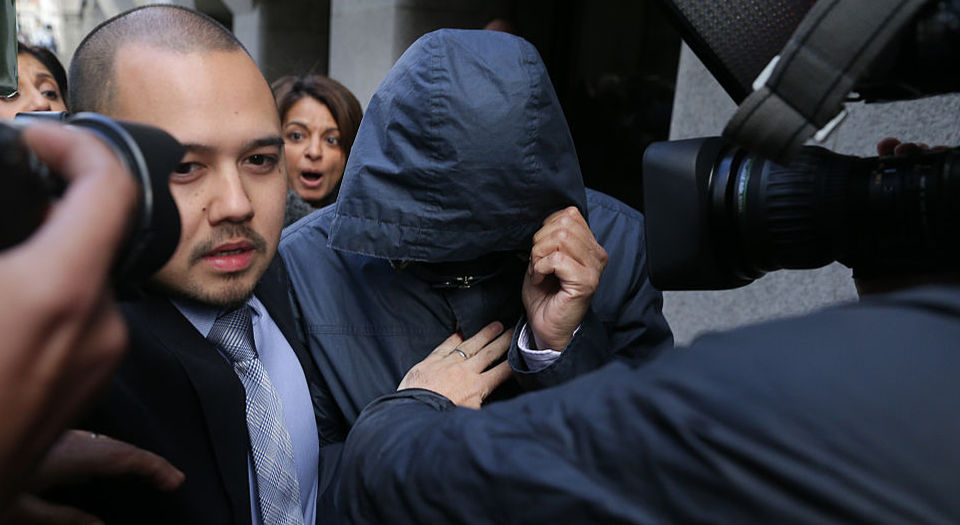 The conviction of 'fake sheikh' Mazher Mahmood, Britain's most famous undercover reporter, for perverting the course of justice has been seized upon as a stick by those who want to beat tabloid journalism into submission. But whatever anybody thinks of Mahmood and his methods, dirt-digging reporting remains a vital tool of journalism in an open society. The fall of the fake sheikh is no excuse for allowing supporters of state-backed regulation to pervert the course of press freedom.
Mahmood was sentenced to 15 months in prison on Friday, having been found guilty of conspiring to pervert the course of justice in the previous trial of former N-Dubz singer and X Factor judge Tulisa Contostavlos. Tulisa and her rapper friend Michael Coombs had been prosecuted for supplying cocaine, after being caught in an undercover Sun on Sunday sting allegedly obtaining drugs for Mahmood, who was posing as a big-time film producer.
That 2014 drug trial collapsed after the judge ruled that Mahmood had plotted with his driver, Alan Smith, to suppress anti-drugs comments Contostavlos made in Smith's car. The prosecution of Mahmood and Smith followed. Last week Mahmood was jailed and Smith received a 12-month suspended sentence for his part.
The fake-sheikh case has been broadcast by high-minded haters of the popular press as if it were a verdict against all tabloid journalism. Protesters outside the court, including previous celebrity 'victims' of Mahmood's press stings, insisted that the British authorities 'must not be held to ransom by a corrupt or unscrupulous press', and called on the government to 'cleanse this stain on our democracy once and for all'.
The anti-tabloid lobby, led by the Labour Party, now wants the government to trigger part two of the Leveson Inquiry, to rake over the old phone-hacking scandal and probe relations between the press and the police. It also wants the government to implement the post-Leveson law that would enable the courts to impose special punishments on newspapers which refuse to submit to state-backed regulation.
Any publication not signed up to an official regulator recognised by Royal Charter – which would include Private Eye, spiked and the Sun – could then be subject to exemplary fines and, if taken to court, would be forced to pay both sides' legal costs, even if they won the case.
Westminster rumour has it that Tory prime minister Theresa May and culture and media secretary Karen Bradley, neither of whom appears to have a liberal hair on their head, are more sympathetic to the press-bashing Leveson lobby than their predecessors, David Cameron and John Whittingdale.
The fake-sheikh verdict has added more fuel to the fire on which some want to burn the tabloid press. If anything is a 'stain on our democracy' it is this attempt to sanitise dirt-digging journalism, tame the trouble-making tabloids and further curb press freedom in Britain.
Investigative journalism inevitably involves underhand tactics. That does not necessarily make it below-the-belt or illegitimate. Its aim, after all, is to expose something which somebody – often somebody in a position of influence or power – wants to remain secret. As a famous saying about journalism goes (attributed to everybody from William Randolph Hearst to George Orwell, but true whoever said it), 'News is what somebody does not want you to print. All the rest is advertising.'
Every big investigative story down the years has involved reporters skirting and bypassing the rules, bending and breaking laws, often resulting in threats, prosecution and imprisonment. Even during the most famous campaign of 'public interest' journalism – the 1970s Watergate investigation that exposed corruption in the White House and brought down US president Richard Nixon – a judge warned Washington Post reporters Bob Woodward and Carl Bernstein that he would jail them if they talked to members of a Grand Jury. Almost 40 years later, documents reveal that they did just that.
No doubt some would consider it sacrilege to mention the righteous Woodward and Bernstein in the same breath as the muck-raking Mazher Mahood of the News of the World and the Sun on Sunday. His stories may not have quite the same noble cachet as Watergate. But as Press Gazette editor Dominic Ponsford pointed out after Mahmood's conviction, unlike those caught up in the phone-hacking scandal, few of the fake sheikh's targets could seriously claim to be innocent victims; many comprised a ragbag of corrupt individuals, criminals, paedophiles, high-powered hypocrites and putrid characters.
Whether or not you were interested in his brand of stories, it would be hard to deny that the fake sheikh was a real reporter, at a time when his tabloid employers were almost alone among UK papers in devoting serious resources to investigative journalism. Over the course of 30 years of undercover investigations, during which he sometimes disguised himself in Arab robes and thus earned his nickname, Mahmood won prizes and plaudits as well as condemnations.
In 1999 he was named reporter of the year for revealing that Newcastle United directors Freddy Shepherd and Douglas Hall had expressed their contempt for the club's top players and fans and local women. In 2011 he won the reporter of the year and scoop of the year awards for his expose of spot-fixing by Pakistani international cricketers, who agreed to take money from Mahmood, posing as an illegal bookmaker, to bowl no-balls to order.
The case that finally brought down the fake sheikh certainly seemed, as Roy Greenslade of the Guardian put it, 'one of his more humdrum sting operations', with fading pop star Tulisa having 'nothing like the public profile of previous victims such as the Duchess of York, the Countess of Wessex or the former England manager Sven-Göran Eriksson'.
So how did such a 'humdrum sting' earn him an extraordinary 15-month jail sentence?
The natural habitat of the undercover reporter is a grey area, where a line between what might be deemed right and wrong is often blurry at best, and how far to push it is an editorial judgement call to be made in specific circumstances. In a similar way, the case against Mahmood was hardly as black and white as it has been painted.
For example, in the original drug trial, it became clear that Mahmood had accumulated enough hard evidence to make Costostavlos' friend Coombs plead guilty to supplying him with cocaine. That guilty plea was simply annulled when the judge threw out the case.
As for the case against Mahmood for perverting the course of justice, which led to him being jailed last week: that essentially rested, as Smith's defence barrister pointed out in court, on different memories of 'a conversation in a car in 2013 which lasted no more than 20 seconds'. Yet in 2016 that was apparently sufficiently serious to warrant a major criminal trial and a longer prison sentence than for many crimes of violence.
It is hard to escape the feeling that some in authority have long wanted to make an example of Mahmood the insolent and irreverent reporter – just as some crusaders now want to use his example to urge the authorities to crack down harder on dirt-digging journalism.
Investigative journalism is often about making sensitive and close judgement calls. If Mahmood made a wrong call and overstepped the mark in some cases, he was hardly the first. All media outlets can get carried away in pursuing their somewhat self-righteous agendas.
We might recall how the saintly BBC, in its post-Savile fervour to unveil powerful paedophiles, claimed it could prove a top Tory lord was a child abuser – a claim which cost the corporation dear in damages and reputation. Or how the Guardian, scourge of tabloid excesses, itself repeatedly overstepped the mark and let fervour override facts in its hacking investigation; most infamously when it wrongly claimed that the News of the World had not only hacked abducted teenager Milly Dowler's voicemail in 2002, but had also deleted messages and given Milly's family 'false hope' she was alive. That overblown Guardian claim in the summer of 2011 prompted Cameron to set up the Leveson Inquiry and Rupert Murdoch to close down the News of the World, in the process dumping Mahmood and a couple of hundred other journalists on the dole.
Now these same moral guardians of the liberal media are back on their high horses, using the Mahmood verdict to find the tabloids guilty and demand another Leveson showtrial and state-backed crackdown on the sort of journalism which is not to their rarefied tastes.
They should be reminded, if they ever knew it, of the value of press freedom as an indivisible liberty that we defend for all or none at all. And they should be reminded of the role that disreputable, dirt-digging reportage played in the creation of our civilised society.
A footnote. One of the heroic inventors of modern tabloid journalism was WT Stead, sensationalist editor of the Pall Mall Gazette in the Victorian era, and a figure who makes Mahmood look like Mary Berry. In 1885 Stead ran a series of melodramatic articles about child prostitution in London entitled 'The Maiden Tribute of Modern Babylon'. Written in the now-familiar style of puffed-up moralism mixed with puerile titillation, Stead's exposes (banned from WH Smith newsstands but sold by Salvation Army members) gloried in titles such as 'The Violation of Virgins', 'Confessions of a Brothel-Keeper' and, most shockingly, 'A Girl of 13 Bought for £5'. To obtain that last story, Stead employed somewhat unconventional and entirely illegal journalistic methods. He posed as a procurer and arranged personally to buy a 13-year-old virgin from her alcoholic mother. The result was a three-month jail sentence for the undercover reporter – and a new law against child prostitution that raised the age of consent to 16.
Never mind condemning the evils of the fake sheikh – we might recall that modern press freedom and investigative reporting was founded by a 'pretend paedo'.
Mick Hume is spiked's editor-at-large. The concise and abridged edition of his book, Trigger Warning: Is the Fear of Being Offensive Killing Free Speech?, is published by William Collins.
To enquire about republishing spiked's content, a right to reply or to request a correction, please contact the managing editor, Viv Regan.