10 things I hate about EU
Anti-democratic, anti-worker, anti-migrant... the EU is awful.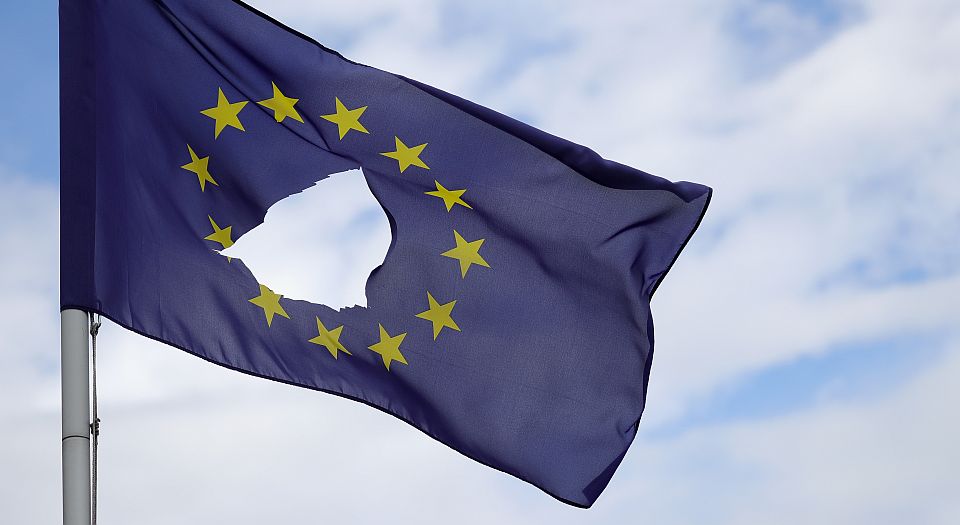 More than 100 days since the Brexit vote, many Remainers still think they have the moral high ground. They hold up the European Union as a beacon of internationalism, progressiveness and cooperation, while Leave voters are denounced as xenophobes hoping to tear the continent apart. The EU deserves no such praise. Here's a reminder of the EU's worst excesses, and why Britain is right to leave this shameful institution behind.
1) It destroyed the Greek working class
So, you say the EU is a progressive project, built in the interests of workers? Tell that to the Greek working class. Since the Greek debt crisis began in 2009, Greece has been pummelled with austerity measures by the Troika – the European Commission, the European Central Bank and the International Monetary Fund. And recently, things have gone from bad to worse.
In 2015, more than 61 per cent of Greek voters voted No to another EU bailout due to the austerity measures attached. Yet the voice of the Greek people was ignored and Greece's leaders acquiesced to more punishing austerity. Today, the situation remains rocky: unemployment stands at 23.2 per cent, while youth unemployment has remained at around 50 per cent since October last year, only recently dropping to 42.7 per cent.
2) It screws over Africa
Not only has the EU wrecked the economies of its own member states, Africa gets it in the neck, too. The EU's Common Agricultural Policy provides subsidies for the EU's biggest landowners. This means the EU can export heavily subsidised food into Africa, ruining local trade for farmers who have to compete with the low prices. Meanwhile, EU restrictions on imports cost African countries millions.
As Brian Denny, spokesman for Trade Unionists Against the EU, has noted: 'Mozambique loses more than £100million a year because of restrictions on importing into the EU, coupled with the dumping of cheap exports at its door, while many thousands of workers in Swaziland have lost their jobs because the local industry cannot compete.'
3) It has a racist immigration policy
Many in the Remain camp claim that leaving the EU is simply a xenophobic excuse for closing borders and stopping immigration. But while the EU offers free movement to those within its borders, those outside are treated brutally. According to the Overseas Development Institute, Europe spent over €17 billion to curb migration between 2014 and 2016. By far the largest chunk of money, €15.3 billion, was spent outside of Europe – in many cases paying off African dictators to keep black migrants out.
Thousands of immigrants have perished trying to cross into Europe illegally. More than 2,500 people died trying to cross the Mediterranean between January and May this year, according to the United Nations refugee agency. During the same period last year, 1,855 people died. This is the direct result of a migration policy that is not only restrictive, but openly discriminatory.
4) It is contemptuous of ordinary people
EU officials are not shy about letting EU citizens know what they really think of them. Following the Brexit vote, European Commission president Jean-Claude Juncker rejected British Leave voters' capacity for independent thought by claiming we'd been brainwashed by '40 years of lies'. According to Juncker, the vote showed 'something was wrong in Britain'. It has similarly libelled French, Irish and Dutch people as 'ignorant' when they voted against EU treaties.
5) It carries out technocratic coups
The EU is deeply undemocratic, preferring to make decisions behind closed doors, beyond the reach of the public. Its contempt for democracy was perhaps made most explicit in the wake of the financial crash.
In 2011, technocratic governments were imposed on Greece and Italy, fronted by former EU bureaucrats Lucas Papademos and Mario Monti respectively. Both pushed through EU-sanctioned austerity measures, including higher taxes and a rise in pension ages. Monti has praised the rule of technocrats: 'The absence of political personalities removes any ground for disagreement.'
After Ireland's economy hit the skids, it was forced to push through €4 billion in cuts under the watch of EU bean-counters, including cuts to public servants' pay and a reduction of social welfare. VAT rose to 23 per cent, while child benefit was cut and police stations were closed. The EU's meddling in Ireland's economy continues to this day. In August, the European Commission ruled that Apple's Irish operation must pay €13 billion in back taxes. This overrides Irish sovereignty: the elected government of Ireland had lowered corporation tax rate precisely to attract foreign investment.
6) It rejects referendum results
When it comes to ignoring the democratic will of its member states, the EU has form. Its rejection of the Greek No vote in 2015 is just the tip of the iceberg. After Ireland voted to reject the Lisbon Treaty in 2008 it was forced to vote again. Under heavy pressure and borderline financial blackmail, it voted to wave it through the following year. This was the second time the Irish had been forced into a do-over. In 2002, a second referendum was held on the Treaty of Nice, after it was originally rejected in 2001. In 2005, the French rejected the EU Constitution, which was then promptly rebranded the Lisbon Treaty and pushed through the French parliament in 2009 by then president Nicolas Sarkozy.
7) It is risk-averse
The EU's risk-averse regulations are the scourge of innovation – and many are downright barmy. The price of oven gloves shot up this year after EU officials decided they would impose rigorous testing to ensure that they could withstand temperatures of up to 200 degrees centigrade. In 2010, EU officials suggested banning diabetics from driving. Luckily, this ridiculous rule was never enforced.
8) It constantly smears Eastern Europe
The EU regularly treats its Eastern European member states with contempt, sticking its nose into their sovereign matters. Eastern European states' rejection of mandatory migrant quotas has fuelled tension. But the hectoring goes back much further. In 2006, the elected prime minister of Slovakia was instructed by Brussels to clamp down on political extremism and repress certain ways of thinking. That same year, the prime minister of Poland was forced by Brussels to declare that his government was not homophobic or anti-Semitic, and that it would not bring back the death penalty. And in 2011, the EU pressured the Hungarian government into rethinking its new constitution.
9) It helped destabilise Ukraine
When large protests against the former Ukraine president Viktor Yanukovich took place in 2013 and 2014, the EU, in all its wisdom, and alongside the equally meddlesome US, decided to intervene. Leading European and American leaders visited the protest camps and spoke out against Yanukovich. This isolated Yanukovich and emboldened the protesters, leading the pro-Russian regime to be replaced by a new, pro-EU regime. Whatever your feelings about Yanukovich, he and his party won in fair elections. The EU's meddling in Ukraine further destabilised the country and helped plunge it into a civil war.
10) It keeps has-been politicians in work
Jean-Claude Juncker became EC president one year after being more or less forced to resign from his position as president of Luxembourg, following a spying scandal involving the country's intelligence service. In any country this would usually be considered the point at which your political career dies a quiet death. But the EU welcomed him aboard.
Neil Kinnock lost two elections as Labour leader from 1983 to 1992, stepping down after the party's fourth consecutive election defeat. Having finally come to terms with his lack of appeal to the electorate, he took the next logical step: the unelected position of European commissioner for transport in 1995. The EU, temple of anti-democracy, will always provide a home for unpopular politicians.
To enquire about republishing spiked's content, a right to reply or to request a correction, please contact the managing editor, Viv Regan.