May the Brexit Boudicca? Maybe not…
The Remainer prime minister looks an unlikely champion of popular democracy.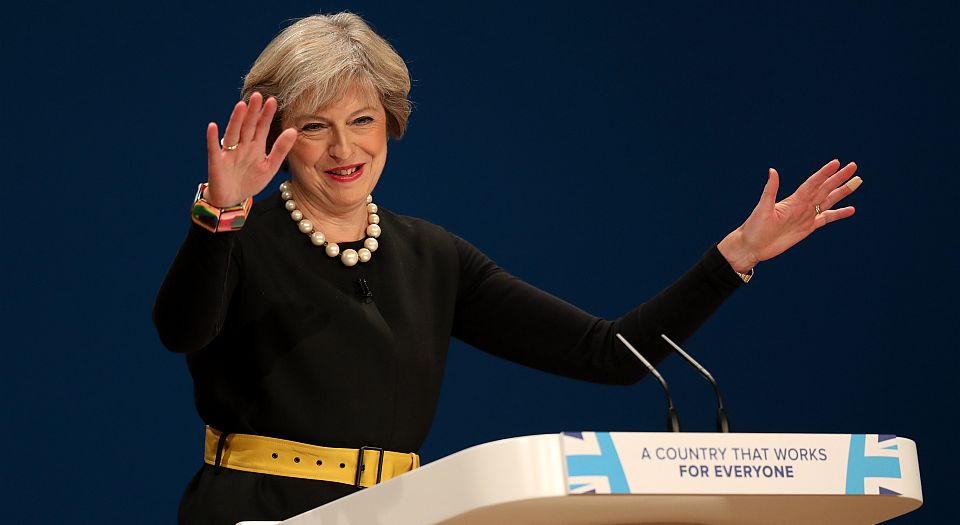 Prime minister Theresa May won plaudits from the Tory Leave lobby this week for her pro-Brexit speeches at the Conservative Party conference. May announced that she would trigger Article 50, giving formal notice of the UK's intention to quit the European Union, by the end of March 2017. She pledged that her government would 'get on with the job' of making Brexit happen, without being delayed by opponents in the Westminster parliament or the devolved administrations of Scotland, Wales or Northern Ireland.
Declaring that 'We have voted to leave the European Union and become a fully independent, sovereign country', the prime minister also announced plans for a Great Repeal Bill to scrap the 1972 European Communities Act – the major legislative bond to the EU, which has enabled European rules to override UK laws for the past 40-odd years. She even took a well-aimed swipe at the anti-Brexit lobby for showing 'contempt for democracy' by trying to reverse the June referendum result and 'sneering' at Leave voters.
It might seem that, after months of dithering, Theresa May has finally emerged as the hero of the hour, the Brexit Boudicca come to rescue British democracy from Euro-tyranny. What's not to like? What were we worrying about? Well…
Those of us on the left who supported Leave as a stand for greater democracy, and have been fighting against the anti-democratic backlash since, should certainly welcome the fact that things are finally moving. However, it is rarely advisable to accept at face value speeches designed to placate the party-conference faithful. Before we start joyously dancing around the May pole, there are a few serious questions to be asked.
In politics, it is important to judge people by what they do rather than what they say about themselves. And what May actually did as Tory home secretary was to support the Remain campaign to keep the UK as a loyal member of the European Union.
She may not have thrown herself into the frontline of David Cameron's so-called Project Fear, by predicting apocalypse from now on if Britain voted to leave. May did, however, warn against any idea that the UK would be able simply to quit the EU without making major concessions to maintain good relations. 'Those concessions', she told us during the referendum campaign, 'could well be about accepting EU regulations, over which we would have no say, making financial contributions, just as we do now, accepting free-movement rules, just as we do now, or quite possibly all three combined'.
Now, little more than three months later, May boasts that under her leadership Brexit will make Britain 'a fully independent, sovereign country' once more. Which might beg the question: does she accept that the UK is not sovereign or independent as a member state of the EU? In which case, why did she campaign for Britain to remain a dependent, non-sovereign vassal state just a few weeks ago?
May's apparent damascene conversion to the cause of Brexit and democracy suggests that, like almost every British politician from Boris Johnson to Jeremy Corbyn, her attitude to the EU is tactically elastic rather than built on firm principles. None of them can be trusted to deliver, particularly if their feet are not kept to the fire by public pressure.
So much for principles. The practicalities of May's big Brexit plan raise further questions. Her much-vaunted Great Repeal Bill, for example, might not look quite so great in practice as the headlines suggest.
The one piece of Euro-law it pledges to repeal is the 1972 European Communities Act – an important step in itself. At the same time, however, all of the EU legislation imposed on us via that Act over recent decades will be, not abolished, but incorporated into UK law. We will effectively be, to quote May's referendum campaign speech, 'accepting EU regulations, over which we would have no say'. It will then be up to present and future UK parliaments to decide which bits of the vast tonnage of past EU law they are actually prepared to scrap. Perhaps we should not hold our breath while waiting.
The biggest problem with May's new image as the Brexit Boudicca, however, lies not in the devilish details. It is bizarre to assume that this most technocratic, ideology-free politician could be the champion of democracy and of the democratic spirit of Brexit, defending the people against the powerful and privileged elites in the way the Tory conference claimed this week.
May is cut from the same cloth as the EU elite, as much of an office bureaucrat as any Brussels mandarin. She openly eschews the politics of ideas and public engagement in favour of 'getting the job done' – her favourite phrase, more suited to the outlook of an HR office manager than the leader of a popular movement for change. It comes as little surprise, then, that May has adapted so smoothly to the role of unelected prime minister since being appointed to succeed Cameron by a Tory committee, apparently seeing no need to seek a mandate from the electorate for 'getting the job done' as she sees fit.
Crucially, that outlook is reflected in May's attitude towards the Brexit process. Her 'dramatic' announcement, remember, means that she plans to trigger Article 50 a full nine months after 52 per cent of the electorate demanded it – a seriously pregnant pause.
In the meantime, she has made clear that the Brexit talks will be a private affair between the UK and EU political elites. The public had its say on 23 June, and that was the end of that. Now we are expected to stand outside the process as silent spectators, following the occasional media update while May's team hold their protracted, secret negotiations with their EU peers. It is apparently none of our business.
This is entirely in keeping with the secretive world of power politics as conducted in the European Commission and the European Council – which is why they all hate the idea of public referendums so much. If we let May and Co have their way, we risk setting back the democratic spirit of the Brexit vote.
The most important thing about the Leave vote in June did not concern the details of any Brexit deal. Far more importantly it represented a popular revolt against the massed ranks of the political elite, ordering people to do as they were told and vote Remain. It was a moment that brought UK democracy to life, however briefly. That is why so many have been trying so desperately to undermine or reverse it since – and why defending democracy and finding more ways to breathe new life into it has now become the No1 political issue, as captured in spiked's Invoke Article 50 NOW! campaign.
It remains to be seen how forthrightly the Tory government will pursue its plans for Brexit. Either way, for those concerned to defend and deepen the spirit of democratic revolt, May's passion-killing approach looks like part of the problem rather than a new solution. Those who are serious about fighting for greater freedom would do well to maintain a sceptical attitude to her credentials as the Brexit Boudicca.
Mick Hume is spiked's editor-at-large. The concise and abridged edition of his book, Trigger Warning: Is the Fear of Being Offensive Killing Free Speech?, is published by Williams Collins. (Buy this book from Amazon(UK).)
Picture by: Getty Images.
To enquire about republishing spiked's content, a right to reply or to request a correction, please contact the managing editor, Viv Regan.