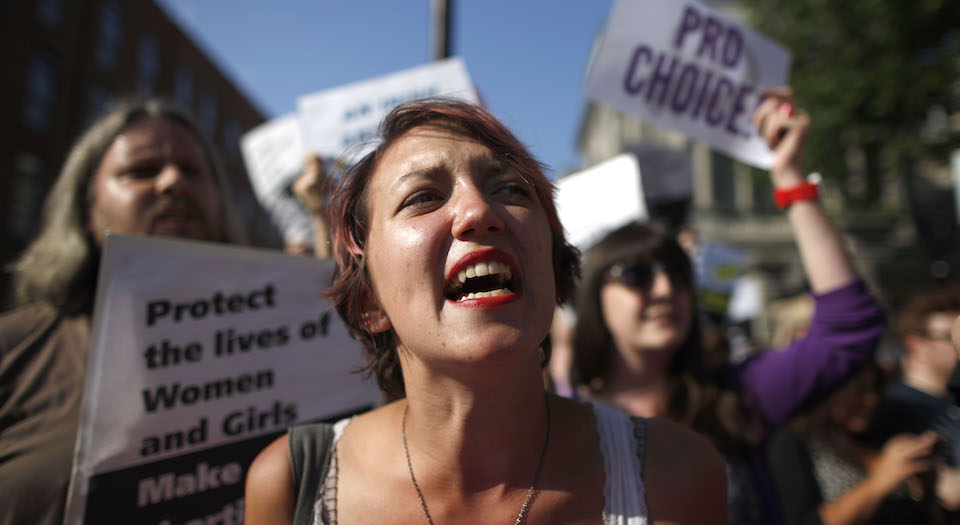 Long-read
A moral case for abortion
A new book reclaims the ethical high ground from the the pro-life movement.
In my early days in general practice, doing a pregnancy test was something like performing a laboratory experiment in the surgery, involving test-tubes, pipettes and the interpretation of subtle changes in the appearance of chemical indicators. Though this was a laborious process, I was often grateful for the time it offered to try to gauge what result was anticipated and how whatever news emerged was likely to be received. Of course, the range of possible responses to a positive test is wide, from joy and delight to horror and despair, and the hapless GP needs to be ready for the emotional rollercoaster. As Ann Furedi observes in her new book, The Moral Case for Abortion, 'when a woman knows that she is pregnant, she stands at a fork in the road of her life's path'. If she chooses to continue with the pregnancy, her life will never be the same again. If, on the other hand, she opts for termination, this will also, inescapably, have consequences.
The central point of Furedi's powerfully argued book is that what matters here is choice. A woman should be able to choose whether or not to have a baby. She may not make what others consider a wise choice, but it should be her choice and her capacity to make this choice is the essence of her humanity. Any denial or restriction of a woman's choice in this matter is an infringement on her autonomy, her bodily integrity, her personhood.
Though pregnancy tests have improved dramatically over the years and are now readily available over the pharmacy counter, what has not changed is the legal framework established in Britain by the 1967 Abortion Act. Though this is, rightly, regarded as a liberalising measure, it is, as Furedi shows, imbued with eugenic prejudices and allows abortion only in 'exceptional' circumstances. Any woman with a positive pregnancy test who chooses against proceeding to childbirth must next persuade her GP – and one other doctor – to approve her decision and fill in the appropriate form (which has, inexplicably, changed in colour but not in content over the past half century). The 1967 Act medicalises abortion and regulates it more strictly than any similar surgical procedure. It maintains and reinforces the stigma attached to abortion, a procedure that one-in-three British women are likely to undergo (mostly in their twenties and half when they are already mothers).
In emphasising the moral case for abortion, Furedi seeks to move away from the familiar pragmatic arguments of 'pro-choice' campaigners on to the terrain of morality, which is usually occupied by the 'pro-life' camp. As she points out, abortion is now safe and, especially using medical methods in the early weeks, generally straightforward. Why then are pro-choice advocates so apologetic and so defensive, 'why is it so difficult to say that abortion is OK'? For Furedi, it is essential to distinguish between the life of the fetus and that of the woman carrying it, and to insist on the superior moral status of the woman. She argues that the fetus is worthy of respect (indeed, awe) as a biological member of the human species. But, though it has the potential to develop into a human person, it lacks the consciousness and self-awareness that is crucial to the personhood of the pregnant woman. She responds to the claim that supporters of abortion deny the humanity of the fetus by pointing out that when pro-life campaigners claim human personhood for this non-sentient organism they express a degraded conception of what it means to be fully human.
Furedi appeals to a distinguished philosophical tradition, from Kant and Mill to Sartre and Dworkin, to justify her arguments for the individual autonomy and bodily integrity of the pregnant woman against the claims of both religious conservatives and postmodern feminists. In conclusion, she offers a convincing case for the removal of abortion from the framework of criminal law. From the perspective of general practice, it is apparent that even the most liberal interpretation of the 1967 Act accepts that abortion is an exceptional procedure requiring particular explanation and justification. In practice, it defies the principles of autonomy and self-determination. The Moral Case For Abortion makes a persuasive case for the decriminalisation of abortion. It deserves a wide readership, not least among doctors who have for too long colluded in the abrogation of women's rights in this crucial area of their lives.
Michael Fitzpatrick is a retired GP, and the author of MMR and Autism: What Parents Need to Know (buy this book from Amazon(UK)) and Defeating Autism: A Damaging Delusion (buy this book from Amazon(UK))
The Moral Case for Abortion, by Ann Furedi, is published by Palgrave Macmillan. (Order this book from Amazon(UK)).
Picture by: Getty Images.
To enquire about republishing spiked's content, a right to reply or to request a correction, please contact the managing editor, Viv Regan.