He criticised lefty thinking? Silence him!
Snowflake students are censoring everyone, and universities are to blame.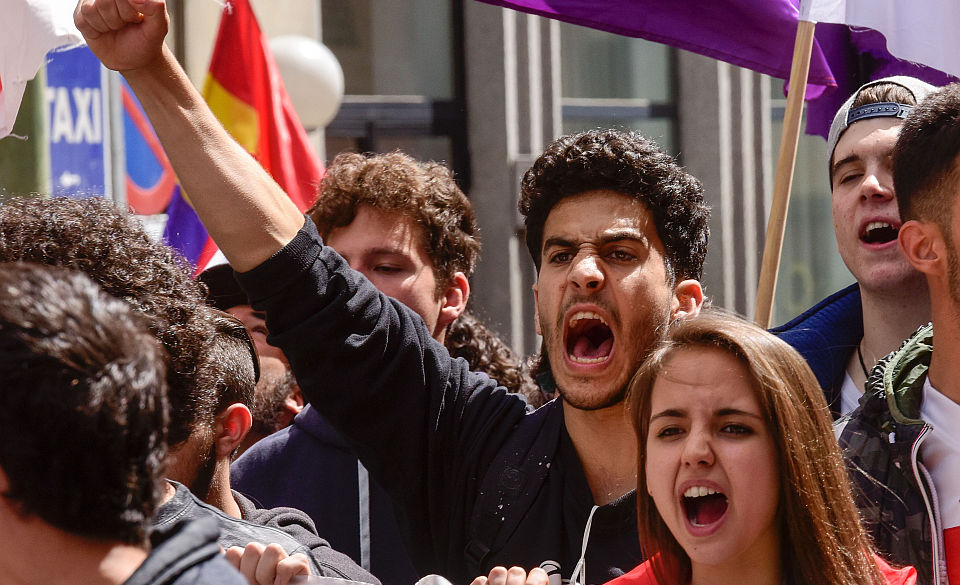 Neoliberalism. To some, this one word encapsulates all that is wrong with capitalism today – from the marketisation of public services, such as health and education, to the takeover of local high streets by global, tax-avoiding corporations.
To others, neoliberalism is a vague word that signifies little other than the pseudo-radical credentials of the person using it. In 2010, professor of higher education Ron Barnett described neoliberalism as a 'catch-all term used with little discrimination' that has taken on the aura of a grand theoretical concept. Sociologist Frank Furedi echoes this critique, arguing that the ubiquity and lack of specificity of the word has rendered it a vacuous insult.
Most recently, Colin Talbot, professor of government at the University of Manchester, wrote on his personal blog that 'neoliberalism is a myth. It's a pervasive myth on one side of politics – the left. But it is nevertheless a myth.' Talbot explains that no one identifies themselves as 'neoliberal', and points out that at 'the start of neoliberalism… the state was more than four times the size it had been in 1870'.
Talbot's blog is interesting and well worth a read, but he's clearly not the first to claim that left-leaning academics and commentators are over-reliant on the virtue-signalling rhetoric of neoliberalism. However, he is perhaps the first to have a student lodge complaints with three heads of department at his university for putting forward such a critique. The student, an economics postgrad, called for Talbot to retract his blog post. According to The Times, he claimed that the 'professor's argument was not worthy of an A-Level student let alone a head of department'.
The student who complained about Talbot's views on neoliberalism has rightly been taken to task on social media and, sensibly, the University of Manchester is taking no further action. But news that some students are prepared to make formal complaints against academics for saying something (not terribly) controversial – even if, as in this instance, the student is not taught by the professor involved – will no doubt chill academic freedom and make lecturers think twice about engaging in debate both inside and outside the classroom. It serves as a reminder that some students expect freedom from intellectual challenge and emotional discomfort rather than free speech. It adds to the anecdotal evidence of students switching courses or choosing modules specifically to avoid having their beliefs challenged.
Universities have done much to create these students who demand protection from ideas that upset them and views they disagree with. Many academics themselves have, over the past few years, legitimised a culture in which students' complaints about their lecturers and the content of the curriculum are taken absolutely seriously and often acted on.
No student starting university this month will be able to make it through their degree programme without being asked to complete questionnaires asking for feedback on everything from their lecturer's performance to course content to assessment methods. Universities are obsessed with gauging the 'student voice'. Surveys are distributed at the end of each module and each academic year, culminating in the National Student Survey (NSS), completed by students bribed with Amazon vouchers and printing credits at the end of their final year. What's more, focus groups and course reps are there for any student wishing to make a comment in between the distribution of surveys.
Universities are not just after feedback – they're after satisfaction. The results of the NSS are often reduced to a crude satisfaction score, which is then used in the compilation of league tables. Prospective students are encouraged to use these statistics to choose the university that is right for them. Institutions therefore pour time, money and effort into ensuring students are satisfied at every stage of their university experience. For lecturers on temporary contracts, or those seeking promotion, having satisfied students is almost more important than anything else. If course content is complex or controversial, and students struggle, then the temptation to shorten a reading list or skate over a topic can be hard to resist. Many students pick up on the message that they are customers, and are, as such, always right.
This focus on satisfaction is exacerbated by a belief that students today are vulnerable to mental distress and in need of protection from anything that might be perceived as emotionally disturbing. At Oxford University, law students have been issued with trigger warnings before classes covering sexual offences. At University College London, archaeology students have been given permission to 'walk out' of classes if they find topics to be 'disturbing, even traumatising'. The message to students is clear: your emotional safety is at risk in the classroom, and you have every right to avoid ideas you find upsetting.
The belief that course content is potentially traumatising stems from a view, enthusiastically endorsed by many lecturers, that the curriculum does not represent an objective body of knowledge, or the best that has been thought and said on a particular subject. Instead, it is intrinsically political. It is not students but academics who are leading the charge to 'decolonise' the curriculum, and insisting 'it's time to take the curriculum back from dead white men'. Students who run with this message and demand to know 'Why is my curriculum white?' are lauded rather than challenged. In 2013, students at the University of Manchester, home to Talbot and his complainant, launched a 'Post-Crash Economics Society'. Their proposals for an 'overhaul of orthodox teachings to embrace alternative theories' were welcomed by academics and used to illustrate the importance of listening to the student voice.
If students are to learn anything during their time at university, they need to be confronted with complex and challenging ideas. Higher education that doesn't make students feel intellectually, and perhaps even emotionally, uncomfortable is not an education at all. In order to push students outside of their comfort zone, academics need to be free to engage in debates, contribute to new understandings, and advance knowledge both in the classroom and beyond.
A growing and increasingly vocal minority of students do not want to confront views that upset them. They prefer to have ideas that disturb their existing beliefs rescinded. Academics should remind students that they are always free to read, learn more and take apart arguments they disagree with in classroom discussions, essays, and blogs of their own. But academics can't do this while also promoting the importance of student satisfaction and emotional wellbeing, and arguing that the curriculum is nothing more than a political tool. Universities have helped create snowflake students who are now threatening academic freedom. They can't just be wished away.
Joanna Williams is education editor at spiked, and the co-editor of Why Academic Freedom Matters, published this month by Civitas. It is available to download for free here.
To enquire about republishing spiked's content, a right to reply or to request a correction, please contact the managing editor, Viv Regan.