The state's war on amateur comedians
Gazza isn't the only one having his collar felt for telling a crap joke.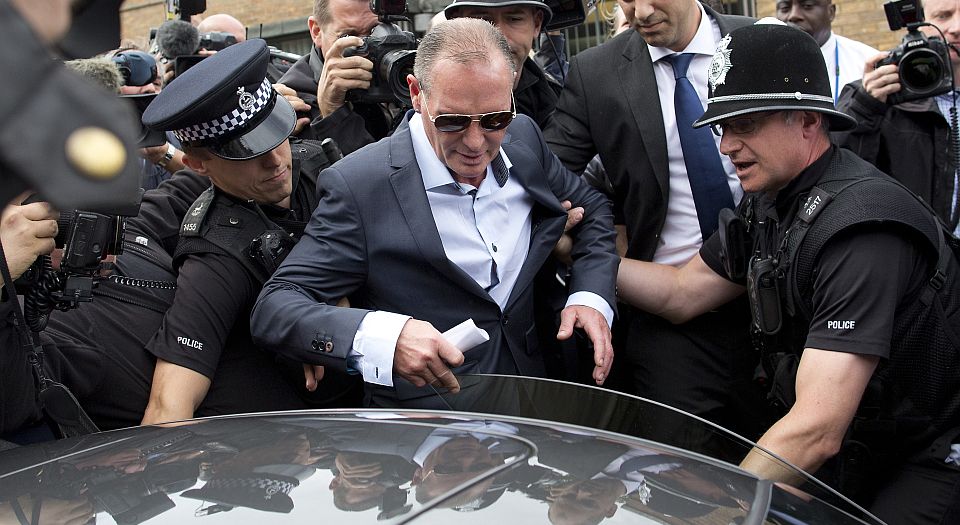 In a bizarre move, the state has decided to expand its remit into the realm of comedy criticism. Paul Gascoigne has been found guilty in a criminal court of racially aggravated abuse, after a joke he made last year during a stop on his An Evening With Gazza tour at Wolverhampton Civic Hall. At one point during the show, he turned to Errol Rowe, a black security guard, and said, 'Can you smile please, because I can't see you'. For this, Gascoigne has been fined £1,000 and forced to pay a further £1,000 in compensation to Rowe.
In truth, it isn't even Gascoigne's joke. Barry Humphries used the same line at an Amnesty International comedy benefit gala in 1976 while playing his alter ego Dame Edna Everage. Perhaps Humphries will now be extradited for racial abuse. Although, arguably, the shame of having Paul Gascoigne plagiarise your work is punishment enough.
I've always found that the best response to an unfunny joke is not to laugh at it. Even better, don't buy tickets to a show called An Evening With Gazza. Was anyone really expecting to find that Gascoigne had somehow morphed into a witty raconteur to rival the likes of Peter Ustinov? Of course the jokes were going to fall flat. Aside from the joke that has left him with a criminal record, he also quipped about the 'ugliness' of footballer and third-degree burns victim Carlos Tevez, and the suicide of gay footballer Justin Fashanu. There are comics who are skilled enough to make any topic funny, irrespective of its sensitive nature. Needless to say, Gascoigne isn't one of them.
In his summing up of the case, Judge Graham Wilkinson said that 'it is not acceptable to laugh words like this off as some form of joke'. What, then, is to stop the police investigating the likes of Jerry Sadowitz, Jim Jefferies or Sarah Silverman for their routines on race, gender or sexuality? Can it be that the state is simply punishing Gascoigne for being a bad comic? If so, I dread to think what would happen if Judge Wilkinson ever visited the Edinburgh Festival Fringe. Any comedian who got a two-star review would probably be forced to undertake community service.
It should go without saying that the state has no business criminalising any form of speech, or redefining jokes as 'abuse'. Offence is an entirely subjective matter. From my own personal perspective, nothing that Gascoigne will ever say could possibly be more offensive than 'Fog On The Tyne', the single he released in 1990. Why didn't the police intervene back then?
Besides, if we do need to set up a body to determine what constitutes a joke, it's not a job best left to humourless state officials. In May of this year, Lanarkshire police made utter fools of themselves when they arrested a man for teaching his girlfriend's pug to give a Nazi salute and putting a video of the trick on YouTube. One might legitimately question whether the prank was funny or not, but even a cursory look at the video makes it clear that the intention was to make people laugh. Did the Lanarkshire police genuinely believe a widespread resurgence of neo-fascism could be triggered by anti-Semitic pugs?
Such stupidity would be hilarious were it not for the fact that we are witnessing a growing trend of authoritarianism. In 2012, a teenager in Lancashire was sentenced to three months in prison for jokes he made on his Facebook page about Madeleine McCann. Last year, another teenager was arrested for joking on Twitter about a tragic road accident. And, earlier this year, Greater Glasgow Police issued the following tweet: 'Think before you post or you may receive a visit from us this weekend.' They went on to specify that if tweets weren't 'necessary' they may prompt an investigation. Since there is no such thing as a 'necessary' tweet, one can only conclude that the Glasgow police have a lot of time on their hands.
Why do the police feel the need to behave in such a downright sinister manner? When one blogger in Cambridgeshire posted satirical posters on Twitter mocking UKIP policies, he was visited by two police officers. He'd broken no law, they assured him, but he should nonetheless consider deleting them. This sort of highhanded and menacing approach is surely more befitting Twitter's own 'Trust and Safety Council', a body set up to monitor potentially offensive messages and to urge its users to express themselves in the 'right way'. And we've all read enough dystopian fiction to know that anything calling itself the 'Trust and Safety Council' is bound to be a front for some kind of evil regime, probably run by cyborgs.
Rather than bothering themselves over amateur comedians and their hack jokes, the police might want to focus on actual crime. The policing of amateur comedy sets a precedent by which even professional comedians could be subjected to greater official scrutiny. We've already seen Canadian comedian Mike Ward fined $42,000 by the Quebec Human Rights Commission for telling an offensive joke. How long before the UK government follows suit?
Worse still, the state has forced me into a position where I feel obliged to defend Paul Gascoigne. And that, frankly, is something I can never forgive.
Andrew Doyle is a stand-up comedian and writer. He is chairing the discussion Comedy and censorship: are you kidding me? at the Battle of Ideas festival in London on Sunday 23 October. Buy your tickets here.
To enquire about republishing spiked's content, a right to reply or to request a correction, please contact the managing editor, Viv Regan.