What next: locking up Leavers?
Investigating Farage for hate speech would be an act of tyranny.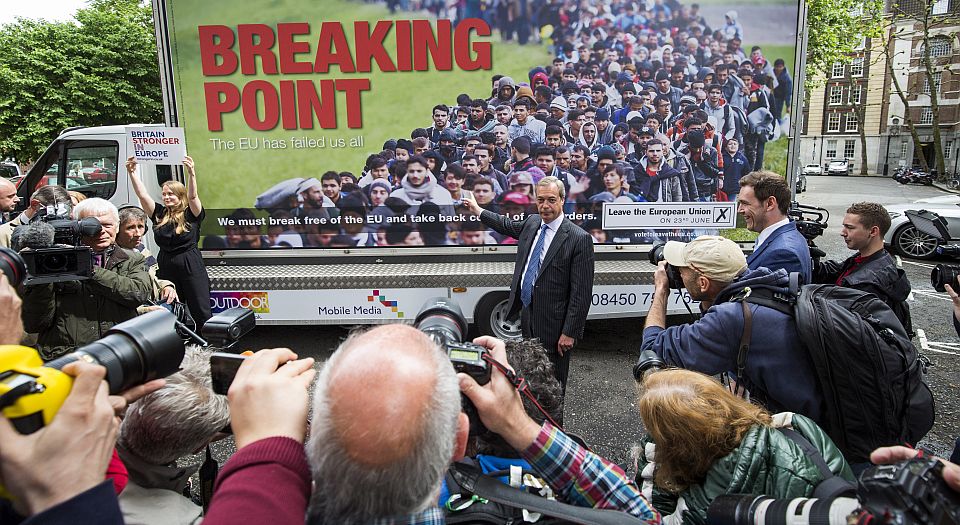 The rage of the Remainers goes on. In the 82 days since the Brexit vote, they have libelled, smeared and undermined Leavers. Now it seems some of them want to criminalise Leavers, too; have the police feel Leavers' collars purely for holding a different view.
This is the news that the Crown Prosecution Service (CPS) is to investigate claims that former UKIP leader Nigel Farage incited racial and religious hatred during the referendum campaign, particularly with his infamous 'BREAKING POINT' poster.
A petition, signed by 42,691 people, was handed to Westminster Police in July. While it was initially rejected, with police saying the poster 'cannot sensibly be interpreted as incitement or any other offence', it has now been passed on to the CPS, after the petitioners threatened to refer the case to the Independent Police Complaints Commission.
Zack Newman, a commodities broker who organised the petition, told the Independent that Farage was 'deliberately stoking up fear and hatred of minority groups to generate votes'. 'Unless a strong signal is sent now', he said, 'we will only see more of this type of campaigning in the next election'.
This is not the only effort to bring the law down on Leave campaigners. #BrexitJustice, a crowdfunded campaign, has raised £145,270 to 'prosecute Vote Leave for their lies'. It claims the official Leave campaign was guilty of 'fraud, misconduct in public office, undue influence and, possibly, inciting racial hatred'.
Of all the toxic bilge that has flown since referendum day, the calls to criminalise Leavers is the worst yet. Think about it for a second: spurned Remainers are putting pressure on the state to police debate, to lock up people for disagreeing with them. What do they think this is? The GDR?
This is not about Farage, that poster or Vote Leave's dodgy sums – spiked has long made clear its opposition to the more Little England aspects of the anti-EU movement. No, this is about all Leave voters being looked upon as so stupid, so vicious, that they are liable to be stirred up into a hate-fuelled fury by colourful politicians.
Did Farage's brusque poster constitute incitement to hatred? Of course it didn't. To suggest otherwise is to open the door to the censorship of all anti-immigration rhetoric. If anyone is exploiting racism here, it's the Remainers who want to use the spectre of hatred to straitjacket political discourse and clamp down on opinions they don't like.
But these Remoaners are only trying to exploit – albeit cackhandedly – a censorious, disdainful impulse that is nascent in hate-speech law. The idea that the public is only ever one poster, speech or bus slogan away from launching a pogrom is what underpins the idea of incitement. Incitement to hatred is, and always has been, a means of policing political viewpoints deemed too toxic for the feckless public to hear.
You don't have to like Farage to see that the campaign to lock him up is an outrage. And so is our legal system, which invites these feverish demands for ideas-policing, and which holds all of us in contempt.
Tom Slater is deputy editor at spiked and convenor of our Invoke Article 50 NOW! campaign.
To enquire about republishing spiked's content, a right to reply or to request a correction, please contact the managing editor, Viv Regan.