We shouldn't lock up Brits who fight ISIS – we should celebrate them
The madness of arresting Britons who sign up with the Kurds.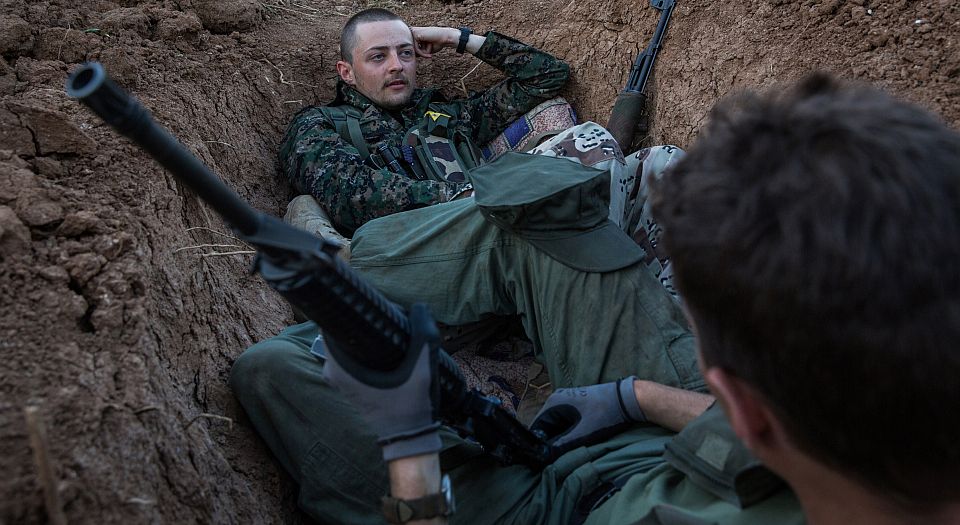 We've all heard about the worrying number of young British citizens travelling to Syria to join ISIS. Occasionally, one or two decide to scuttle home with their tails between their legs, and are promptly put in jail.
Imprisoning those who fight alongside ISIS seems like a logical course of action. Anybody who actively helps a violent organisation to threaten our national security should be punished. What is illogical, however, is our government's failure to distinguish between those who fight with ISIS and those who fight against ISIS.
Fortunately for the UK, not all of its citizens who fly out to Syria choose black flags and balaclavas; some brave people have decided to don the keffiyeh and fight in the ranks of the YPG – the Kurdish militia making ISIS squeal.
Like those who joined the International Brigades to fight Franco's fascists during the Spanish Civil War, Brits from all walks of life have joined the Kurds to fight against ISIS. Bankers, students, IT technicians and even a surfing instructor have all travelled to join the Kurdish fightback. But, despite these heroic ventures, the UK government is insisting that those who fight against ISIS should be imprisoned on their return.
This is what happened to Joe Robinson, a 23-year-old ex-soldier who travelled to Syria to fight with the Kurds after being outraged by the execution of Alan Henning in 2014 and the Tunisian beach attacks in 2015. Instead of being given a hero's welcome on his return last year, he was arrested on suspicion of terror offences. He consequently spent 10 months on police bail and has only recently been released. This week he spoke out about his ordeal.
Detectives have launched a further investigation into whether Robinson and other British citizens fighting against ISIS are guilty of committing terror offences. But the only terror offence committed by Robinson was terrorising ISIS – something that deserves a medal, not handcuffs.
'I went to Syria to fight against terrorism and to protect the civilians caught up in the fighting who have had to endure the most horrendous experiences and living conditions imaginable', Robinson said when he returned. Robinson and those like him have made a courageous decision to put their lives on hold and fight for something genuinely meaningful. And yet, when 18-year-old Silhan Ozcelik was caught attempting to join the Kurdish PKK, she was described by a judge as 'a stupid, feckless and deeply dishonest young woman', and sentenced to 21 months in a young offenders' institution.
Since ISIS first appeared on the global stage, British MPs have strongly condemned it. They label it evil and fascist; one parliamentarian even described it as a 'Satanic state'. But, by also condemning people like Robinson and Ozcelik as terrorists, the government highlights its failure to coordinate any competent plan to defeat ISIS, as well as its wariness of the Kurds.
Robinson said his treatment since he returned has 'made [him] think twice about the morals of the government'. And rightly so. Every government official maintains the importance of neutralising ISIS – whether it be through military means or Labour leadership hopeful Owen Smith's absurd plan for roundtable discussions with ISIS leaders. But when it comes to taking action, our political leaders disappear faster than you can say 'Daesh'.
To praise those fighting with the Kurds against ISIS would, of course, be a risky move for parliament. It would mean admitting that the UK's response to the rise of ISIS has been insufficient. And it would mean acknowledging that the Kurds are genuine heroes, which would further complicate relations with Turkey, which is doing its utmost – often with weapons provided by the UK – to crush the Kurdish fightback.
Brits who fight with Kurds are heroes, not terrorists. And if we're going to win the fight against ISIS, it's high time we realised that. So free Silhan Ozcelik, free Aiden Aslin – the latest Brit to be arrested for fighting alongside the YPG – and let's focus on the real enemy.
To enquire about republishing spiked's content, a right to reply or to request a correction, please contact the managing editor, Viv Regan.