Who can save Labour? No one
The party's over. Why won't anyone admit it?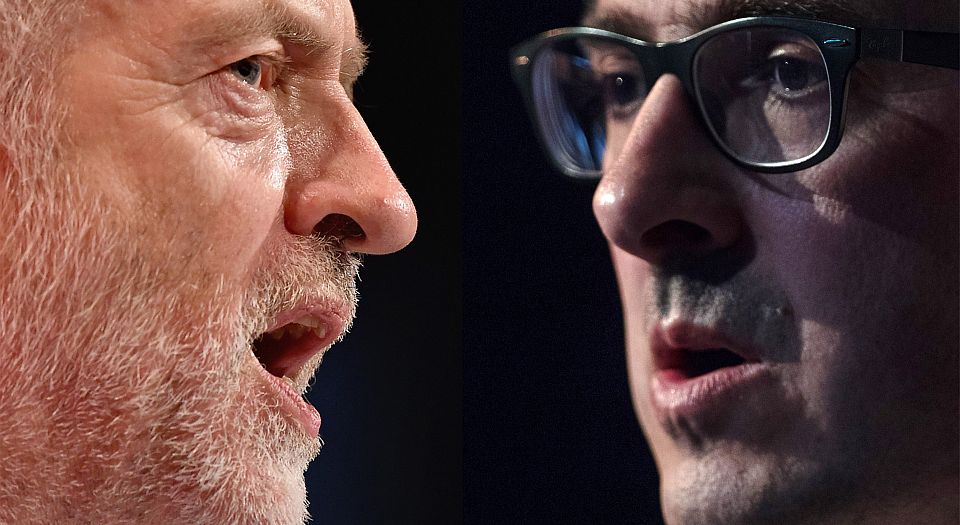 Owen Smith, Labour's newfound gaffe man, the prince of botched penis jokes, outdid himself yesterday. Speaking on The Andrew Marr Show, the leadership contest no-hoper said, 'I think the sensible and responsible thing for a Labour government to do is to say we're better off in the European Union'. When asked if that would mean reapplying for EU membership post-Brexit, and thus accepting the Euro and the borderless Schengen Area, he refused to rule it out. That's right: the self-touting 'credible candidate' not only wants to ignore the Leave vote – he's chilled out about introducing a currency that, polls suggest, 86 per cent of the British electorate rejects.
This bold admission confirmed that the Labour leadership race is not a fight over who is more relevant: whether it be Jeremy Corbyn, with his army of activists and newly paid-up party members; or Smith, the Anyone But Corbyn candidate who says he can make Jez's 'radical' politics a bit more palatable. No, this is a battle between two competing irrelevances, two warring husks. On the one side there's Corbyn, the throwback state socialist whose welfarist miserabilism plays more to twentysomething middle-class moralists than struggling workers. And then there's Smith, a man who stands for nothing other than leading Labour back into glorious electability.
Smith is entitled to air his harebrained opinions. As is Corbyn, whose views on everything from the Middle East to after-work drinks suggests he's never been anywhere near either. The obsession with electability is the bane of modern political life. It insulates parliamentary politics from new thinking and treats the electorate not as passionate, thinking beings who can be inspired and persuaded, but as vote-casting robots to be lured one way or the other. But the problem with Labour is not that it's unelectable – it's that it's irrelevant, moribund, hollowed-out. It's become alien, most crucially, to the working-class voters it is supposed to represent.
The Brexit vote revealed a party startlingly out-of-touch. Though Labour backed Remain, with even the Eurosceptic Corbyn touting a 'Remain and reform' line, 70 per cent of Labour-held constituencies voted Leave. Then there's the Scottish Labour vote, long a bulwark of support, which was obliterated at the last General Election by the SNP, with Labour losing 40 of its 41 seats. The fact that it's been decimated in Scotland by the nannying, social-democratic SNP, and is now being challenged by the right-wing, anti-immigration UKIP in the north east of England, speaks to a crisis of purpose that runs far deeper than the incessant 'too left or too right?' debate would have you believe.
But recent electoral drubbings have only made a long-drawn crisis brutally visible. And, for all the 'Red Tory' blather of Corbyn supporters, it predates the much-scorned New Labour years. Tony Blair's rise to power was facilitated by the post-Thatcher impotence of Labour, its electoral and moral exhaustion. Blair's narrow, PR-driven coup was pushing against an open door. Corbyn isn't the answer to Blair, he's Blair's mirror image. Just as the Blairite clique seized power in the late Nineties, so Corbynistas today have managed to take control of a party that no longer knows what it's for, or who it represents.
Blair may have heralded Labour's transformation into a party of mildly left-leaning metropolitans and middle-class public-sector professionals, but Corbyn has sealed it. His supporters are disproportionately wealthy and middle class. His politics speaks less to working-class aspiration than it does a do-gooding, quasi-Victorian pity of the poor. This turgid Labour leadership race is really just a spat between competing bourgeois factions: Labour MPs, Guardian columnists and JK Rowling on one side; Oxbridge-educated Momentum activists, another set of Guardian columnists and, er, UB40 on the other. The debate is being conducted almost entirely at the level of the media, literary and celebrity set.
For all the talk in this leadership race about 'Labour values', for all the nostalgic appeals to the postwar moment, there's never been a golden age of Labour. In the past it was, at best, a mediator between the masses and the elite, a means of tempering working people's will rather than channeling it into real, radical change. But today it's become little more than a brand clung to by middle-class politicos to give themselves a bit of earthy legitimacy. It's only the left's dearth of ideas, its inability to imagine life after Labour, that has kept the zombie shuffling on for this long. It's time Labour kicked it for good, so that something new might take its place.
Tom Slater is deputy editor at spiked. Follow him on Twitter: @Tom_Slater_
Picture by: Getty
To enquire about republishing spiked's content, a right to reply or to request a correction, please contact the managing editor, Viv Regan.