Why the Kurds deserve our support
The West is betraying the Kurds. It's a new low in global affairs.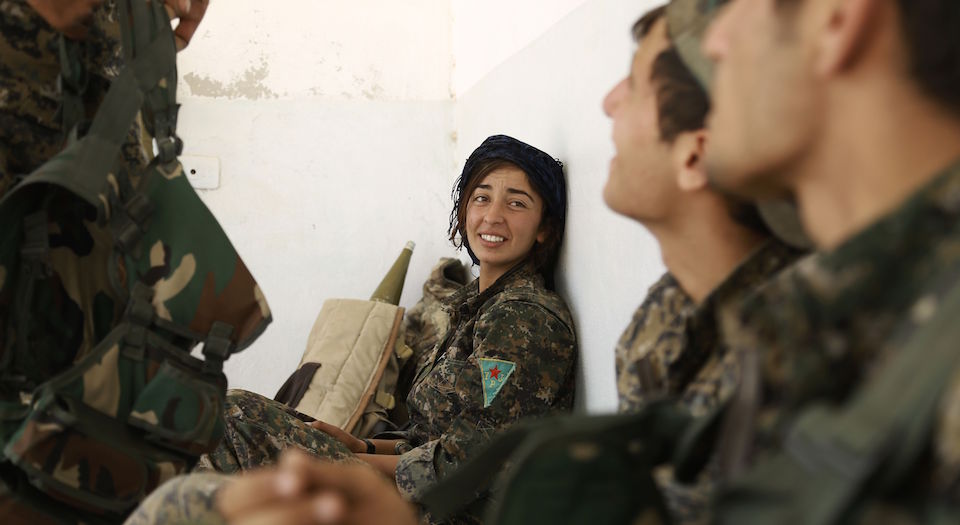 There are, as always, many shady and cynical things happening in international affairs. But perhaps the worst, the most offensive to anyone who has a modicum of belief in progress and democracy, is the betrayal of the Kurds. Kurdish forces in Syria and Iraq have fought more valiantly than any other group on Earth against ISIS, and how is the West repaying them? How has the West, whose leaders breathlessly brand ISIS the new 'fascists', rewarded the Kurds for their years of tireless combat against ISIS? By giving a green light to a new war on the Kurds by Turkey, and by seeking to prevent the creation of a Kurdish homeland in Syria. The Kurds take to the frontline against the barbarians of ISIS, and the West stabs them in the back. Global politics doesn't get much lower than this.
At the weekend, Turkey — NATO member, American ally — launched its latest assault on Kurdish forces in its own country. Its warplanes attacked Kurdish targets in the south-east of Turkey, a largely Kurdish area referred to by Kurds as Northern Kurdistan. They killed or injured more than 100 militants from the Kurdistan Workers Party (PKK), a radical group that has fought for years for Kurdish autonomy in south-eastern Turkey. The PKK are branded 'terrorists' by Turkey and most Western nations. This is the same PKK that has close links with the YPG, the Kurdish People's Protection Units in Syria, which have been the bravest battlers against ISIS. As well as intensifying its war on its own Kurdish population, its own citizens, Turkey has increased its direct attacks on the YPG. Since July 2015, Turkey has been bombing Kurdish forces in Syria and Iraq, desperate to keep their territorial ambitions in check as they make advances against ISIS. Two weeks ago, it escalated things, sending tanks and aircraft to attack YPG forces in northern Syria. It is now thought to have 50 tanks and 380 personnel in Syria, combating Kurds; combating the people who are holding back ISIS.
Not content with waging its own war on Kurds in Turkey and Syria, Turkey has sent the Free Syrian Army, the loose, ill-disciplined anti-regime outfit so flattered by the West a few years back, to stymie Kurdish advances. The largely Arab and Turkmen forces in the FSA have been sponsored by Turkey both to undermine ISIS forces in Syria that are getting too close to the Turkish border and also to 'check the advance of US-backed Syrian Kurdish fighters'. Turkey has indicated it will 'continue to bombard the Syrian Kurds as long as it feels threatened by them'. And the Kurds of Syria aren't only getting it in the neck from Turkey and certain Syrian rebel groups: they're getting it from the Assad regime, too. The Kurds have had some links with Assad forces in recent years — in this war that one observer calls 'the world's most complicated cat's cradle' — but over the past fortnight Assad has turned his guns on Kurds. His airforce bombed the Kurdish-controlled city of Hasakah in the north east of Syria, directly targeting the YPG there. At least 43 people were killed, and thousands of Kurds fled. This is the first time Assad has attacked Kurds from the sky.
In essence, the Kurds are the victims of an ugly, ruthless pincer movement, facing assault from Turkey and its Syrian rebel allies on one side, the Assad regime on the another, and of course from ISIS, too, which despises the Kurds for being fairly secular, left-wing and good fighters who are rolling back the whole idea, and reality, of the Islamic State. To ISIS, Kurdish forces, which include women, Christian volunteers fighting back for having been expelled from their homes by ISIS, former Yazidi sex slaves, who now make up their own brigade in the Kurdish Peshmerga, and the 'Black Devils', a Tarantino-esque ISIS-killing unit described as having a 'Spartan regimen' and 'the ability to induce panic in the dark hearts of their foes', represent everything bad in the world. This is why ISIS is so ruthless with Kurds. 'It is a special kind of hate they have for us', as one Kurdish fighter put it.
And how have Western governents, one-time praisers of the Kurds, some of which have militarily backed the Kurds, responded to these latest developments? With great duplicity. Kurds fear they are being betrayed by their Western allies, and they're right to fear this. After all, this would not be the first time in history that the Western world had sold out the Kurds. As one report says, Washington had a 'muted response' to the Assad regime's new air assaults on Kurds in north-eastern Syrian, which will have 'unnerved the Kurds'. Despite its backing for Kurdish fighters in Iraq and Syria, Washington has in recent weeks made clear where its priorities lie: with keeping Turkey sweet, not with keeping the Kurds well armed or strong or free. Last week, during a visit to Ankara, US secretary of state John Kerry said the US wants a 'united Syria', not an 'independent Kurdish initiative'. As one observer says, 'It is clear that, faced with the difficult choice of maintaining strong relations with the Turkish state and military on one hand, and backing its Syrian Kurdish allies in their bid for autonomy, the US is giving priority to the former'. That is, the US is throwing its weight behind the NATO ally engaged in barbaric attacks on the people who have done more than anyone else to demoralise ISIS.
What is happening here is horrendous. NATO presents itself as an outfit that is all about military solidarity, and yet this is how it treats the Kurds, the warriors against a death cult that has launched attacks in NATO nations, from Turkey to Belgium to France. It green-lights their bombing by a NATO member. And it is seemingly cool about their being bombed by Assad. And it insists that Syria must stay united post-war rather than the Kurds being permitted to make something positive and real of the greater autonomy they have gained through the process of Syria unravelling and their taking up arms against ISIS. Western leaders, including Kerry, have in recent years visited Kurdish leaders and sang their praises. Now they tell Kurds not to expect any kind of homeland, and say nothing when they're bombed by Turkey.
What has changed? The cynical interests of various actors in these conflicts have come more to the fore and are treated as more important than Kurdish liberty and democracy. So as one report says, it now seems that Ankara and Damascus, between whom there hasn't been much love in recent years, 'perceive a common Kurdish threat', with Turkey desperate to weaken Kurdish national ambitions and Assad sending a warning to the Kurds about the need to keep post-war Syria united. And the US has decided that backing Turkey, in return for greater use of its military bases and keeping it as NATO's Europe-Asia bridge, is far more important than backing the Kurds. And so, as a New York Times headline put it last week, 'Kurds fear the US will betray them again'. It already has.
The Kurds need, and deserve, our solidarity. Their fighters have been successful against ISIS because they possess something that few, if any, forces in bloody, collapsing Syria possess: a real, felt, democratic commitment to an ideal, to a homeland, to a future. It is this that fuels their tenacity on the battlefield. Bravery is a function of belief, and it is the Kurds' beliefs — in nationhood and independence — that have driven them to engage in risky, rough war with the death cult on their doorstep. Unlike the US, which is always considering where its own narrow, short-term interests lie, or Russia, which merely wants to hold the Assad regime together, or the various rebel forces, which are either cravenly beholden to Western patronage or to a dead, Middle Ages ideology, the Kurds are spurred on by a conviction in nationhood, and in themselves. And in the process they have done something great for all of us: weakened ISIS. They need our support. The world will be a better place if, against ISIS, against Turkey, against Assad, and against the cynical West, the Kurds enjoy some real and meaningful victories.
Brendan O'Neill is editor of spiked.
Picture by: Getty Images.
To enquire about republishing spiked's content, a right to reply or to request a correction, please contact the managing editor, Viv Regan.