Pamela Anderson is right: there's too much porn
The rise of the wankers speaks to a crisis of human intimacy.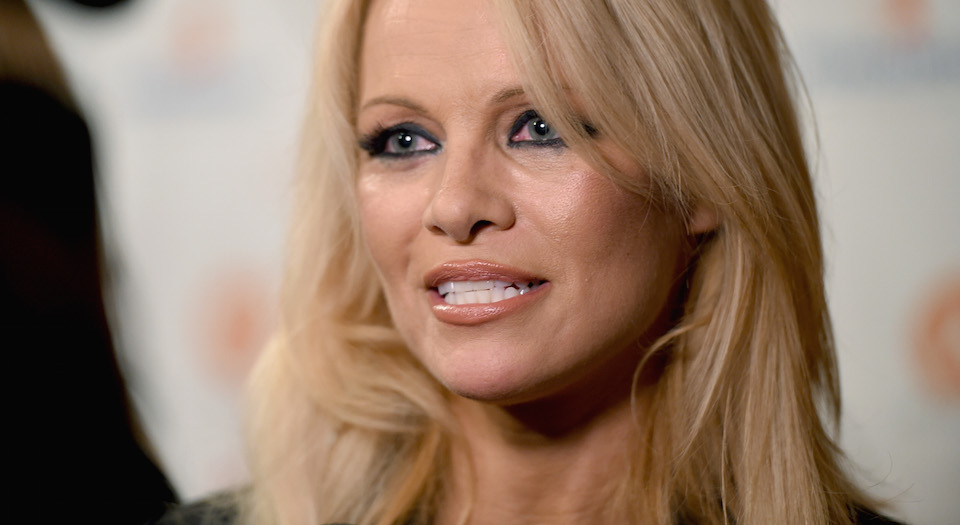 The trouble with criticising the relentless rise of porn, the poking of appendages and orifices from pretty much every computer screen on Earth, is that people will think you're a prude. So what a relief that a genuine libertine — Pamela Anderson — has slammed porn as a losers' game, and argued that its colonisation of the internet, its march into the gadgets permanently attached to our non-wanking hand, speaks to a new reluctance to engage in the 'ample rewards of healthy sexuality'. Yes, the former Baywatch star, awakener of a million teenage boys' sexuality, has come out as porn-sceptic, and given the critique of porn the injection of respectability it needed.
Anderson has teamed up with Shmuley Boteach, an Orthodox Jewish rabbi, TV presenter and author of such books as Kosher Sex: A Recipe for Passion and Intimacy. Their message is simple: guys, and girls, stop using porn so much. They veer too closely to pseudo-scientific scaremongering about porn, describing it as having 'addictive dangers' — when in fact even the hand-knackered 15-year-old lad could stop watching muck if he really wanted to — and fretting over the 'devastation' that 'porn addiction' wreaks on society. But away from their tendency to hyperbole, they make strong points. 'Porn is for losers', they insist. It is a 'boring, wasteful and dead-end outlet for people too lazy to reap the ample rewards of healthy sexuality'.
They're right. The rise of porn-use fundamentally represents a turn away from the 'ample rewards' of actual sex, of taking a risk with another living, breathing being. Loads of explanations have been put forward for the industrialisation of porn, but none has been convincing. It speaks to the continued stranglehold of male entitlement over society, say feminists, which makes zero sense at a time when women in the West are leaving their male counterparts for dust in school, uni and the workplace (under the age of 30 at least). It shows our young are out of control, perverted, say religious warriors against porn, which would be more convincing if survey after survey didn't suggest that the yoof are squarer than ever, drinking less and smoking less and fretting over mortgages more than any YAs in history. No, the rise of porn is not an expression of patriarchal arrogance or a sign of perversion among the young; rather, it reflects a broader retreat from intimacy, a growing conviction in the modern West that losing yourself in another person, physically or emotionally, is a risky business, best avoided.
Porn has filled the gap — if that isn't too graphic a metaphor — left by the crisis of human intimacy. Anderson and Boteach get at this when they brand porn a pastime of those 'too lazy' to 'reap the rewards' of sex. Although 'lazy' is the wrong word; it's more like too fearful. A cowardice in relation to other people is the fuel of the porn industry. Ours is an era that treats sexual intimacy as a minefield, something likely to disease you or damage your mental esteem. From the great AIDS panic, with its depiction of 'unsafe sex', the most intimate form of sex, as a kind of raunchy Russian roulette, to those public-health campaigns that tell us our fellow citizens are less people we might want to know carnally and more walking incubators of CHLAMYDIA or GONORRHOEA, we're constantly advised to see sex as too great a physical risk. And then there is its emotional toll. From the classroom to popular culture to the publishing world's new cash cow — New Feminist tracts — the message we're bombarded with is that intense intimacy can be damaging, especially for women, especially for the young. So play it cool. Keep your distance.
Nothing better speaks to the anomie of the 21st century, to the other-people allergy that underpins the politics of fear, than the problematisation of intimacy. It's now so bad that respectable sections of society actually promote masturbation as a healthy alternative to the madness of a sexual encounter. NHS bodies tell young people that masturbation is 'basically sex by yourself' — if you think that's sex, you've been having some bad sex — and chirp that there are 'little risks involved: you can't get pregnant or catch a sexually transmitted infection from wanking'. Schools teach about the virtues of masturbation. Numerous 'sexpert' books on bashing the bishop push it as an attractive alternative to romantic passion without all 'the pain and the hurt and the suffering'. The new cult of self-love, of massaging both your genitals and your self-esteem, speaks profoundly to a retreat from engagement, from humanity.
And we wonder why there are so many wankers? People are positively encouraged to wank. Indeed, it would be wrong today to see the porn industry as some deviant, outlier gang, infecting society with filth; it is better seen as the militant wing of an utterly mainstream fear of sexual intimacy, making mileage, and money, from the anomie running through the West today. Indeed, there's a dark irony to feminists' hatred of the porn industry: in contributing fairly significantly to the demonisation of intimacy, to the culture of fear that now surrounds relations between the sexes, feminists, among others, paved the way for this new industry that fetishises sex, that offers a readymade performance of sex through which gratification can be achieved without 'the pain and the hurt and the suffering' of engagement.
This is where Anderson and Boteach get their emphasis slightly wrong: the problem is less that porn is corrupting society, and more that the already existing corruption of our society, and of the ideal of intimacy, helped to nurture the industry of porn. The crisis of intimacy has led to a fetishisation of sex, as spotted by Christopher Lasch 40 years ago in his classic work The Culture of Narcissism. Western societies increasingly 'make a virtue of emotional disengagement', he said, and this can lead to a 'desire to divest [sex] of the emotional intensity that unavoidably clings to it'. Four decades on, aided by the spread of the internet, sex divested not only of intensity but of human contact altogether has become the new norm. Listen to Pam: this isn't good. But to fix it, it isn't enough to rage against porn, far less to ban it; no, we need to challenge the cultural war on intimacy and its unwitting creation of an army of wankers.
Brendan O'Neill is editor of spiked.
Picture by: Getty Images.
To enquire about republishing spiked's content, a right to reply or to request a correction, please contact the managing editor, Viv Regan.