Gay marriage: running scared of the demos
Australia's marriage plebiscite has exposed the elite's fear of voters.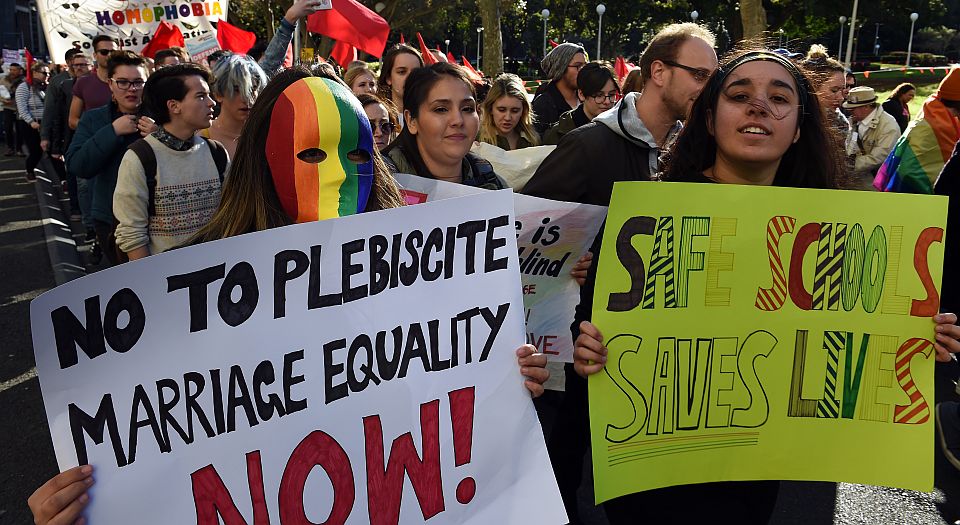 The Australian government's proposed gay-marriage plebiscite has highlighted a deep-seated hostility to free speech and democracy among Australia's political class.
Proposed as a compromise by former prime minister Tony Abbott, following extensive division within the ruling Liberal party, the plebiscite will give all adult Australians a say in whether to legalise same-sex marriage. Although technically non-binding, the result would deliver a powerful message about the views of the Australian public, which few MPs would dare vote against.
And with polls consistently showing that an overwhelming majority of Australians support same-sex marriage — a Fairfax/Ipsos poll in June found 70 per cent of Australians would vote in favour of same-sex marriage if a plebiscite were held, with just 22 per cent saying they would vote against it — the plebiscite looks set to be an overwhelming victory for same-sex marriage advocates.
However, faced with the prospect of a public debate, Australia's political class is attempting to derail the plebiscite proposal. Australian newspapers are being filled with articles opposing a popular vote, and both the Australian Labor party and the Greens have indicated they will block the legislation necessary for the vote to occur.
This opposition from Australia's supposedly progressive political parties is not surprising. Blocking the plebiscite is a chance to wedge the government, increasing tensions between prime minister Malcolm Turnbull and conservative members of his backbench. If this means the issue isn't resolved until a change of government, then all the better for the blockers, since it will allow Labor to take credit for the reform.
But this partisan gamesmanship doesn't account for the overwhelming opposition to the plebiscite from gay-marriage activists and other self-appointed guardians of morality in the Australian commentariat. Perhaps the most influential article opposing the plebiscite came from former High Court Justice Michael Kirby. Mirroring the appeals to parliamentary sovereignty in the post-Brexit debate, Kirby argued that the Australian parliament was the appropriate place for laws to be enacted, as 'a plebiscite has no place in [our] constitutional arrangements'.
This doesn't mean a plebiscite would be incompatible with Australia's system of government. As Kirby admits, at least one has occurred before (in addition to 44 binding constitutional referendums). But Kirby has other reasons for opposing a popular vote: 'Complex, sensitive issues are better decided after debate in parliament, not in the heat of public division and emotional campaigns in the community.'
As with the response to Brexit, Kirby's opposition to popular sovereignty is rooted in an anti-democratic mentality, and an open questioning of the rational capabilities of the Australian public. He even warns that allowing democracy in the case of gay marriage could set a precedent for more democracy in the future: 'If a plebiscite is held, it could become a bad precedent to be copied when other controversial questions come before parliament.'
This anti-democratic mentality is matched by a widespread hostility to free speech among many gay-marriage activists. When Rodney Croome resigned from Australians for Marriage Equality, the organisation he founded, to campaign against the plebiscite, he stated that 'what motivates me most is that I don't want to see the tiny minority of haters in the community given the biggest platform they have ever had'.
Ironically, this opposition to debate flies in the face of decades of gay-rights activism. Since the Stonewall riots of 1969, thousands of people across the world have stood up for the rights of gay people. They have removed discrimination, won respect, and increased understanding, all through engaging in public debate and the battle of ideas.
If the polling on gay marriage in Australia is even remotely accurate, then the plebiscite would be another victory for supporters of marriage equality. Yet now that their view has achieved overwhelming support, many same-sex marriage advocates have determined that it is beyond question. They've decided that the issue is too sensitive to be discussed and decided in the public square. They're even willing to forgo their desired reform — in the belief that it will happen eventually anyway — in order to avoid a debate.
Of course, if the plebiscite goes ahead, there will almost certainly be views expressed that some people find uncomfortable, and even offensive. These views exist in society. The only difference is that they often remain unchallenged. A public debate is an opportunity to hear them and challenge them. It is only through debate that the argument can be had out.
Perhaps the one legitimate concern from anti-plebiscite campaigners is that the battle of ideas will be especially difficult for teenagers struggling with their sexuality. But to argue that certain ideas should therefore be suppressed is the equivalent of arguing that these teenagers should stay in the closet rather than confront problems they might face.
The gay community has been phenomenally successful at helping people accept who they are, regardless of what others think. They should remain confident in their ability to continue to be successful, especially when much of the public is now on their side. The hostility to democracy and free speech highlighted by the anti-plebiscite campaign is an affront to the pro-free speech, pro-democratic strategy that has been so successful for gay-rights activists. Replacing the old democratic strategy with a new elitist one will harm their cause in the long run.
Patrick Hannaford is an Australian writer based in Washington DC. Follow him on Twitter: @PatHannaford
To enquire about republishing spiked's content, a right to reply or to request a correction, please contact the managing editor, Viv Regan.