Hinkley Point and the fear of nuclear
Delaying building a new power station is a brake on progress.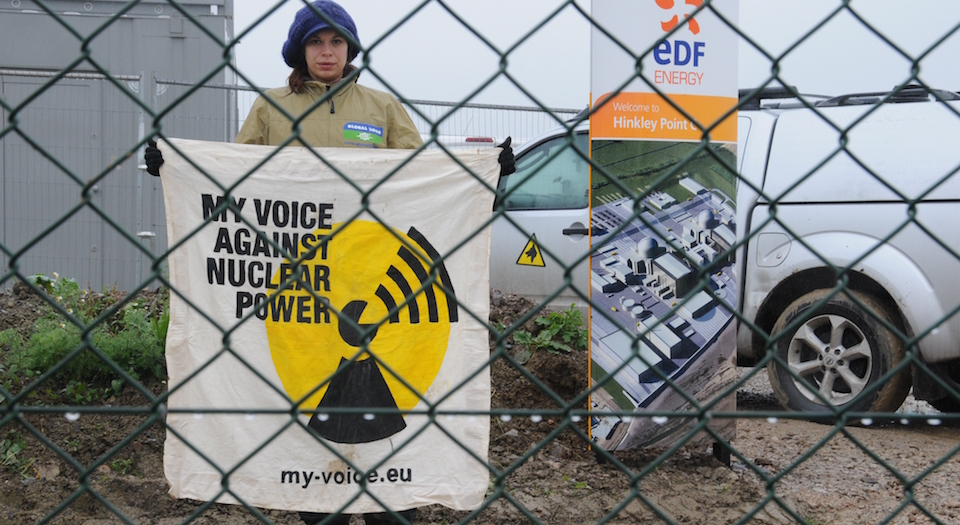 On 28 July, bottles of champagne stood ready to receive celebrating VIPs at the site for two planned European Pressurised Reactors (EPRs) at Hinkley Point C in Somerset. But dignitaries and investors were left with empty glasses, as that same day, prime minister Theresa May announced a delay on plans for Hinkley and a freeze on the £18 billion building of a much-needed 3.2 gigawatt of electrical capacity.
This delay has caused considerable upset for French company EDF (the main contractor) and has outraged Chinese investors. May's decision has also delighted anti-nuclear Greens, who view Hinkley as a costly white elephant, emblematic of the sins of nuclear power.
But May's reversal isn't just the cautious approach to be expected from a new, cost-conscious government. Within this unelected, prevaricate-about-Brexit administration, there's also a disgraceful mix of nuclearphobia, Sinophobia and cyberpanic. Coupled with a policy of protectionism, it's no wonder plans for Hinkley have been delayed.
The charges against Hinkley Point C
What's wrong with Hinkley? Firstly, the board of France's indebted, state-owned, nuclear electricity specialist EDF has continuously argued about whether or not to go ahead with plans for Hinkley. EDF has already racked up enormous delays and cost overruns with its first two EPRs, in Flamanville, France, and Olkiluoto, Finland. Its indecision over Hinkley has had a similar effect, inflating costs from £6 billion to £18 billion.
Secondly, former prime minister David Cameron's previous government agreed an exorbitant and fixed price at which to buy electricity from EDF for the next 35 years. The decided price of £92.50 per megawatt-hour in 2012 money has forced the government to find £30 billion or even £37 billion in extra taxes. Given the collapse of gas prices since 2014, that £92.50 compares very poorly with the current price of gas-fired electricity.
Thirdly, rather than loan Hinkley cheap government funds, the Treasury insisted that plans were carried out off its books. Instead, the Chinese energy corporation CGN (China's largest reactor builder), and later the China National Nuclear Corporation (CNNC), were each invited to take third of a stake in the project. There was a bonus, too: the agreement with Britain signed by Chinese president Xi Jinping in October covered not just Hinkley, but also the erection of a Hualong One Pressurised Water Reactor, jointly developed by CGN and CNNC, in Bradwell, Essex. This gave the export of Chinese reactor technology a key foothold in Britain, as well as the world market.
So what's the problem with that? May, and others, regard China's presence at Hinkley and Bradwell not just as financially and physically intrusive, but a means of opening up a whole range of important industrial sectors in Britain to remote manipulation by Beijing. An article in The Times outlined fears about threats from the Chinese People's Liberation Army, which, it suggested, could have as many as 100,000 hackers at its disposal: 'China has a history of covert cyberintrusion against its commercial and military rivals. Of interest to the Chinese authorities appears to be infrastructure critical to society, including electricity grids, water purification plants, air traffic control, the rail network and telecommunications. By most estimates, these are strategically sensitive assets.'
Both Cameron and Osborne tried too hard to woo Chinese business during their time in government. But now, in the spirit of post-Brexit anxiety, Chinese business is abruptly feared by the new administration as a direct military threat.
However, Chinese inward investment in Britain remains more interested in Weetabix, Pizza Express and commercial property than manipulating an 8.68 per cent interest in Thames Water or bidding for contracts for UK high-speed rail. How serious can the charges made by Hinkley's critics be?
A rational response
Much of the mud slung at Hinkley is the wrong kind. EPRs overrunning in France and Finland, for instance, are not necessarily failed technologies. Delays have largely stemmed from regulatory overkill in safety, as well as Europe's shortages of nuclear skills. To sneer at EPR technology as untested is to ignore how every innovation begins – by being just that, untested. The suggested nuclear alternative, small modular reactors (SMRs), is one that, for all its potential merits, is also relatively untested. SMRs, like Hinkley Point C, are at least 10 years away from being made operational.
The real accusation being made against Hinkley is that, as the National Audit Office (NAO) reports, the cost competitiveness of nuclear power 'is weakening as wind and solar become more established'. Yet the NAO's bald statement is not a verdict on present prices, but a newly revised forecast for energy prices in 2025 – upward for nuclear and, guess what, downward for renewables.
Even though renewable energy has overtaken coal as a source of electricity in Britain (24.6 versus 22 per cent), it remains heavily subsidised and unavailable for at least 50 days a year. Handling renewable power also demands more back-up than a grid with conventional sources of electricity. Therefore, to spend £30-37 billion in exchange for meeting a full seven per cent of Britain's power needs on an uninterrupted basis, for 35 or more likely 60 years, is not such a terrible bargain.
Having said all this, EPRs, EDF's management and the British civil service's contractual and forecasting competence, deserve interrogation. It might be better to run with the proven nuclear technologies of Toshiba (which, with a French partner, plans to build 3.4 gigawatt over three Westinghouse AP1000 Pressurised Water Reactors at Moorside, Cumbria) and Hitachi (which plans to build 2.7 gigawatt over two Advanced Boiling Water Reactors in Wylfa, Anglesey). But make no mistake. Were it not for Britain's endless nuclear regulations, reactors could be built and made operational by 2021, not 2025, using those available on the world market.
Britain urgently needs that new nuclear capacity. The National Grid has a capacity margin of only 5.5 per cent, and, with the usual deftness, was forced last winter to stump up cash to persuade energy-intensive businesses to cut their electricity use. Nuclear power is a high-tech industry which, given the right economic, social and management regime, is entirely safe. Nuclear fuel is not especially labour-intensive to mine, it has a high-energy density, it's relatively cheap to transport and, because it packs such a punch, it represents a small part of operating costs. It is thus ideal for the generation of baseload electrical power. Nuclear fuel is not bought continuously on rather volatile commodity markets, like coal and gas; rather, buying nuclear fuel for a reactor represents a one-off commitment to making energy for years.
Nuclear plants exemplify what economists call investment in fixed capital. You make the investment up-front, and, after taking that hit, most of the decades to come are about benefits, not running costs. But from High Speed 2 and Crossrail 2, through electrifying the TransPennine line between Manchester and Leeds, to building new runway capacity around London's airports, the British state's commitment to future investment in fixed capital is all for the future, if these projects ever happen at all.
A durable commitment to nuclear power is what is needed. Like gas-fired and renewable electricity, nuclear power needs to be bigger, better and cheaper, and it's by no means a given that Hinkley Point C will provide this. But Hinkley is not just the product of 'prestige, political vanity, diplomatic machismo and corporate lobbying' that commentators would have us believe. In their fashionable opposition to megaprojects, Hinkley's opponents ridicule, not just the usual capitalist stitch-ups, but all technological progress and all human ingenuity in the sub-atomic realm, too. Against that, the still-to-be-enacted crimes of Hinkley Point appear pretty modest.
James Woudhuysen is editor of Big Potatoes: the London Manifesto for Innovation. Read his blog here.
To enquire about republishing spiked's content, a right to reply or to request a correction, please contact the managing editor, Viv Regan.