Introducing the Edinburgh Fringe awards for bland, safe comedy
Comedian Will Franken launches the Defining the Norm Awards.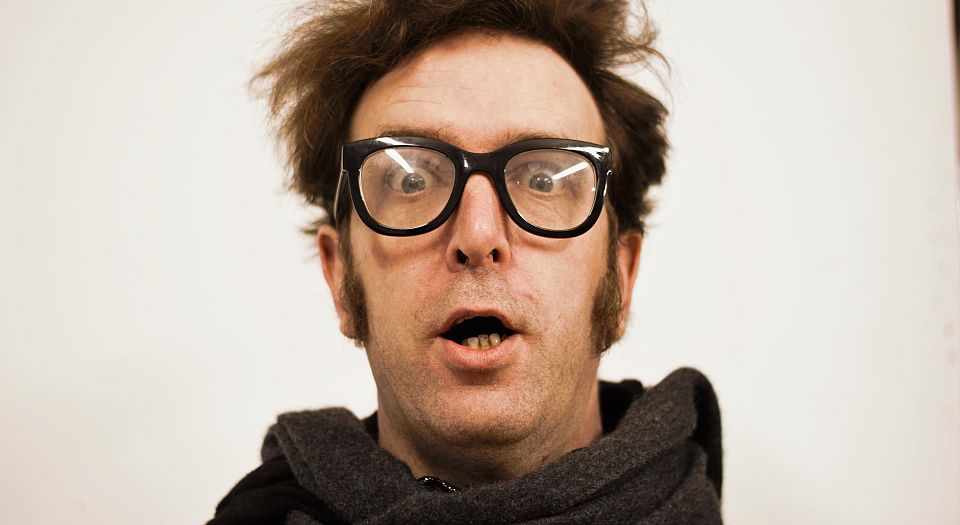 Historically, comedy awards committees have tended to downplay their vital role in reinforcing innocuous blandness, employing misleading expressions like 'innovation' and 'excellence' to belie their promotion of harmless uniformity. However, a new series of awards to be presented at this year's Edinburgh Fringe will instead openly celebrate the reassuring predictability of comedic monotony.
This year, in what many assumed was a typographical error, the Fringe's theme, printed on the cover of this year's programme, was 'Defying the norm'. So, in response, I'm presenting the inaugural Defining the Norm Awards – sponsored by spiked – celebrating the safety, sameness and sycophancy so integral to the world's largest and most expensive comedy festival. It will be presented at midday on 28 August, atop Edinburgh's Calton Hill, with an austere, liturgical ceremony suitable to the drabness of the occasion.
For decades, the comedy industry in the UK, US and throughout the free world has run like a well-oiled machine, a veritable marvel of modern-entertainment engineering. Episodes of non-challenging panel shows and easily digestible sitcoms are churned out with such assembly-line regularity that many viewers have come to wonder if artificial intelligence may be responsible for what they see nightly on their TV screens.
Meanwhile, down in the gritty trenches of the live circuit, comperes and acts, from large clubs to small, work in tandem to provide safe, mundane and unidirectional experiences with an arsenal of hackneyed material, either dealing with nothing of importance whatsoever or politically pandering to pedestrian preconceptions.
At the same time, a dedicated consortium of agencies, promoters, reviewers, public-relations companies and awards committees stand at the ready, providing safe passage – for those performers unafraid to follow rules and tick boxes – across the bridge linking the small-time to the big.
This interplay between comedy, commerce and commercialisation – most strikingly manifest at its yearly epicentre, the Edinburgh Fringe – is a wonder to behold; a testament to modern society's willingness to slip into the clockwork predictability of the planetary revolutions or the ungoverned instinctual patterns of the lower animals.
To illustrate the cultural importance of this vast enterprise, simply consider the universal disorder that would inevitably follow in the wake of its dismantling: epidemics of original humour, rampant spikes in free speech, and, most terrifyingly of all, the looming possibility of the re-emergence of satire as an effective comedic vehicle for grappling with the challenges of the 21st century.
It could even be argued that the exponential proliferation of punters looking to 'get into' stand-up comedy would be drastically reduced if subversive merit were to replace industrial expectation, with scores of young open-mikers turning away from the daunting prospect of having to think for themselves. Thankfully, society in general and the entertainment industry in particular have done away with the savagery of such standards.
To be sure, on very rare occasions, a unique performer possessed of original creative vision slips through the cracks and defies the odds to get his or her message seen and heard by the broader public. In this sense, the comedy industry is sometimes akin to a handmade Persian rug, intricately and beautifully designed to the naked eye, yet upon closer inspection revealing a deliberate mistake put in place to avoid the perfectionism that would be an affront to Allah.
Fortunately, such creative miscreants never pose any significant threat to the status quo since ground-breaking, envelope-pushing shows can easily be terminated at the pilot stage or, better yet, suffer a stillbirth at the Fringe, thanks to seasoned critics equipped with phrases like 'niche', 'not for everyone's taste', or, most effective of all, 'comedian's comedian' (an inside moniker used by fellow performers to express silent admiration for comedy rebels while simultaneously maintaining their own cautionary business acumen).
No matter what, the comedy establishment has moved beyond the arcane and oppressive concepts of innovation and dissension. It should be saluted for its efforts – in addition to the welcome increase in overall safety and converse decrease in hurt feelings and challenged intellects.
At the Defining the Norm Awards, a wide range of categories will be in place to recognise all forms of ordinariness and harmlessness: uplifting stand-up performances, punctuated with obligatory suicide anecdotes; empowering feminist shows that avoid discussing fundamentalist Islam; and comedians with enough disposable income to spend on large posters featuring a pun on their own name for the title. These are just a handful of the types of comedic entertainment we aim to honour.
But it isn't only performers who are eligible. The Defining the Norm Awards won't merely celebrate those who follow the rules, but the people and institutions who make the rules as well – predatory agents, extortionate PR companies, overpriced venues, compromised reviewers, and any players who have diligently contributed towards making comedy safer, both in the clubs and on the box.
So, if you feel you have written a comedy show, or are involved in promoting one, that is mediocre, non-controversial and TV-friendly, this could be an award-winning year for you!
Gathering for the DTN Awards ceremony will commence at 11.30am on the morning of 28 August near the Old Calton Burial Ground (along the A1 at the Waterloo Place bus stop ZG). From there, a slow and sombre procession will make its way to the Dugald Stewart Monument on Calton Hill where the presentation of awards will begin at midday. This is a free event. All are invited to join.
Will Franken is a London-based comedian. His new show, Will Franken: Little Joe, is at The Stand Comedy Club in Edinburgh until 28 August.
Will is also performing at spiked's one-off, free stand-up night, spiked at The Stand, at The Stand Comedy Club in Edinburgh at 10pm on Monday 15 August. Reserve your free place here.
To enquire about republishing spiked's content, a right to reply or to request a correction, please contact the managing editor, Viv Regan.