Boycotting Byron lets the government off the hook
If you care about migrant workers, why not picket the Home Office?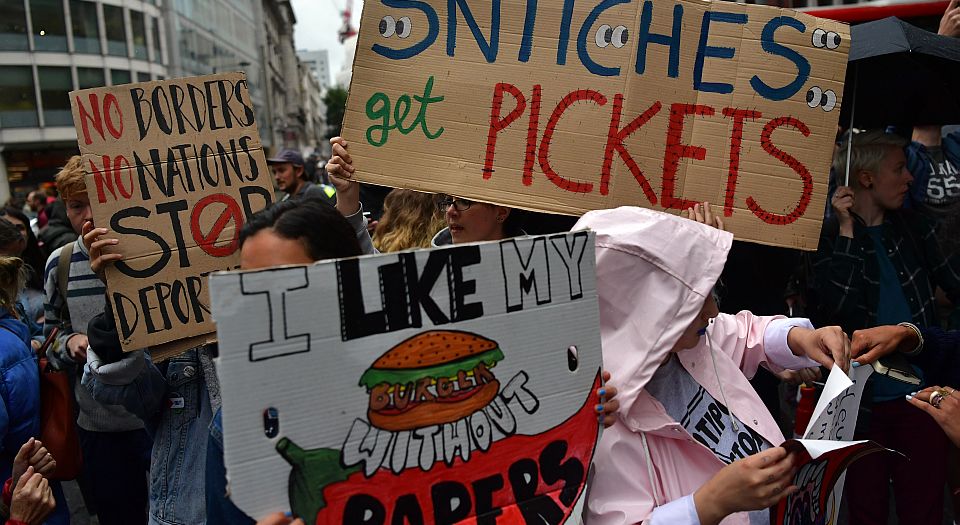 Two hundred people gathered last night outside Byron Hamburgers in Holborn, London, to protest against the chain's shameful treatment of its migrant workers. Last week it was revealed that Byron had collaborated with the Home Office to stage immigration raids at a number of its London restaurants.
It is Byron's deceitful tactics that have attracted the most vitriol. The workers were asked to attend training sessions where, on arrival, they were welcomed by a band of immigration officials. Thirty-five people – suspected illegal migrants from Brazil, Nepal, Egypt and Albania – were arrested and are due to be deported.
I have sympathy with the protesters, who are calling for a boycott. The intricate ruse Byron cooperated in was appalling. It utterly degraded the relationship between employer and employee and demonstrated that Byron management has about as much respect for its workers as it does for the pieces of meat its restaurants serve.
But it is important to remember that the mistreatment of migrants in the UK isn't entirely down to one burger chain. Those who picketed Byron probably recognise this. But the fact that they've put all their energy into protesting against Byron, rather than putting real political pressure on the government, speaks to their somewhat warped priorities.
Byron is a soft target. Yes, it acted in a vile manner, but the protest was little more than an act of impression management, which left the wider question of the status of migrants up in the air. It's a displacement activity, which avoids serious discussion about the government's treatment of migrants. Rather than set up outside the Home Office, protesters would rather write burger puns on placards.
The vacuous nature of the Byron protest was neatly summed up by its coordinators' insistence on labelling the restaurant chain 'unethical' – a hollow term most often used to describe cheap coffee beans and t-shirt materials. The protesters, it seems, are far more concerned with the sneaky methods used to capture the migrant workers than they are with the draconian policies that informed them.
'The law doesn't tell Byron to entrap workers', the protest's coordinator pointed out. And, of course, she's right. The lengths Byron went to in order to comply with the Home Office were absurd. But though its actions may have left a nasty taste in our mouths, we'd be doing migrant workers a disservice if we allowed Byron to become a scapegoat for the immigration policies promulgated by our government.
Indeed, if there ever was a time to criticise UK immigration policy, it's now. We now have one of the most anti-immigrant prime ministers in recent memory. This year, Theresa May announced that non-EU migrants who have lived here for more than six years and earn less than £35,000 per year will have to leave. And she deported 48,000 foreign students on false claims that they had cheated on English-language tests.
We must recognise that Byron's treatment of its migrant workers was just one incident that reflected the stringent immigration policies enacted by the authorities. It's pretty clear why Byron's actions attracted such a kneejerk response. For the young, millennial protesters, Byron was a hip establishment, a place that serves you the Guardian in a brioche bun; it has let them down.
But while slagging off Byron is a surefire way to make you feel right-on, it doesn't challenge the underlying problem: our narrow-minded immigration policies. If we really believe Byron's actions were despicable, switching to Gourmet Burger Kitchen isn't enough. We need to take our government to task for its nasty practices, and win the democratic argument for a more generous immigration arrangement and for tolerance. Shrieking outside a burger bar solves nothing.
Jacob Furedi is a writer and a campaigner for spiked's Invoke Article 50 NOW! campaign.
To enquire about republishing spiked's content, a right to reply or to request a correction, please contact the managing editor, Viv Regan.