Erdogan's overthrow of freedom
He's using the failed coup to bolster his war on liberty.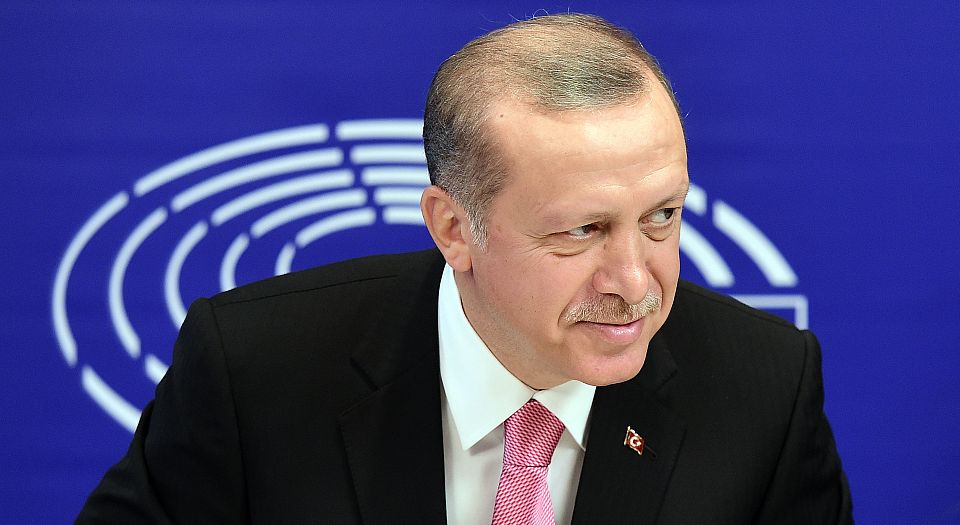 Turkey's president Recep Tayyip Erdogan has promised to 'clean the virus' from all state bodies following the failed military coup. A state of emergency has been declared so that he can bypass parliament to draft new laws that will close the net on the coup-plotters. Around 60,000 military personnel, judges, teachers and university heads have been suspended or detained under suspicion of being behind the failed takeover. Academics have been banned from leaving the country; 21,000 schoolteachers have had their licenses revoked; and 1,500 university heads have been sacked. There are now reports of numerous journalists being arrested. Erdogan's democratic mandate has been upheld, but the cost of the coup is that he is intensifying his crackdown on freedom.
The Erdogan regime has been undermining freedom for years. In May this year, a court in Istanbul found 27-year-old former Miss Turkey, Merve Buyuksarac, guilty of insulting a public official: she had published a satirical poem critical of Erdogan. The poem was deemed 'insulting'. Fortunately for Buyuksarac, she avoided being locked up; she was given a suspended prison sentence.
Her case is one of almost 2,000 defamation suits brought against Erdogan's critics since he became president in 2014. Such cases are having a chilling effect on free speech. They perpetuate a culture of fear and self-censorship. This can even stretch beyond Turkey. There was the infamous case of the German comedian Jan Boehmermann, who read out on German TV a satirical poem about Erdogan, giving rise to an official complaint from Erdogan and a German investigation.
In Turkey, the enemies of freedom are winning. Crippling fines are imposed on media that criticise the government, and laws criminalising investigative journalism are used to arrest writers. The end result is the erosion of independent media and a creeping culture of cronyism. A recent report by English PEN, Journalism Under Siege, exposed the gravity of the crisis facing press freedom in Turkey. In 2015, 30 journalists were in prison, and another hundred had been detained in some way. Almost a thousand bans on publications were issued, and more then 42,000 websites were banned.
It isn't only journalists who need to be fearful; anyone critical of government policy can become a target. The idea of a peace process between Turkey and the Kurdistan Workers' Party (PKK) is now in tatters, after Erdogan pledged to exterminate the PKK. Recent footage of Turkish politicians trading punches is symptomatic of the gaping schism between Erdogan's ruling Justice and Development Party (AKP) and its political foes. The brawl kicked off following controversy over Erdogan's proposals to amend the constitution, stripping legislators of parliamentary immunity and paving the way for the prosecution of pro-Kurdish politicians on terror-related charges.
Then there's Erdogan's antipathy to social media. He says social media is like 'the knife in the hand of a murderer'. When the mainstream media failed to publish stories about the 2013 Gezi protests, which were a cry of anger against, among other things, police brutality, an army of social-media activists filled the void. There are around 15million Twitter users in Turkey. Twitter and YouTube became vital sources of information during the Gezi disturbances and also during the 2013 AKP corruption scandal. Erdogan's response to such political use of social media? He said: 'We'll eradicate Twitter… Everyone will witness the power of the Turkish Republic.' And sure enough, Twitter was shut down across Turkey. The ban was overturned by a Constitutional Court a few weeks later.
Erdogan had been attacking the judiciary even before the attempted coup. Prosecutors who toe the AKP line have been promoted, while those who challenge Article 299 of the Turkish Penal Code (the basis for the cases of 'insulting the president') have been 'exiled'. A judicial review proposing the removal of hundreds of judges was already underway before the coup. It was designed to give the government more say in judicial appointments. This is an explicit attempt to undermine judicial independence.
Erdogan's supporters marked their victory over the coup plotters by shouting 'Allahu Akbar' in Taksim Square – the symbolic centre of modern, secular Turkey. More than 250 people died in the coup, and many fear further instability. But for Erdogan, the failed coup has been a boon, for it allows him to continue his clampdown on freedom with even greater vigour. As the Turkish journalist Mahir Zeynalov put it: 'The failed coup attempt is a windfall for Erdogan in his bid to further consolidate his power.' All progressives ought to offer their solidarity to the Turkish people who are arguing against Erdogan and in favour of freedom.
Hardeep Singh is a writer based in London. Follow him on Twitter at @singhtwo2.
To enquire about republishing spiked's content, a right to reply or to request a correction, please contact the managing editor, Viv Regan.