Funny Girl: is Sheridan Smith's star fading?
The Savoy production's understudy is the breakout star.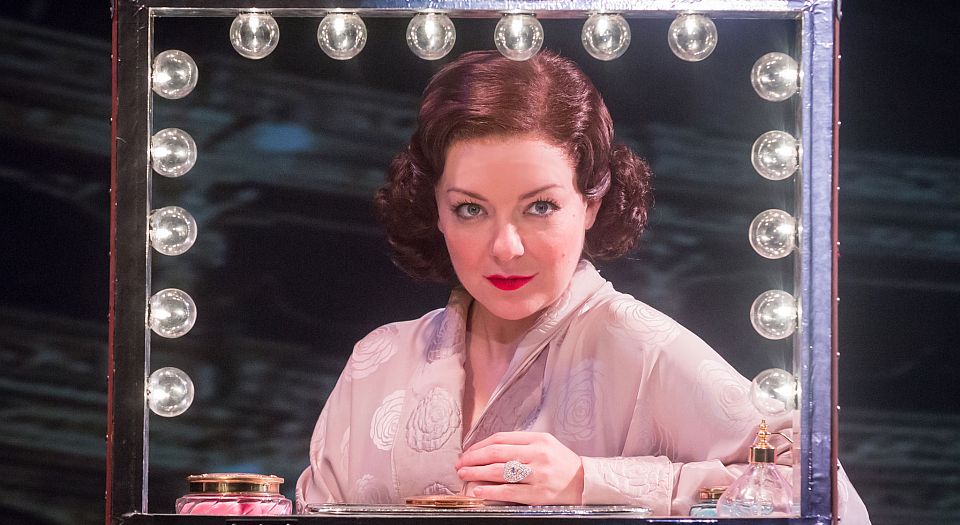 Sheridan Smith recently made news by doing her job: regularly performing in a West End show, the revival of Funny Girl. After two months off due to 'stress and exhaustion', during which her understudy Natasha J Barnes filled in as Fanny Brice, Smith has now returned full time to the role, though she'll be taking Mondays off.
Smith's immense popularity has made this revival both a major event and a saga in the media. Given that Smith is most famous as a TV star, many of the fans who made Funny Girl's initial run at the Menier Chocolate Factory sell out in 90 minutes might be unaware that she has also had an impressive theatre career. She has won two Olivier awards. She appeared on the London stage as a youngster in Bugsy Malone and Into the Woods, and she later garnered acclaim in musicals such as Little Shop of Horrors and Legally Blonde, and plays including Hedda Gabler and Flare Path.
Funny Girl tells the story of vaudeville legend Fanny Brice, charting her rise to stardom and her tragic relationship with gambler Nicky Arnstein. This revival, the first major production of the show since Barbra Streisand's legendary performance on Broadway and in the West End back in the 1960s, transferred to the Savoy Theatre from the Menier Chocolate Factory.
The show is most celebrated in its cinematic form, the 1968 movie directed by William Wyler featuring an iconic, Oscar-winning performance from Streisand in her movie debut. The film cut eight songs from Jule Styne's score, and added some new ones, including songs Brice herself had sung. By giving every song to Babs, the film became an out-and-out star vehicle for her.
The original show, as presented at the Savoy, gives more time to supporting characters, and features some questionable 'comedy' numbers that were clearly cut from the film for good reason. The show also ends on a more triumphant note, with a proud Brice singing a reprise of 'Don't Rain on my Parade', as opposed to the heartbreaking rendition of 'My Man' that closes the film. The musical's book is certainly flawed, but when bolstered by numbers like 'People' and 'I'm The Greatest Star', it is nonetheless a fabulous musical comedy, even all these years later.
However, the merits of this fine musical have been overshadowed by the hysteria surrounding Smith's alleged breakdown. The tabloids have a strangely bipolar mentality over the whole Smith affair, on one hand reporting on her wild night outs before cancelled performances and grossly hypothesising the psychological reasons for her 'meltdown', and on the other hand supporting an aggressive PR campaign of inane paparazzi photos showing Smith looking 'healthy' and 'happy'.
Smith may have been dealing with her father's cancer diagnosis, and she may have some genuine mental-health issues. But her behaviour prior to her extended leave was undoubtedly petty and sometimes irresponsible. She blamed the press's reaction to her BAFTA 'losing face' for one of her cancelled performances, claiming the papers let down both her and those who were coming to see her. After threatening on Twitter to sue the producers of the show, she subsequently made her Twitter account private. Most scandalously, a show was cancelled mid-performance due to 'technical difficulties' — audience members claimed Smith was intoxicated and had been slurring through her lines and dropping in and out of her Bronx accent.
These antics, the mystery around the extent of her illness, and the continued efforts to keep her away from public appearances, have left disappointed fans and even West End professionals cynical. Elaine Paige even weighed in with her disapproval, declaring she no longer considers Smith her successor.
But Funny Girl is a story in the classic mode of 'a star is born', and art has imitated life with the breakout performance of Smith's understudy, Barnes. Emerging from the shadow of both Smith and Streisand, Barnes has proven herself a rightful heir to the role despite her lack of professional training and despite being 10 years younger than Smith. With a voice big enough to belt out the classics, she skilfully balances the role's demand for both exaggerated shtick and touching pathos.
In the face of adversity, Smith has maintained her multitude of doting fans. But her future in the West End is surely in doubt. Martine McCutcheon, who similarly pulled out of months of performances of My Fair Lady, has not been seen in the West End since. Will any musical producers want to take a chance on Smith again?
What can't be doubted is the bright future in store for Barnes. I would suggest booking your tickets on a performance that she's billed to appear in — not just for her fantastic performance, but also to be sure that your leading lady will actually turn up.
Christian Butler is a writer and musician based in London.
Funny Girl is at the Savoy Theatre until 8 October.
To enquire about republishing spiked's content, a right to reply or to request a correction, please contact the managing editor, Viv Regan.