How Gove made prisons more humane
Anyone interested in prison reform should be gutted Gove has gone.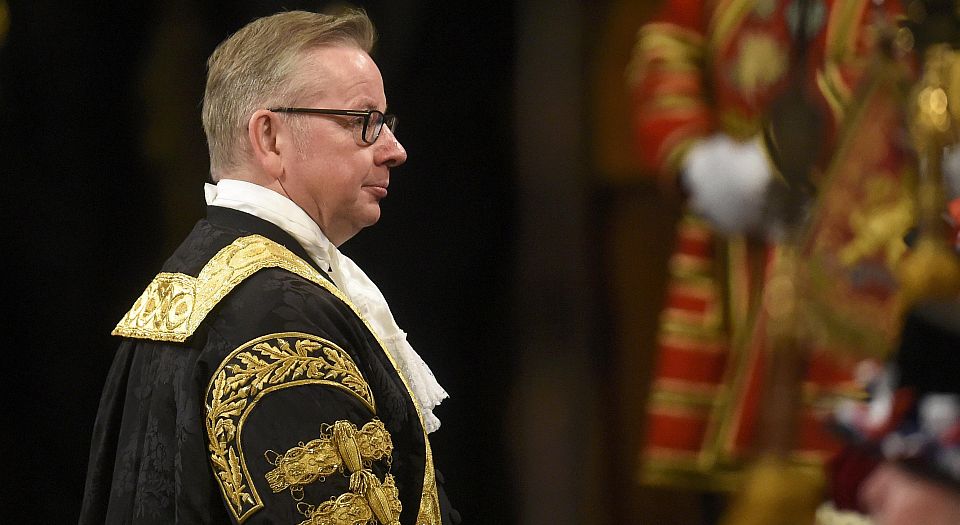 That Theresa May gave Brexit campaigner, and long-shot leadership rival Michael Gove the boot in her recent cabinet reshuffle was hardly surprising. But her decision to hand over the justice-secretary job to ex-environment secretary Liz Truss has sparked a mini rebellion in the Department of Justice.
Justice minister Lord Faulks resigned from his position due to Truss's lack of legal experience. Meanwhile, Anna Soubry rejected May's offer to take over Faulks' job, saying her 15 years as a criminal barrister made serving under Truss 'an insult'. For anyone concerned about prison reform, Gove's departure really is a tragedy.
When former PM David Cameron gave a speech on prisons in February, he was the first prime minister exclusively to address the issue in over 20 years. He spoke of the need for an upheaval in how we run our prisons, and claimed his government would enact 'the biggest shake-up of prisons since the Victorian era'. This was the cause which, as justice secretary, Gove had made his own.
After decades of neglect, prison reform was finally in sight. Before Gove was the harsh and ineffectual Chris Grayling, who set about introducing a series of idiotic measures, including a ban on books for prisoners – which only boosted prison illiteracy rates – and debt-inducing court charges for defendants. Gove scrapped the book ban, the charges and loosened the draconian restrictions on temporary release for prisoners to work in the local community.
Reform was desperately needed; the system clearly wasn't working. The crime rate has been decreasing for years, especially violent and serious crimes, and yet imprisonment has been on the rise. This is because, in recent decades, justice secretary after justice secretary has tried to pose as tough on crime by raising the prison population. Between 1992 and 2008, Britain's prison population rose from below 50,000 to over 90,000.
As a result of this, the belief in the individual's capacity for change and rehabilitation within the prison system has decayed. Lengthy sentences are handed down, including for less serious crimes. This is a ludicrous situation. Ninety-nine per cent of prisoners will one day return to society. And yet rehabilitation was increasingly sidelined and many people were put behind bars needlessly.
Under Gove's stewardship, the prison system has progressed significantly, particularly with regard to high-category prisoners. HMP Grendon, in Buckinghamshire, has been a pioneer. Grendon houses category B offenders – violent or sexually violent criminals who pose a significant risk to the general population. These prisoners also tend to have been victims of abuse during childhood, and more than half have drug problems.
At Grendon, reformative justice is prioritised over punitive justice. Inmates are referred to as residents. Their cell blocks are referred to as residences, and are given a more comfortable feel. There are fewer security staff and more domestic staff. Where most prison funding goes into security, and maintaining order, Grendon directs more resources into reform programs – cultural activities like arts and drama – allowing prisoners to maintain a connection with life outside prison.
Grendon also fosters stronger relationships between 'residents' through democratic processes. They meet frequently under the chair of an elected resident, so they can discuss issues and conflicts they face throughout the prison. Furthermore, they have the opportunity to vote on solutions to these issues. By taking on responsibility for one another, the inmates maintain a sense of community.
The results speak for themselves. Inmates who move to Grendon display an 80 per cent reduction in anti-social behaviour, the rate of self-harm is on average 25 per cent lower among inmates, and once they leave they are 25 per cent less likely to reoffend.
So many achievements like this are down to Gove's drive to give prison governors more autonomy. Instead of requiring a strict set of financial quotas, Gove allowed governors to allocate funds as they deemed appropriate. This has been crucial for allowing prison administrations to experiment and reform. And this is why May's reshuffle should concern us.
As home secretary, May consistently favoured bureaucracy and central government power over autonomy. This will not work for prisons. Though Truss has pledged to follow in Gove's footsteps, it's unlikely she'll match his reformist zeal. Gove was the first justice secretary in decades to break from the given path, providing dynamism and new thinking when they were sorely needed. It's a real shame he's gone.
Charlie Peters is a spiked intern.
To enquire about republishing spiked's content, a right to reply or to request a correction, please contact the managing editor, Viv Regan.