We need the Bastille spirit more than ever
After Nice, the fight for freedom and democracy must get real.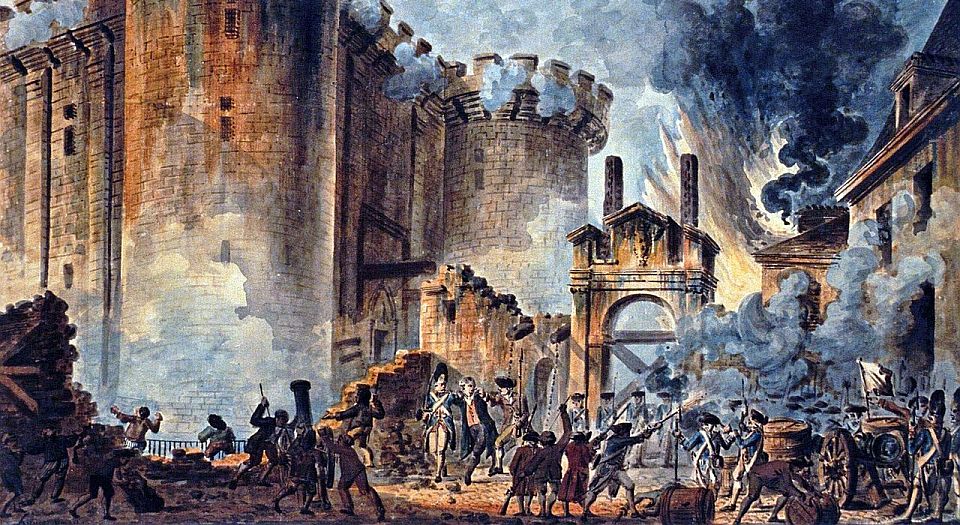 Last night's barbarism in Nice was the clearest, bloodiest expression yet of terror's contempt for freedom and democracy. All the recent Islamist attacks in France have been horrific, and all have struck hard at liberty. There was the summary execution of Charlie Hebdo's cartoonists for the speechcrime of mocking Muhammad. The slaughter of revellers at the Bataclan, who, in ISIS's view, were 'idolaters' gathered for 'a concert of vice': that is, their sin was to engage in the freedom and fun of nightlife. But the slaughter of 84 people at a Bastille Day celebration, at a national holiday to commemorate the birth pangs of mass democracy in France, is an even more explicit assault not only on life, but on public life, on the idea of the demos itself.
Those 84 men, women and children mown down by a truck were celebrating one of the most important events in French history. Bastille Day commemorates the moment on 14 July 1789 when a raging, revolutionary crowd stormed the Bastille prison in Paris. The fall of the Bastille was a turning point in France's sweeping aside of monarchism in favour of modernity. 'Another revolt?', asked King Louis XVI. 'No sire, it's not a revolt, it's a revolution', his adviser famously replied. Bastille was significant because it was the moment when the masses asserted themselves in France, rudely intruding into the realm of politics and history. In the words of Michel Vovelle, author of La Prise de la Bastille, it showed that 'the urban masses had been mobilised'. 'The masses had emerged.' Yesterday's bloody assault on a Bastille Day celebration was an attack both on the real, living masses of today and also on the idea of mass politics. It was an attack on people and The People.
It's a reminder of how fragile are the values of freedom and democracy. It was a glimpse of the violent contempt in which some individuals and groups hold these ideals of liberty. We must never take these gains of enlightenment, these gifts of generations like the one that stormed the Bastille, for granted. They must be lived, and defended, and fought for again and again. Islamist assaults on people who have exercised their free speech in a 'bad' way or who publicly celebrate democracy can be seen as violent, apocalyptic expressions of a disdain for freedom and democracy among the rulers and institutions of Western society itself. In a society where you can be dragged to court for Islamophobic hate speech, the massacre at Charlie Hebdo starts to look like the militant edge to a mainstream PC censoriousness. In a Europe where the intellectual elites have turned against mass democracy, as we saw graphically in the outburst of demosphobia following the Brexit vote, attacks on ordinary people cheering the moment when ordinary people entered politics can be seen as a savage manifestation of a mainstream discomfort with mass politics.
The role of radicals right now is to refortify these ideals within our own societies, to stand up for them against all-comers, whether intellectuals or barbarians, in order to strengthen them, give them greater meaning, and offset the attempts to undermine or destroy them.
After Nice, we need great public and democratic vigilance, against both terrorists who despise liberty and democracy and cagey officials whose instinctive response to terror is to restrict liberty and democracy in the name of safety. We must refuse to be terrorised. To panic society or reshape it in an illiberal way, to encourage people to stay at home and dodge big, democratic gatherings, would be to do the terrorists' dirty work for them. Our response to Nice should be to stand up, firmly and unapologetically, for the ideals that the stormers of the Bastille believed in and which Islamists and too many others today view with disdain or murderous disgust: that people should be free; that popular opinion matters; and that public life should be the realm of the many, crowded on to the streets, not the few.
We need the Bastille spirit more than ever. Where that was a strike for universal values, yesterday's attack spoke to how far the modern West is sinking into the mire of a murderous identity politics and illiberal sectarianism. Against the cult of grievance, victimology, violence and authoritarianism of Islamists and others, we must assert the principles of universalism, enlightenment and liberty. And then on 14 July 2017, consider going to France, and celebrating Bastille Day publicly and loudly with the good citizens of Nice, Paris and elsewhere.
Brendan O'Neill is the editor of spiked.
To enquire about republishing spiked's content, a right to reply or to request a correction, please contact the managing editor, Viv Regan.