Political baldies squabbling over a broken comb
It would surely be better if predictions of Labour's break-up proved true.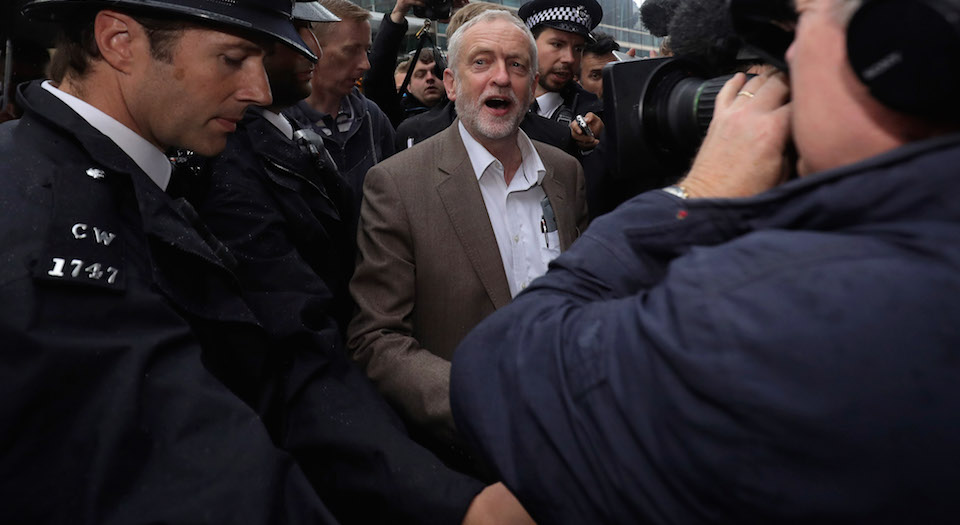 What is 'Labour's uncivil war', now reportedly tearing the party apart, really about? Is this historic battle for the life and soul of the Labour Party being fought between left and right, Blairite centrists and Bennite Corbynistas?
To judge by what leading lights on either side are saying, the real divide appears to be between Bullies and Victims. With both camps claiming they are the ones who have been bullied, of course.
On Wednesday, National Executive Committee member Johanna Baxter was broadcast weeping live on BBC Radio 4, talking about the NEC meeting at which a majority voted to allow leader Jeremy Corbyn on to the ballot for a leadership election without needing to gain nominations from Labour MPs. Baxter cried that, by trying (and failing) to prevent secret voting in the meeting, Corbyn had 'endorsed bullying, threats and intimidation'. Blimey. You can feel the fear involved in having to put your hand up in a committee room.
But no, no, whine the alleged hard lefties of the Corbyn camp, we're the ones being bullied. The Observer recently reported that Corbyn's aides had barred his deputy, Tom Watson, from having a one-on-one meeting with the leader — because they were frightened that Watson would 'jab his finger at him'. And of course facing a jabbing finger must be even more terrifying than having to raise you own hand to vote. A 'senior Labour source' close to Corbyn said: 'We are not letting that happen. He's a 70-year-old [sic] man. We have a duty of care… This is not a one-off. There is a culture of bullying. Maybe it's a Blairite/Brownite thing.'
Or maybe it's a Corbynite/anti-Corbynite thing? On this evidence the Labour leadership contest looks more like a reverse arms race to see which camp can appear more pathetic. It seems those delicate 'snowflakes' we hear about are not confined to student unions. How these flowers expect to take on the big bad Tories is anybody's guess.
This competitive victim-mongering is symptomatic of a political struggle without any political principles. What are the big ideas that divide Labour's two sides? Nobody has said a word. Instead we are treated to a display of small-minded identity politics, as in leadership challenger Angela Eagle's declaration that 'I'm a gay woman with strong, northern, working-class roots. I think I'm the right person for this job at this time.' So her platform is presumably to oppose Corbyn because he's a straight, southern, middle-class male. So much for the party of unity.
Corbyn himself, of course, is hailed by his left-wing supporters as the man of principle in this tawdry contest. Yet as I observed last week, when confronted with the first major issue as Labour leader – the EU referendum – he abandoned his longstanding principle of opposing the EU and joined the rest of the Labour front bench in the elites' conformist Remain campaign. The woolly socialist principles that Corbyn has been espousing this week – 'against austerity, racism and imperialist war' – hardly distinguish him from the new Tory government, let alone his Labour opponents.
The personal bitterness and bile between Labour MPs and Corbyn supporters appears to increase in reverse proportion to any expressions of substantial political differences. It seemed entirely fitting that each side in this non-political struggle has been threatening to take the other to court if they don't get their way with the party rulebook. The battle looks more like a legal contest between embittered family members who have fallen out over which one inherits the empty house after a bereavement.
This is the point that's missed by those worrying about whether the current bunfight could spell the end for Labour. As a political movement with some semblance of political principles and roots in working-class communities, the Labour Party effectively died some time ago, along with the dynamic trade unions that gave birth to it.
The famous Durham Miners' Gala, which Corbyn addressed to cheers from the faithful last weekend while his critics were barred from the platform, has been more accurately described as a sort of historical re-enactment pageant, where a few thousand enthusiasts dress up and pretend to refight the battles of yore. Meanwhile, just up the road in the longstanding Labour heartland of Sunderland, modern working-class voters ignored the party's instructions and became the first area to vote Leave in the referendum, by 61 to 39 per cent.
Many blame the party's problems on Labour's favourite hate figure, Tony Blair (a three-time General Election winner who is now despised even more than former leader Harold Wilson, who was prime minister four times). In fact, as spiked has consistently argued, it was the fact that Labour had already been reduced to an exhausted, empty shell that allowed Blair and his New Labour clique to take it over in the first place – just as it enabled Corbyn and his rag-tag alliance of old lefties and new £3-a-vote supporters to win the leadership election last year.
There is much talk now about possible splits if Corbyn wins the leadership contest again despite being rejected by most Labour MPs. If the disaffected MPs have a pair between them, that would seem the logical outcome. For the moment, however, they are all clinging to the wreckage of the machine, because they have nothing else on which to stand.
The Argentinian writer Jorge Luis Borges described the 1982 war for the Falkland Islands as 'two bald men fighting over a comb'. He meant that those few lumps of rock in the South Atlantic were of no practical use to either the UK or Argentine governments, yet both appeared prepared to risk everything to win control of them.
By that standard, the current battle for the leadership of the Labour Party might look like a bunch of politically bald men and women squabbling over a comb that is broken anyway. The Labour Party is a defunct tool of no positive use to anybody.
The pathetic spectacle of this leadership contest only confirms the political rule that parties tend to get the leaders they deserve. The useless Labour Party would be well represented by either of the faceless MPs challenging Corbyn, one of whom was described by a BBC reporter as 'a man called Owen Smith', as if he had just wandered in off the street, and both of whom have managed the considerable achievement of making a veteran non-entity such as Corbyn appear interesting by comparison. Meanwhile, even post-Chilcot, the discredited Blair continues to look like a giant of the public stage next to all these political pygmies.
It would surely be far better for the future of the British left and political life if the dire predictions of the end of Labour came to fruition, forcing some overdue realignment according to what people stand for rather than who they hate and accuse of bullying.
There have been cries of outrage at the sneaky decision by Corbyn's opponents on the NEC to raise the price of a supporter's vote in the leadership election from £3 to £25 this time around. Some of us veterans of left-wing politics would not give you a pony (25 quid) for the entire dead Labour horse.
Mick Hume is spiked's editor-at-large. The concise and abridged edition of his book, Trigger Warning: Is the Fear of Being Offensive Killing Free Speech?, is published by Williams Collins. (Buy this book from Amazon(UK).)
Picture by: Getty Images.
To enquire about republishing spiked's content, a right to reply or to request a correction, please contact the managing editor, Viv Regan.