Needles and Opium: a magical work
Robert Lepage's multi-media masterpiece continues to inspire and bewitch.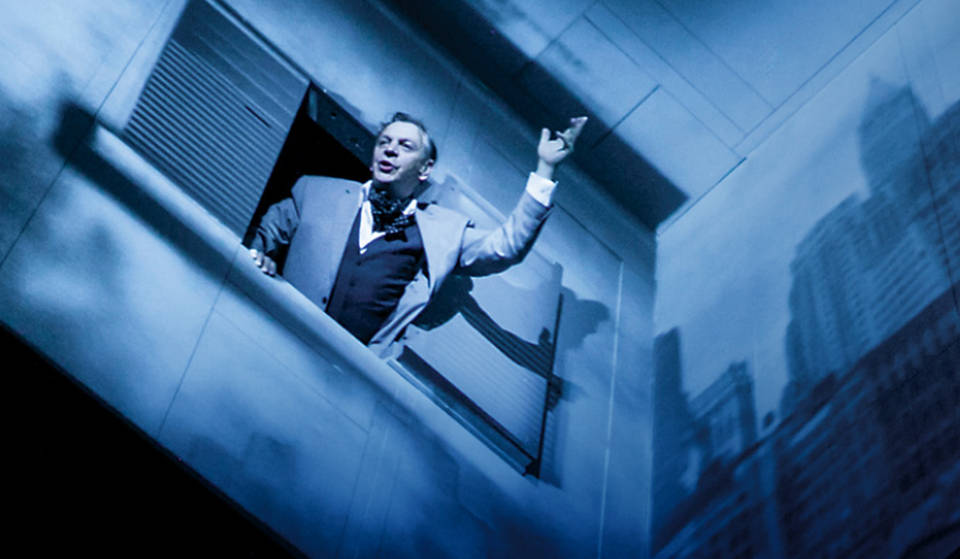 Productions of the work of French-Canadian playwright Robert Lepage don't come around often, so it's worth getting organised when it does. This time, his revival of Needles and Opium, his groundbreaking 1991 show about the French poet Jean Cocteau, in New York, and the jazz trumpeter Miles Davis, in Paris, is on in London until 16 July and remains testimony to his mercurial genius.
Not easy to categorise, the play is a kind of tone poem mixing the parping melancholy of Davis's music with the flamboyant pronouncements of Cocteau's avant-garde poetry and the heartache of a character based on Lepage himself. All three are struggling in the aftermath of a lost loved one. Davis turns to heroin after the end of an affair with the French singer Juliette Gréco in 1950, Cocteau relates his own experience of opium addiction following a bereavement, and both become an alter-ego to Lepage in a play that is a hymn to the pain of unrequited love.
Relating the story, however, doesn't do it justice. Lepage is after something too elusive for a simple narrative to nail down. Sometimes described as a stage magician, sleight-of-hand is his métier and perhaps the only means he has of exploring his elusive subject. This elusiveness is neatly summed up by Cocteau when he speaks of a radio in 1950s New York 'sending out jazz music across the lonely ocean of the night'. Pitched in the shadow of Sartre, this is a tale of existential separation and of displacement in time and space: the Frenchman in New York, the American in Paris and the Canadian caught between the two.
Lepage's staging sets the drama inside a huge cube, seemingly floating in a black void. Scenes from Paris and New York are projected on to this cube, as are images of the cosmos beyond. A hotel bed folds out of a wall and a window overlooking a street appears on another wall while the whole structure rotates through 360 degrees to shift perspective from exterior to interior space, from the real to the surreal, from apprehension to memory. It creates shifting inter-penetrating perspectives that in turn allow Lepage to stage something like the experience of consciousness itself.
Marc Labrèche plays both a camp, Quentin Crisp-like Cocteau and a ruminative, rueful Lepage. It's a gymnastic as much as a thespian achievement. Frequently on a high wire, he somersaults in and out of secret doors and priest holes in the set. As Cocteau, he holds forth with four arms waving in the manner of an existentialist Shiva. As Lepage, he gets into disputes with hotel telephonists or finds himself unable to sleep thanks to a couple copulating endlessly in the next room on a sticky Paris night.
It is perhaps the music that runs throughout that enchants and seduces most, as Wellesley Robertson III impersonates Miles Davis. Mercifully he mimes the music and, besides, he has somersaults to perform on the rotating cube. Most importantly, though, this music floods the play with a narcotic effect, and the darkness around the cube becomes Cocteau's lonely ocean of the night.
The show is subtle and suggestive, but sometimes slow, taking place in a soporific murky light (perhaps to conceal some of the mechanics behind the wizardry). It is not as technically startling as it was in 1991, when this kind of multi-media theatre was just beginning to emerge. But it remains the equivalent of a classic album, a theatrical collectors' piece that can still entrance anyone willing to be spellbound by the famous Lepage magic.
Patrick Marmion is a playwright, journalist and associate lecturer at the University of Kent. He is currently adapting Will Self's Great Apes for the stage.
Needles and Opium is at the Barbican until 16 July 2016.
To enquire about republishing spiked's content, a right to reply or to request a correction, please contact the managing editor, Viv Regan.