The West's war games with Russia
EU expansionism is a bigger problem than Putin's ambitions.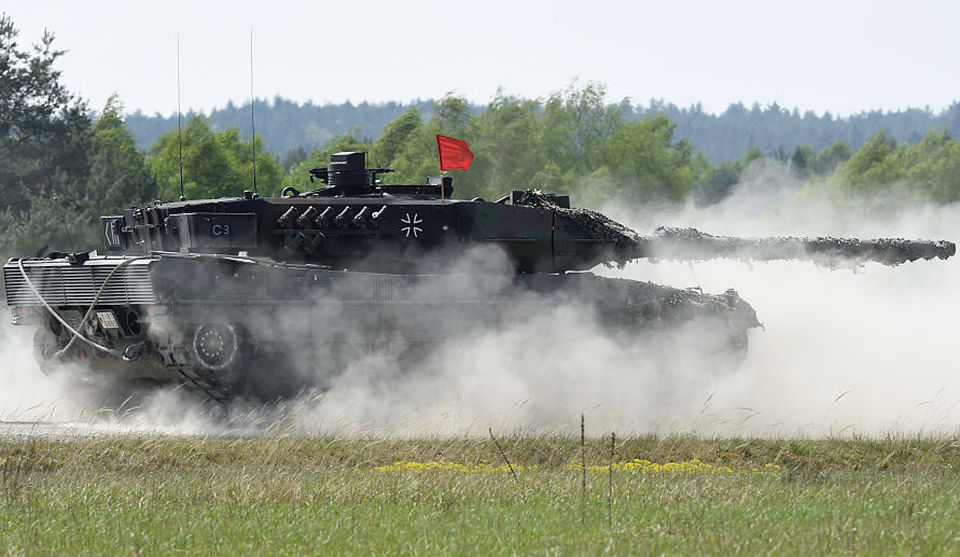 It is an all-too-familiar trope, but one Jens Stoltenberg, the secretary general of NATO, was not afraid of using when, in support of the establishment's Remain campaign, he warned British voters that leaving the EU would endanger 'peace and security'. The reasoning might be mythical – the EU is supposedly the glue that has bound hitherto conflicting nations together – but that doesn't stop the likes of Stoltenberg and the EU's leaders, from Hollande to Merkel, waxing disingenuously about how the EU promotes peace and stability.
But just how disingenuous this talk is has once again become clear over the past month. Because, as part of NATO, those same propagators of pacificism, of postwar never-again-ism, have been showing how committed they are to peace and stability by indulging in military posturing on the increasingly nebulous borders of the EU. Their target, as ever, is Russia; their effect, instability and discord.
NATO's escalation of the conflict with Russia is rich in grisly irony. At the beginning of June, EU member states and NATO, these supposed forces of global order and stability, embarked on the largest movement of foreign allied troops in Poland since the Second World War. Described as a 10-day military training exercise, involving 31,000 soldiers, thousands of vehicles and assorted aircraft, it was also the first time since 1941 that German tanks had crossed the Polish border. This, apparently, is what promoting peace and stability looks like.
And this weekend, following a two-day summit in Warsaw, NATO and its partners upped the ante further. Citing 'Russia's aggressive actions [in Ukraine], including provocative military activities in the periphery of NATO territory', and asserting, in euphemistically expansionist language, the need to 'project… stability', they agreed to deploy four battalions, numbering nearly 4,000 troops, in Poland, Lithuania, Latvia and Estonia – that is, right along Russia's western borders. All of this follows America's construction of a missile defence system in Romania, with a further one planned in Poland.
Of course, we know why the US and its European NATO allies think they're justified in determinedly rattling their hi-tech rifles on Russian borders. They would like to believe Putin's Russia is a clear and present danger. They would like to believe, at some level, that he is, as one commentator called him, a 'hypernationalist, conspiratorial madman', a man who dreams of Russia's 'imperial restoration'. They never put it in those terms, of course. They talk ostensibly of defence; of protecting NATO members and allies; of, as Stoltenberg put it, 'an attack on one ally [being] considered an attack on the whole alliance'. But lurking in the NATO-ese is the same desperately anti-Russian prejudice, the same conviction that Russia, with Putin at the helm, poses a significant threat to the EU and the West in general. Putin is seemingly the Hitler of our times, and Russia, the Fourth Reich.
So, ahead of the NATO summit, German chancellor Angela Merkel was clear that it was 'Russia's actions [that] have deeply disturbed our eastern allies', and that 'they therefore require clear reassurance from the alliance'. In other words, it's Russia that is causing the problems, that has destabilised Ukraine, that looms large and menacing over the EU's eastern frontier. When asked if the EU was going to relax its sanctions against Russia, you could sense just how deep is the fear and suspicion of Putin in European Council president Donald Tusk's rebuttal, rich as it was in allusions to the 1930s. 'When I hear we have to believe in President Putin's or the [Ukrainian] separatists' goodwill', said Tusk, 'I know it's either naivety or hypocrisy. The comparison with appeasement [towards Hitler] applies.'
And yet the prevailing narrative, in which Russia is a deluded, dangerous aggressor — the narrative, that is, that justifies NATO and the EU's increasingly agitated and provocative military gestures and ongoing economic sanctions — doesn't make sense. As Putin himself said, to think that Moscow poses a military threat to NATO members and its allies is 'the type of thing that only a crazy person thinks, and only when dreaming'. And while many Western pundits and politicos like to believe that that is precisely what Putin is – 'a crazy person' – only those still wilfully immersed in Cold War dramaturgy can really believe it is the case.
Yes, Russia did annex Crimea in the aftermath of the EU-backed, de facto coup in Ukraine in 2014. Yes, Russian forces are clearly involved in the so-called rebel-controlled eastern region of Ukraine. And, yes, Russian armed forces have helped Bashar al-Assad's Syrian regime roll back ISIS and also attack numerous Syrian rebel groups. But these actions are not those of a power-crazed military aggressor; they're those of a nation state with relatively clear strategic interests, chief among them being the protection of its borders, and beyond that, preserving regional stability. Russia is not so much driving conflicts as it is responding to them – responding to the West's unspooling of the Middle East, responding to NATO and the EU's various entreaties to the Baltic states, and responding, above all, to the transformation of Ukraine from a long-term ally into a EU-ified, and NATO-encouraged, antagonist.
If any state, or alliance of states, is a destabilising and disturbing force here, it's not Russia; it's the blundering coalitions of NATO and the EU. After all, it was NATO and the US that decided to revoke assurances made to Russia in 1990 that, as the Soviet Union collapsed, Western powers, in the form principally of NATO and the European Community, would not expand to the east — they've been doing precisely that from the mid-1990s onwards. Between 1999 and 2004, NATO incorporated such Eastern Bloc stalwarts as Bulgaria, Hungary, Romania and Latvia. In 2008, the Bush administration then made half-baked promises to Georgia and Ukraine, stating that they, too, 'will become members of NATO'. Not to be outdone, the EU matched NATO in its march eastwards, with its 2008 initiative, the Eastern Partnership scheme, which was designed to integrate Ukraine into the EU, and therefore separate it from the Russian economy.
Over the past two decades, then, Russia has experienced NATO and the EU as aggressive and unpredictable forces, getting ever closer to its borders, and depriving it of its old allies and client states. Even the rhetoric of NATO and the EU is expansionist, aggressive and, ultimately, threatening. A 2012 NATO strategy document had a crusading element to it: 'Our goal of a Europe whole and free, and sharing common values, would be best served by the eventual integration of all European countries that so desire into Euro-Atlantic structures.' The 'eventual integration… of all European countries into Euro-Atlantic structures'? And Russia-baiting pundits think Putin is the one with quasi-imperial dreams. This same expansionist, mission-like zeal was apparent in NATO's post-summit communique issued this weekend, where it spoke of how Russia was threatening 'our long-standing goal of a Europe whole, free and at peace'.
The 'goal of a Europe whole, free and at peace'. It reads innocuously. But in practice it provides NATO and the EU with a dangerous, destabilising expansionist trajectory. Because to realise this goal entails the transformation of existing geopolitical reality, pulling those states once in Russia's orbit into 'Euro-Atlantic' structures. It is a recipe not for peace, but for conflict. Little wonder that former Soviet president, Mikhail Gorbachev, a man well-versed in old-school Cold War diplomacy, was shocked by the NATO summit: 'The rhetoric in Warsaw screams of an intention to practically declare war on Russia. They only talk about defence, but in fact they are preparing an offensive.'
And who can blame him? NATO troops are now set to be stationed in Baltic states, and EU leaders are still desperately continuing their attempt to pull Ukraine into their own economic and political structures. And, worse still, it seems to be driven by something akin to Little Europeanism, an aggressive, divisive elite sensibility in which Russia is being traduced as a global threat to peace and security. If NATO and the EU are the forces of peace and stability, who needs warmongers?
Tim Black is a spiked columnist.
To enquire about republishing spiked's content, a right to reply or to request a correction, please contact the managing editor, Viv Regan.