Theresa May, the new PM, is a grave threat to freedom
Beneath the managerial exterior beats the heart of an authoritarian.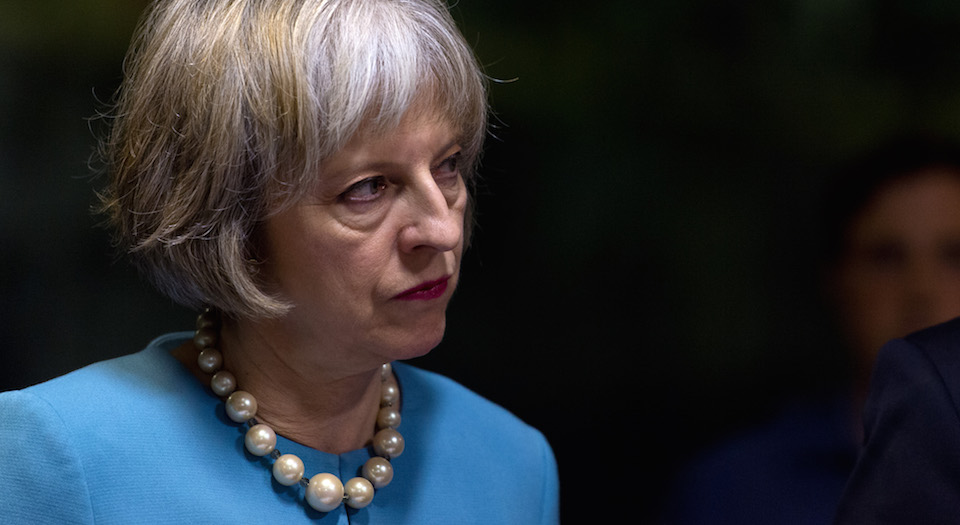 Theresa May will become Britain's new prime minister on Wednesday. And that should concern us all. Not just those who backed Brexit, and fear that the coronation of May, a Remainer, will mean further delays on triggering Article 50, ending in Brexit lite. It should also worry anyone who values living in a free society. During her time as home secretary, May's contempt for civil liberties, her mad enthusiasm for using state power to achieve her political ends, was disturbing. And now, thanks to Andrea Leadsom quitting the leadership race today, and May becoming PM-in-waiting, we can no longer afford to give May's authoritarian streak a free pass.
May is the figurehead for what is the most powerful authoritarian faction in today's political firmament. She keeps alive the bland, technocratic, Third Way politics that began under New Labour, but she combines it with a vaguely socially conservative outlook. In this way, her authoritarian tendencies are constantly dressed up as mere managerial competence. She's not undermining liberties, really; she's just 'getting on with it' – she's 'getting the job done'. To May, the freedoms of the individual fall under the same category as, say, paper shortages, or lazy secretaries: obstacles to efficient management; administrative hurdles to be overcome.
Consider the action she's taken on drugs. In 2014, against all advice, she banned Khat – a mild stimulant, popular with Somalis and comparable in harm to coffee. But that wasn't enough. She then introduced the Psychoactive Substances Bill, which came into force in April 2016. The bill effectively prohibits the possession and use of any psychoactive substance – except those on a pre-approved government list. The intention was to crack down on so-called 'legal highs' – but the real effect the bill will have is to turn on its head the age-old principle that actions should be legal until made illegal – under May, it seems, actions are illegal until they're made legal. An important principle of civil society is, to May's mind, a managerial nuisance: this principle stopped her from 'getting the job done', and therefore it had to go.
Then there is her record on immigration. In one recent TV interview, she refused to rule out the deportation of EU nationals following Brexit; and, at her leadership campaign launch, she suggested that EU nationals could be a useful 'negotiating point' when talking to Brussels about our post-Brexit deal. Once again, the liberties of millions of people in Britain are, for May, little more than a deal-brokering tool, a card to be played in Brexit negotiations, all, of course, in the name of effective government.
This instrumentalising, technocratic, illiberal attitude is not just a post-referendum development. In April 2016, May oversaw the introduction of new rules according to which non-EU nationals who earn less than £35,000 – well above the average salary – can be deported. She also wrongly deported nearly 50,000 non-EU students, on the false grounds that they had failed English tests. And who can forget the vans, pioneered by May, which cruised around London telling illegal immigrants to 'go home or face arrest'?
Most worrying of all is her broad-brush, cavalier attitude to what she calls 'extremism'. For all her talking up of the extremist threat to the British way of life, May has done more harm to British liberties than any sad-act neo-Nazi or wacky hate-preacher ever could. In her speech at the Metropolitan Police conference on counterterrorism this year, she boasted of how she had deprived certain British nationals of their citizenship because she deemed them not 'conducive to the public good'; she boasted of how her Internet Referral Unit has, since 2010, quietly removed over 90,000 pieces of extremism-related material from the web; and, most ominous of all, she boasted of how the new statutory requirements of the Prevent scheme will require 'local authorities, the police, prisons, probation services, schools, colleges, and, yes, universities', to monitor people's behaviour for signs of extremism. More recently, she suggested that Ofcom be given unprecedented powers to strike down any TV programme it deems to include 'extremist content'. This represents, effectively, the transformation of a vast swathe of the public-service workforce into a spying network – all cloaked in the bland, unassuming language of 'effectiveness'. Again, it's no big deal; May's just getting the job done.
All of these ban-happy measures – and much more – were achieved by May in her role as home secretary. Now she will be prime minister, with all the extra power that entails. Looking at her shameful record, we can expect her attacks on civil liberties to resume with renewed vigour. And, of course, she will claim it's all about getting things done. But if the cost is our hard-won liberties, the job isn't worth doing at all.
Blair Spowart is a writer. Follow him on Twitter: @blairspowart
Picture by: Getty Images.
To enquire about republishing spiked's content, a right to reply or to request a correction, please contact the managing editor, Viv Regan.