The feminist witch-hunting of Andrea Leadsom
The Tory race reveals how anti-political feminism is.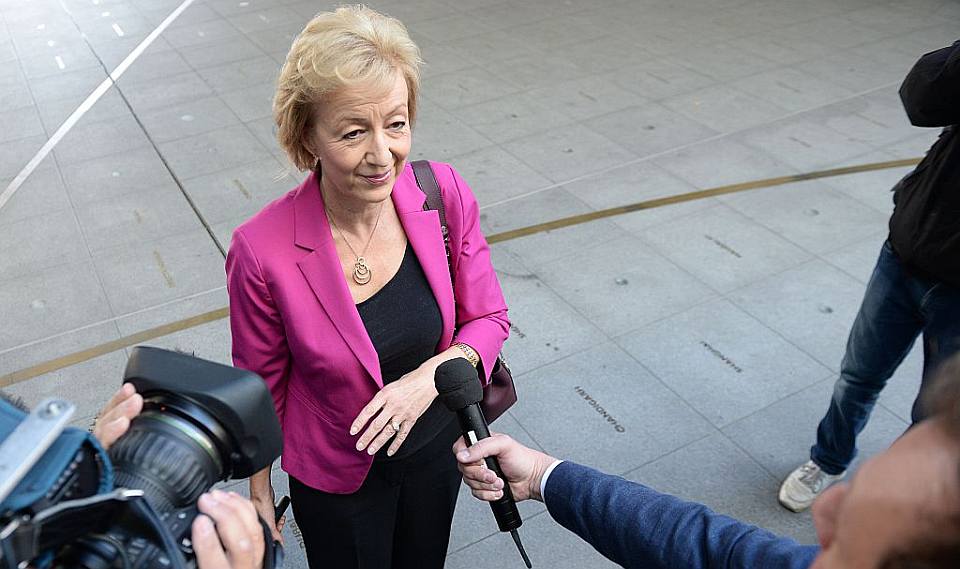 The news that the next prime minister of the UK will be a woman, with Theresa May set to become PM after Andrea Leadsom's withdrawal from the Tory leadership contest today, should give us at least one cause for celebration. Campaigns for mandatory gender quotas are now defunct. All those patronising politicians, academics and career crusaders, who have argued women can only make it into high-powered jobs with the help of women-only shortlists or quotas, are now redundant.
The next British prime minister will work alongside the first minister of Scotland, Nicola Sturgeon; the leader of the Scottish Conservatives, Ruth Davidson; the first minister of Northern Ireland, Arlene Foster; as well as the female leaders of the Green Party and Plaid Cymru. Meanwhile, Angela Eagle has announced her challenge to Jeremy Corbyn as head of the Labour Party. It's not just in the UK. Britain's female insurgents will join Angela Merkel and potentially Hillary Clinton on the world stage. The head of the International Monetary Fund and the US attorney general are both women. In 2016, women are on top: feminists need to find a new cause.
But there's been no celebrating. Instead, we've had something more akin to a witch-hunt, with Andrea Leadsom being hounded for her crass remark that, as a mother, she had more of a stake in the future than the childless Theresa May. On the face of it, the keyboard outrage dedicated to this one comment is surprising. Leadsom is certainly not the first politician to do down a rival. She's also not the first to make political capital out of being a parent. As prime minister, Tony Blair carried a mug adorned with pictures of his kids as he stood outside Downing Street to announce the arrival of his fourth child. Neither is Leadsom the first to claim that biology – or, more specifically, being a woman – brings with it special qualities and superior political insight. This has been a feminist trope for years.
Yet even before word of Leadsom's views about motherhood got out, we were being told not to celebrate the all-female Tory leadership contest. Eve Livingston, writing in the Guardian, warned us 'not to confuse the Conservatives' embrace of female leaders with feminism', while Laurie Penny informed the nation that 'the fact of being female does not mean a leader will deliver for women'. Normally, these same columnists fall over themselves to remind us that the word 'female' is derogatory, that it implies women are reducible to their biology. Now the message is that Leadsom and May might have been born female, but they are the wrong kind of women – they are not feminists, just people in a position of power who happen to have been labelled female at birth.
Of course, Penny is right that women, like men, should be judged on their ideas and policies rather than on their anatomy or their fertility. But this insistence on not supporting women just because they are women is coming from those who, in the very same breath, claim, 'it really matters to have the people who represent you look like you, and so for women it's important to see other women in positions of power and leadership'. Similarly, there's been little criticism of Hillary Clinton, the self-declared 'grandmother-in-chief', for having made gender issues central to her campaign. Never again, her supporters tell us, will girls be able to look through a school textbook and not see a woman pictured in the line up of presidents.
For years, feminists have argued that we need women in parliament to make politics less confrontational, more empathetic, more compassionate and caring. Before last year's General Election, the group hug between the SNP's Nicola Sturgeon, the Green Party's Natalie Bennett and Plaid Cymru's Leanne Wood was held up as a model of feminine consensus in contrast to the petty squabbling of the 'boys'. Laurie Penny bemoans 'masculine leftist posturing' and suggests it will be women who will be called upon to clean up the political mess in post-referendum Britain. It seems that feminists have no problem at all with reinforcing the cheesy old stereotype that women are life's cleaners, carers and copers. Linda Colley describes May as 'the nation's nanny'. 'She will be tough but fair. She will stand for no nonsense. She will calm down the nursery and bandage up knees.'
Leadsom's explicit statement that motherhood gave her an edge over her rival was described as 'vile', but wanting a woman to act as nanny to an infantilised electorate is seemingly fine. This suggests there is clearly more to the hounding of Leadsom than just her claim to maternal superiority. She has spoken publicly about her Christianity, her rejection of feminism for being 'anti-men' and – more than anything else – about her desire to see the UK leave the EU and her intention, had she become prime minister, to trigger Article 50 immediately. This is what has really upset commentators far more than any references to motherhood. Leadsom has principles. She wouldn't have just managed the country and patched things up; she would instead have argued for what she believes in.
As the unceremonial dumping of Gove demonstrated, there seems to be little room in party politics for principles nowadays, whatever the proponent's gender. The political class, backed by the media, would rather have 'nanny' May, who oversaw the deportation of 48,000 students, introduced 'Go Home' billboard vans, and even now refuses to reassure EU nationals that they will be able to keep living and working in a post-Brexit UK than Leave-backing Leadsom.
The referendum has clarified many things about the state of British politics. The Tory leadership race has shown us that feminism has no interest in supporting women. It is not concerned with achieving sexual equality or getting women into the top jobs. Rather than promoting women, feminism is about promoting a set of 'feminine' values that seek to neutralise political debate and conflict in favour of nanny managerialism. Irrespective of the gender of the next prime minister, we need to keep political debate going, and not squash it with feminist therapeutics.
Joanna Williams is education editor at spiked. Her new book, Academic Freedom in an Age of Conformity: Confronting the Fear of Knowledge, is published by Palgrave Macmillan UK. (Order this book from Amazon (USA).
Picture by: Getty Images.
To enquire about republishing spiked's content, a right to reply or to request a correction, please contact the managing editor, Viv Regan.