Leadsom was never the 'Brexit candidate'
We can't rely on the elite to deliver us democracy.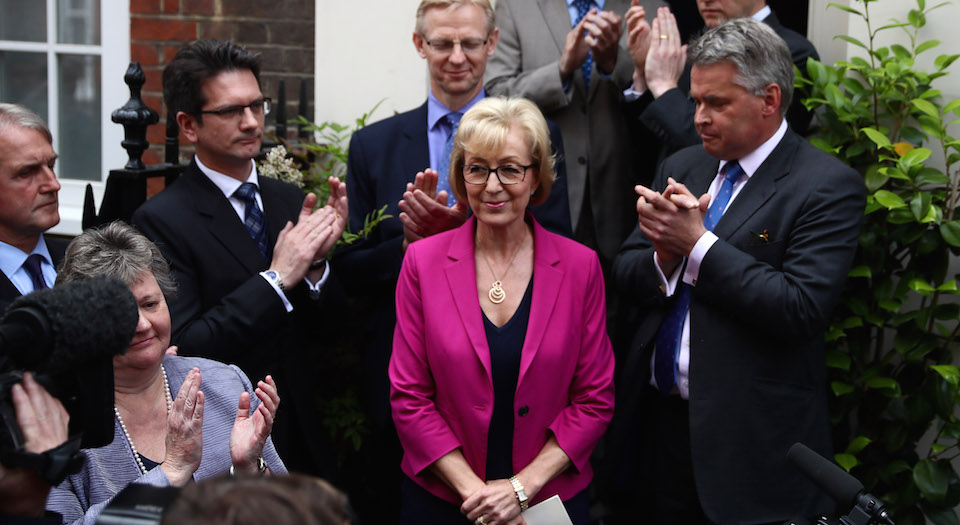 Andrea Leadsom is out. The Tory leadership candidate no one knew from Adam three weeks ago has ended her short, rocky run at the top job in British politics. In a statement this afternoon, Leadsom said that, to quell post-Brexit uncertainty, we needed 'a strong and unified government' and a 'prime minister in place as soon as possible'. That person, she concluded, was Theresa May – the serving home secretary, and nominal Remainer – who already commands majority support within the parliamentary party.
In any other time, the departure of an outsider candidate from a leadership race would have sparked little surprise. But even now, in the midst of Westminster's post-Brexit exodus, her departure landed with a thump. With Boris Johnson dispatched by Gove, and Michael Gove dispatched by everyone else, prominent Leavers were pinning their hopes on Leadsom. She was backed within the party and without. She was held up as the last candidate capable of delivering 'full Brexit', rather than an establishment fudge, with her commitment to invoking Article 50 'as soon as possible' to the fore.
Brexiteers' lauding of Leadsom was always a bit desperate, not least because of her lack of experience and her LinkedIn profile's liberal approach to the truth. But it was also plain wrong. Leadsom was never the Brexit candidate – and not just because she thought Brexit would be a 'disaster' just three years ago. In fact, there's no such thing as a Brexit candidate. The Brexit vote was a democratic demand louder than any other in our history, and a forthright rejection of the elite. We can't rely on the elite – even the Brexit-friendly sections of it – to deliver it to us.
Whether the next prime minister is a Leaver or a Remainer really shouldn't matter. Though May's dithering on triggering Article 50 – claiming we should hold off until at least 2017 – may have concerned Brexiteers, it doesn't change anything. The next prime minister must heed the demand of the people and set us immediately on the course for full exit. Anything else would obliterate British democracy and sever the connection between the popular will and parliament. It is only because of the now-departed David Cameron's cowardice that it has been put off for this long.
Leadsom's campaign was fuelled by the bizarre assumption that, post-Brexit, official Leavers wielded the unblinking support of the Leave-voting masses. According to surveys, when it came to making their mind up on the referendum, Leave voters trusted ordinary people – their friends, family and even strangers – far more than the elite. British politicians – Leave or Remain – were among the groups they most distrusted, beaten only by political leaders of other countries. The idea that the Brexit revolt was led by Vote Leave grandees and assorted Tory opportunists is a complete crock. This came from the bottom-up.
Indeed, you only had to watch Vote Leave's funereal post-Brexit press conference to know that the official Leavers were as terrified by the result as anyone else. The idea that the likes of Boris Johnson are well up for unleashing the democratic spirit is ridiculous. They're as aloof, and as fearful of the public, as anyone else. Indeed, the fact that Leadsom so quickly folded in the face of the media and party-establishment onslaught speaks to her nonexistent connection with the Leave-voting masses. She lacked, not just the experience, but the democratic support, the political resources, to withstand it.
After the initial Brexit shockwave, Westminster has slipped back into business as usual. The talk of Tory runners and riders, Labour coups, and internecine gossip, has gone on as if the Brexit vote, that profound rejection of the political elite, had never happened. The Brexit vote is being played down, talked about as if it is just another constituency to pat on the head and factor in to the political calculations. But those days are over. Pandora's Box has been opened, the chasm between the people and politics has been exposed. And it should put the wind up Leavers and Remainers alike.
That's why the Leadsom flop matters so little. The Brexit vote was a vote of no confidence in the entire elite. All they are required to do now is ensure it is enacted, and quick. That Theresa May – a Remainer committed to putting off Brexit for as long as possible – is our next PM should stiffen Leave voters' resolve. But she bears the same moral obligation as anyone else. She must uphold the people's will. And we must all hold her to it.
Tom Slater is deputy editor of spiked and convenor of our Invoke Article 50 NOW! campaign. Follow him on Twitter: @Tom_Slater_
Picture by: Getty Images.
To enquire about republishing spiked's content, a right to reply or to request a correction, please contact the managing editor, Viv Regan.