A victory for abortion rights
The US Supreme Court has dealt a blow to anti-choice activists.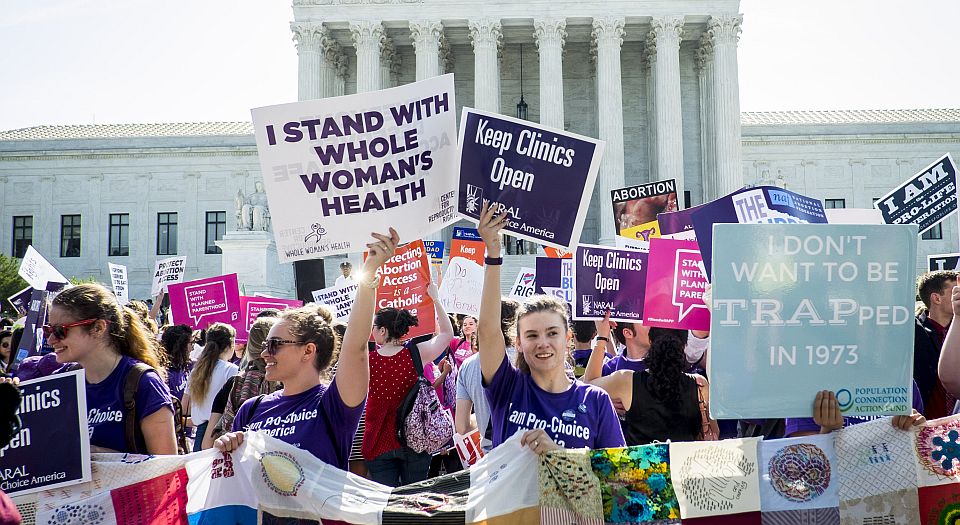 The US Supreme Court made a sweeping decision on abortion last week. In striking down parts of a 2013 Texas abortion law, which would force clinics to close due to unnecessary and burdensome health-and-safety standards, the five-three decision surprised many on both sides of the debate.
The Texas law, signed by then governor and now failed Republican presidential candidate Rick Perry, would have closed several abortion clinics and forced thousands of women to travel hundreds of miles to access abortion services. But, in its most expansive decision in almost 25 years, the court found that the restrictions in the Texas law – which included requiring doctors to have admitting privileges at nearby hospitals and forcing clinics to meet much higher building-code standards, usually required for ambulatory surgical centres – were unacceptable.
The court decided that the requirements violated the precedent set in the 1992 Planned Parenthood v Casey decision, whereby states were prohibited from placing a (largely undefined) 'undue burden' on women seeking an abortion. This new decision goes some way to defining that undue burden, and will likely also lead to several other states' restrictive laws being overturned on appeal.
Justice Stephen Breyer wrote that insisting abortion clinics meet the required standards for ambulatory surgical centres did more harm than good:
'Abortions taking place in an abortion facility are safe — indeed, safer than numerous procedures that take place outside hospitals and to which Texas does not apply its surgical-centre requirements. Nationwide, childbirth is 14 times more likely than abortion to result in death, but Texas law allows a midwife to oversee childbirth in the patient's own home.'
However, Linda Hirshman, writing in the Washington Post, picked out the key nugget. She noted that Justice Ruth Bader Ginsburg wrote a brief concurrence, in which she dismissed Texas's claim to be protecting 'the health of women who experience complications from abortions'. She argued that 'complications from an abortion are both rare and rarely dangerous'; that such restrictions 'do little or nothing for health, but rather strew impediments to abortion'; and that such burdensome restrictions contradict existing legal standards. In other words, the law of the land is Roe v Wade and Planned Parenthood v Casey, and any attempts to 'strew impediments to abortion' are unacceptable. This opinion provides a much higher bar for future attempts to restrict abortion access in the name of protecting women's health – a tactic anti-abortion activists have had their biggest successes with in recent years.
This decision certainly doesn't put an end to the abortion debate. Future nominations to the Supreme Court will be a decisive issue in the November presidential elections, with Hillary Clinton an affirmed abortion-rights supporter and Donald Trump a recently declared opponent. Indeed, the court is down to eight members from its usual nine due to the death of Justice Antonin Scalia, and the refusal of the Republican-controlled Senate to take up President Obama's proposed nominee, Judge Merrick Garland, largely because of the supposition that Garland is a supporter of abortion access.
After the ruling, Clinton was vocal in her support, while Trump took almost three days to go on record decrying it. Clinton also noted that the draft Democratic platform, which will be voted on at the Democratic convention later in July, includes a call to overturn the highly restrictive Hyde Amendment, which denies federal funding for most abortions.
However, some still have their doubts about Clinton on this issue, as she coined the phrase 'safe, legal and rare' in describing her support for abortion. Abortion is still seen as a third rail in US politics, and we are some way from having a leading politician who can calmly and clearly state that he or she is in favour of abortion access for all women who meet two simple criteria: that is, they are pregnant and they want or need an abortion.
David J Nolan is a communications professional in Washington DC.
Picture by: Getty
To enquire about republishing spiked's content, a right to reply or to request a correction, please contact the managing editor, Viv Regan.