The hooligan myth
The Euro bovver was sparked by brutal policing, not knuckle-dragging fans.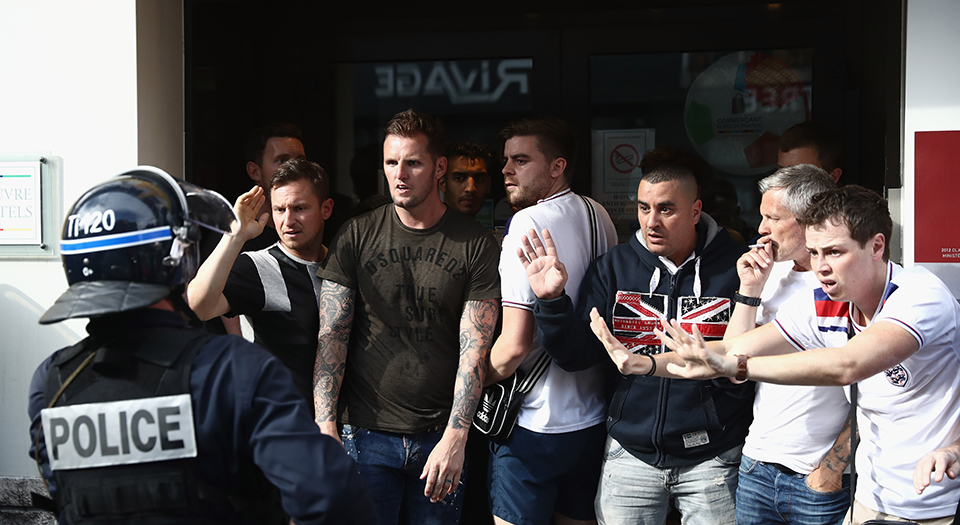 Just when you thought it was safe to go to a football tournament, the English disease is back. The residual fear and loathing of the mob, which never really went away despite the gentrification of football, was all too evident in the initial media reaction to the violence in Marseille. English fans, tattooed, shirtless, drunk and disorderly, had brought shame on the nation again. There they were hurling chairs and bottles, singing 'No Surrender to the IRA' and 'Ten German Bombers' just like they did in Charleroi back in 2000.
But the narrative quickly shifted. In part this was because first-hand accounts from fans and video clips posted on social media told a different story: that England fans had been provoked by locals; that the French police had indiscriminately fired tear gas and water cannon; and that hardcore Russian hooligans had come looking for a punch-up with the English. These days England's travelling support is much more diverse than it was in 1998. Now there are more middle-class fans, more women and children, and when these 'decent' fans were caught up in the violence inside the Stade Vélodrome, the England fans were recast as the victims of a terrifying new breed of hooligan: the Russian 'ultra'.
While England fans weren't completely absolved of blame, the UK press has become obsessed with the thuggery of a small, highly-organised cadre of Russian hooligans. Unlike the English, who'd been drinking all day, the Russians were reportedly sober and dressed for combat with gumshields and martial-arts gloves. According to a lurid article in the Sun, the Russian hooligans had held 'X Factor-style auditions to find 150 hardmen'. An accompanying video apparently shows 'ultras' wearing boxing gloves and staging a brutal pugilistic audition in some woodland. One Russian ultra called Vladimir claims that this elite group of ultras came to France with the sole purpose of fighting the English: 'The English always say that they are the main football hooligans. We went to show that the English are girls.'
The media narrative may have changed, from English self-disgust to Russia-bashing, but the underlying hooligan myth remains unaltered. What do I mean by the hooligan myth? In short, it's the fallacy that rioting or large-scale crowd disorder is the product of an innate predisposition to violence among white working-class males. In particular there is an obsession with a small, organised cadre of ringleaders – or 'top boys' – who act as a catalyst for mass football violence. We have a paradoxical preoccupation with the hooligan 'firms' who we find simultaneously glamorous and repulsive. How else do we explain the popularity of hooligan memoirs, films and salacious undercover documentaries? It's football's version of gangster chic. Danny Dyer's The Real Football Factories or John King's thug-lit novels don't just appeal to aging bovver boys – this is hooliporn designed to horrify and titillate 'people like us'.
The murky underworld of hooligan gangs, with their sartorial rules (designer clobber if you're English, bumbags if you're Russian) and codes of honour (never hit 'scarfers') might fascinate us, but the mythology of hooliganism obscures the true dynamics of crowd trouble. It's of no use to policymakers who want to prevent the ugly scenes we saw in Marseille this week. The use of draconian football banning orders to stop 'known troublemakers' from leaving the UK or even the 24-hour booze ban, which the French authorities imposed in Lens and Lille, to prevent trouble at the England-Wales game, completely misses the point.
These measures are based on the mistaken assumption that crowd trouble is sparked by a small minority of ringleaders and is fuelled by alcohol. In reality, the crowd trouble we saw in Marseille was, in large part, a product of the confrontational policing tactics of the CRS, the French riot police. The indiscriminate use of tear gas and water cannon in response to a couple of bottles and a chair being thrown by England fans, who had been taunted by a group of locals, only served to escalate the situation. When Russian fans entered the fray, the CRS tactics, whereby the crowd was dispersed, meant that the police were completely unable to contain or separate the rival groups of supporters. Instead it led to running battles and violent skirmishes in the side streets, which the police were powerless to prevent.
The policing of large crowds at major football tournaments doesn't have to be like this. The policing methods used at Euro 2004 in Portugal and the 2006 World Cup in Germany resulted in both tournaments passing off without the sort of violent scenes we saw in Marseille this week. Rather than impose blanket alcohol bans, fans were allowed mix and drink all day in large numbers in city centres and designated fan zones. Policing was much more low-key. The police wore normal uniforms, mixing with and talking to fans rather than confronting them in riot gear – an aggressive tactic that inevitably escalates crowd disorder. When trouble did break out, the police acted quickly, targeting only the miscreants, rather than indiscriminately firing tear gas rounds.
If the past 20 years of major football tournaments in Europe has taught us anything, it's that football fans aren't inherently predisposed to violence. However, if police use tear gas and water cannon, a tense stand-off will inevitably escalate into a riot. It's time we stopped perpetuating the myth that knuckle-dragging thugs are orchestrating the violence. It's these policing methods from the dark ages that need to be consigned to history.
Duleep Allirajah is spiked's sports columnist. Follow him on Twitter: @DuleepOffside
To enquire about republishing spiked's content, a right to reply or to request a correction, please contact the managing editor, Viv Regan.