Orlando has exposed the poison of identity politics
Our obsession with identity has robbed the victims of their humanity.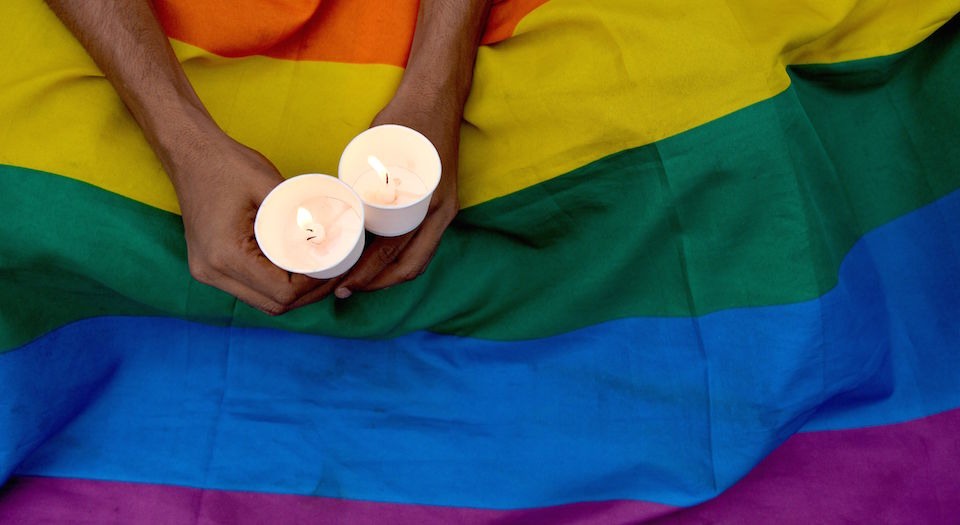 There has been something deeply disturbing in the Western response to the Orlando massacre. There has been an instinct, actually a concerted effort, to estrange the 49 victims from the broader human family, to prevent their being talked about as part of humanity. Across the media, and in gay-rights circles, observers have insisted we refer to them as 'queers' first and avoid turning them into 'disembodied, undifferentiated and abstract "human" lives', as one academic put it. To talk about these people in the same breath as 'Western values', to allow their murder to be 'generalised', to refer to their slaughter as 'an attack on humanity', is wrong, commentators insist, because doing this erases their specific identities and the specific reason they were killed: their gayness. This is all meant to sound PC, and gay-friendly, an attempt to uphold the truth about what happened in Orlando; but in fact it exposes the profound anti-humanism of identity politics.
Within hours of the atrocity, the response had descended into a squabble over whether it was a homophobic crime or an attack on humanity. It surely speaks volumes about the moral disarray of the West that we cannot even agree on how the act and its victims should be referred to, far less what kind of robust, collective response to take to such Islamist-justified barbarism. A writer for the London Review of Books flagged up the 'faultline' between the way 'many straight people are interpreting the Orlando attack' and the way 'many LGBT people understand it'. The straights are wrong, he says, to view this attack as 'anti-Western'; it was anti-gay. An American journalist went further, saying: 'If you are a cisgender, heterosexual, white person, please do not write about [Orlando].' Guardian columnist Owen Jones told a news presenter: 'You don't understand this because you're not gay.' So, from the get-go, efforts were made to suppress solidarity, in essence; to prevent anyone who doesn't share the specific identity of the victims from expressing an opinion or grief over their slaughter; to distinguish the victims, 'queers', from everyone else: 'humanity'.
And as the days go on, this perverse removal of the Orlando victims from any broader narrative of humanity or the West or just 'us' – a writer for the Independent sniffily mocks the idea that it was an 'attack on us all' – has intensified. The commentators insisting that the massacre be given its rightful name of a 'homophobic hate crime' claim they are only trying to prevent the murdered revellers' identities from being erased. We must stop this 'erasure of the sexual and gender identities of the victims', says one. Yet no one – literally no one – is denying that the Orlando massacre was an anti-gay attack. How could they? What gay-rights activists, identitarians and observers are really bristling at is the line that follows the acknowledgement that it was a homophobic attack, the line that says: 'But it was something else, too. It was an attack on humanity.' It's this they find unacceptable, because the inexorable instinct of identity politics is separatism, an urge to emphasise the differences between various sections of humanity and most importantly the differences in victim status.
Many find the idea that Orlando was an attack on humanity threatening because it promises to undermine what they view as the unique victim status of gay people. As a gay columnist for the Irish Times said: 'The world needs to acknowledge how some people are more hated than others.' In short: acknowledge my victim status. 'If you have never experienced homophobia, you're less likely to recognise it or to know how it feels than someone who has', she says. So this is her massacre, she feels it more than you; and thus you can claim no real moral relationship to it.
This urge among some to stake a moral claim to Orlando, and to prevent other, non-gay people from doing so, was made clear in a Sydney Morning Herald piece. It chastises those who 'generalise' the massacre – that is, who talk about it as an assault on humanity – and who in the process 'deny LGBTI people… ownership' of this act of mass murder. Ownership. That's it. The thing motoring the efforts to remove the Orlando victims from 'generalised' narratives about humanity and Islamism and so on is a narrow, jealous desire to make this attack gay property; to ensure it becomes fuel, not for discussions about the West or humanity or collective stands against Islamist intolerance, but for the maintenance of the victim culture of gay politics. Victimhood is the most important asset for all identity groups; it's the thing that grants them moral authority in this era when having suffered is prized more highly than being morally autonomous. The fury with which some are shooting down the 'straight-washing' of Orlando or its 'co-option' into narratives of humanity is driven by a pretty low effort to ensure that this barbarism remains grist to their mill and nobody else's.
This discomfort with the idea that the massacre was both homophobic and an attack on humanity is captured again and again in the strange and bitter post-Orlando commentary. A British journalist slams those 'portraying the massacre as an attack on humanity'. A writer for the academic magazine the Conversation spells it out even more clearly. He says the 49 dead should be remembered as 'queer lives' rather than '"human" lives' (those are his quote marks around human). We must 'reiterate the queerness of our dead brothers and sisters', he says, and refuse to allow them to be talked about as 'disembodied, undifferentiated and abstract "human" lives'. Read that again. He is saying we must actively, consciously, avoid referring to the victims as humans – or 'humans', to use his preferred punctuation – and just refer to them as 'queers'. This is ugly. A few decades back, if gay people were killed you might expect homophobes to say, 'They were only queer, not real humans'; now, alarmingly, and in a sign of how depraved identity politics has become, it is supposedly pro-gay people who say this, who effectively say: 'Remember them not as people but as queers.'
The end result – the end result of all identity politics – is that people are dehumanised. They are reduced from complex beings to symbols; from messy, brilliant members of the human family that other humans can relate to and empathise with, despite being different, to mere identities, mere characteristics, mere sexual preferences, mere genders, mere skin colours. I would say that the victims of Orlando have suffered a double dehumanisation. First they were dehumanised by Omar Mateen, who clearly viewed them as less than human, as 'faggots', deserving of nothing more than violent death. And now they are dehumanised by the identity-politics narrative, which explicitly demands that we siphon them off from 'generalised' discussions of humanity and discuss them as 'queer lives' rather than as 'human lives'. In a more PC, less apocalyptic, violence-free way, the mainstream purveyors of the politics of identity are repeating Mateen's dehumanisation of these 49 people; they echo his foul belief that these people were queer first and human second.
The post-Orlando discussion should be of concern to anyone who considers himself a humanist. For it has confirmed the entrenchment of the politics of identity, and exposed how thoroughly it has usurped, or perhaps replaced, the older, more progressive politics of human solidarity. It shows that there is no escape from the identities we're branded with. You are 'born this way', and you die this way, and you will be remembered this way: as an identity rather than a human. We must challenge this. We must insist that the Orlando massacre, this slaughter of gay people, was an outrage against humanity. And we must make the case that what we have in common with the people who were murdered in that nightclub – a desire for freedom; a shared humanity; a capacity for autonomy and empathy – outweighs every single difference between us that is currently being cynically talked up by a media and political set in thrall to the corrosive politics of identity. Those 49 people were humans first, and every human should rage against their destruction.
Brendan O'Neill is editor of spiked.
Picture by: Getty
To enquire about republishing spiked's content, a right to reply or to request a correction, please contact the managing editor, Viv Regan.