The elite's fear of the Brexiteer blob
The unspoken class divide in the EU referendum.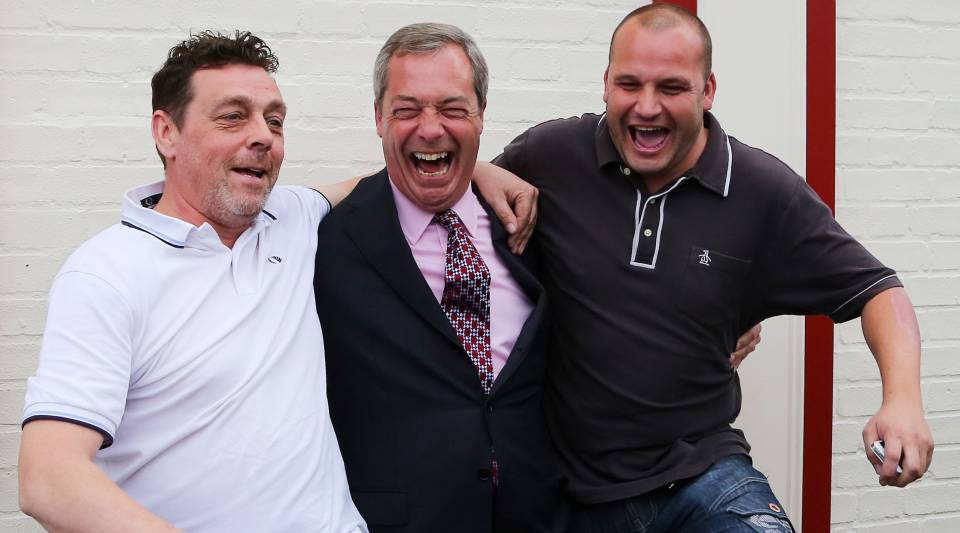 'Go and speak to your mother, your grandmother. Don't speak to your grandfather, we know the problem are older white men.' When Labour MP and shadow Europe minister Pat Glass uttered these withering words at a Labour In event in Wolverhampton this week, it was awkward. Not least because Labour shadow chancellor, and self-identifying older white man, John McDonnell was also on the panel. But mainly because Glass was giving voice to the hate that, these days, dare not speak its name.
According to a report in the Express and Star, Glass's jibe was met with muted laughter, before the tension was defused by McDonnell: 'Can I speak up for a couple of older white men? I'll let Jeremy know.' Still, it wasn't as bad as Glass's gaffe two weeks previously, when she was recorded saying a man she had met on the streets of Derbyshire was a 'horrible racist' for saying that he believed his Polish neighbours were 'spongers'. 'I'm never coming back to wherever this is', she said. To which one jocular tweeter replied, 'Can we get that in writing?'.
Glass apologised after she was slammed on social media. But her outburst was not all that shocking. Her disdain for the gruff, working-class voters, whose Euroscepticism she assumes is motored only by bigotry, is shared across the political class. They just keep it quiet. Not too long ago politicians could get away with tarring Eurosceptics as prejudiced, pasty-munching morons. They were fair game. When Gordon Brown slapped down 'that bigoted woman' or when David Cameron dismissed insurgent UKIP supporters as 'fruitcakes, loonies and closet racists', there was no great fuss. Not anymore.
Now that those 'fruitcakes' are voting in a referendum, the elite has had to mince words. Every question about immigration is met with a constant nod to Eurosceptics' 'legitimate concerns'. But scratch the surface and the same fear of the braying, blokey Brexiteers lurks. Left-wing commentators claim that a public, brutalised by Tory cuts, are vulnerable to 'populist paranoias'. 'An inchoate, unpoliticised resentment can easily be redirected against outsiders, instead of the real perpetrators', writes Polly Toynbee in the Guardian. You just have to serve up prejudice with a side of pity. Pat clearly didn't get the memo.
This duplicity is an attempt to obscure the chasm that the referendum has revealed between working-class voters and the rest of society. While the national polls jostle around the 50-50 mark, the disparity between the voting intentions of working-class and middle-class people is stark. According to polling data released by YouGov, 37 per cent of pro-EU voters have a university degree, in comparison to 15 per cent of anti-EU voters. Remain leads among middle- and upper-middle class voters by 24 per cent; while Leave leads among working-class voters by 26 per cent. There is a striking class dynamic at play.
Media types, wearied by the boorish official campaigns, have taken to casting the referendum as little more than an elite spat. But anyone who occasionally strays outside the metropolitan bubble will recognise the sense of agitation, a desire among ordinary people to send the Eurocrats packing. Not because they hate foreigners, but because they hate being dictated to. Though concerns about immigration loom large – fueled by the bipartisan politics of limits and our own elite's chronic inability to meet demand for school places, infrastructure and housing – this is, at its root, about control. EU free movement has taken this most tangible of democratic decisions out of the public's hands.
As spiked has always argued, leaving the EU will not in itself revive popular sovereignty. Whitehall is as technocratic, as devoid of vision and as wary of old white (working-class) men as Brussels. And all the EU directives that the Eurosceptic public so revile have been waved through by a British political elite all too willing to outsource authority. But this referendum is still a profound, democratic opportunity. A vote to Leave will strike a decisive blow to the Brussels bureaucracy abroad, and clarify the crisis of democracy at home. But even if it's a win for Remain, the chasm between the public and the elite will remain as well. In that, there's a productive tension, a potential to be harnessed: a chance for the fruitcakes to fight back.
Tom Slater is deputy editor at spiked. Follow him on Twitter: @Tom_Slater_
Picture by: Getty Images.
To enquire about republishing spiked's content, a right to reply or to request a correction, please contact the managing editor, Viv Regan.