Old Trafford 'bomb': we are terrorising ourselves
The culture of fear poses the greatest threat to everyday life.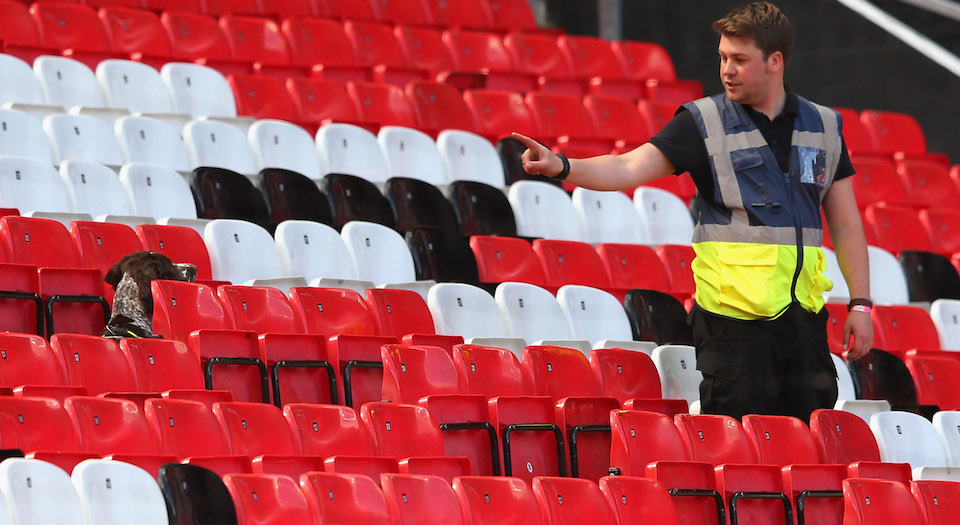 Initially, the rolling news was full of foreboding. 'Reports of a suspicious package found at Old Trafford', read one report. It then turned darker still, with confirmation that Manchester United's final Premier League match of the season against Bournemouth, due to be watched by over 75,000 fans, was to be abandoned. Bournemouth fans booed, as well they might given their 500-mile roundtrip. And some fans joked that it was impossible to smuggle a can of Stella into a football stadium, let alone a bomb. But few others saw the funny side. And no wonder, given the authorities' response to the 'suspect package' was deadly serious: a bomb-disposal team was called in; the police warned people to stay away from the Old Trafford area; and for the first time in Premier League history, a match was called off on security grounds.
Yet, as we now know, there was no bomb, or at least not a real one. Rather, there was what police described as an 'incredibly lifelike explosive device', stuck on the back of a toilet-cubicle door. A bowel-loosening sight, no doubt, although closer inspection would have revealed the white sticker that read 'training aid'. Because that's what it was – a training device, left behind from a security drill earlier that week.
This was certainly a 'fiasco', as Manchester police commissioner Tony Lloyd put it. But it was also all too predictable. Not the cock-up itself, but the fearful, unquestioning response. Stewards, officials, police, even the army, who were called in to dispose of the dummy bomb, all responded as if their worst fears were being realised. And, in doing so, they overreacted. They evacuated a stadium, they cleared an area and they issued grave warnings, all because a dummy bomb, labelled training aid, had been stuck – not hidden – on the back of a toilet door. It seems actual terrorists don't need actively to terrorise anymore; we're doing a fantastic job of terrorising ourselves.
The blame game has now begun in earnest, of course, with all fingers pointing at Chris Reid, the head of the security firm responsible for the midweek security drill, and also, therefore, for leaving the training device behind. Reid's case has not been helped by the fact that his staff mistakenly logged the rogue dummy device as having been returned. Yet, to heap all the blame on a security contractor is to indulge in an act of displacement. After all, it wasn't Reid's firm that responded in terror to the mocked-up pipe bomb; it wasn't Reid's firm that evacuated the stadium; and it wasn't Reid's firm that called off the match.
In short, Reid's firm didn't determine the hyperventilated response to a suspect package. It merely provided a prompt for fear to run away with itself, a reason to imagine the worst. A suspect package could have prompted a far more rational response. It didn't necessarily demand the shutting down of everyday life.
What made the response seem entirely sensible, what underpinned and informed the overreaction, was the fearful context, the self-terrorised culture, in which myriad people made their decisions – to suspect the worst, to act scared and, ultimately, to abandon a major public event. And, in a sense, it really was understandable. From up on high, worst-case thinking is actively encouraged; nightmarish speculation welcomed. After all, this provides the state with one of its few sources of legitimacy – its ability to keep us, its vulnerable citizenry, safe. So we hear ministers and security chiefs talk constantly of a major terrorist attack being imminent, a case not of 'if', but 'when'; we hear speculation as to targets, high-profile football matches among them; and, just to show the public they're prepared for the worst, the police even stage media-friendly counter-terror training exercises, such as the ISIS-style attack acted out at the Trafford Centre in Manchester last week.
It doesn't matter that, statistically, we in Western Europe are at less risk of terrorist attacks than we were 30 years ago. It doesn't matter because the problem is not actual terrorists; it's the fear of terrorists. Their presence is spectral, not actual; their threat imagined, not clear and present. As the Great Old Trafford Fiasco demonstrated, we are literally terrorising ourselves.
Tim Black is a spiked columnist and editor of the spiked review.
Picture by: Alex Livesey / Getty Images.
To enquire about republishing spiked's content, a right to reply or to request a correction, please contact the managing editor, Viv Regan.